Hi everyone. Welcome to the fourth article in my series of reviews of the cards in the upcoming Rivals of Ixalan expansion. Today we'll be taking a look at all of the Red cards. In this article, I will discuss these cards as they relate to Standard play. My system uses number ratings ranging from 0 – 5 to gauge how well I think the cards will perform Standard play. I will offer some pros and cons for these cards and give my thoughts and rating on the card for Standard play. Please keep in mind that these ratings are based on my opinion only and may differ from your opinion. (If you have a different opinion, please sound off in the Comments section below and let me know your thoughts.)
How My Rating System Works
5.0: Format All-Star. This card is a total Bomb card. For those that aren't familiar with this term, it basically means this card will win you the game if left unchecked for a turn or two. These cards tend to be hard to defend against and can turn a game around in a hurry. Some cards that are bombs in limited may only be a mediocre card in constructed play. This card will see a lot of play in top tier tournament decks or will be the lynchpin of a top tier deck.
4.0: Above Average Card. This card is great. It can be played in multiple decks and will have an impact on the game every time. These cards can change a game quickly, get you back in the game, or shift the tempo of the game. These cards are usually vulnerable to some type of removal (or are a removal spell themselves), but they make up the majority of cards found in major tournament decks. This card will be a good support card in a top tier tournament deck.
3.0: Average Card. These are generally good cards, and many of them will be the majority of cards found in a tribal deck. Cards in this category are usually similar to other (higher-ranked) cards but cost 1 mana more or have a drawback in some manner. In Limited play, these are the majority of your deck. This card will likely be in a fair number of top tier tournament decks and will generally be interchangeable with other similarly-rated cards.
2.0: Niche Card. These cards serve are very narrow function and are usually meant for your sideboard. They could be removal spells that only remove 1 type of card, or cards with mediocre stats that have an ability that helps against opponents playing a certain color or strategy. In Limited play, these cards are put in your deck if you have no other options and need the card to reach your 40-card minimum deck size. For Constructed play, you will rarely play this card unless it's from your sideboard or you want to be "cute". This card will only be seen in select decks that are usually trying to play around with a specific ability or in tribal decks.
1.0: Will Rarely See Play. The worst of the worst. These cards are rarely played (if they're played at all). These cards generally have bad stats, cost too much mana, or have basically no impact on the game when they're played. Overall stay away from this card if possible. This card will likely not see any tournament play.
And now, on to the cards…
Blood Sun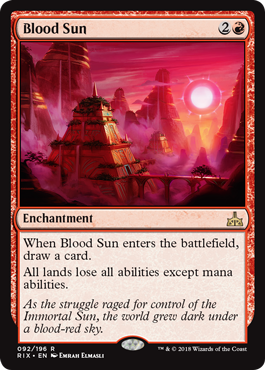 Rating:  3.5 (
)
Overall Thoughts:  If I'm understanding the way mana abilities work, then this card stops energy from being generated when Aether Hub comes into play, but energy can still be spent to produce any color of mana (in addition to being able to produce colorless mana).  Also, if more of the flip-lands from Ixalan and Rivals of Ixalan start seeing play, this will stop their special effects as well.  Not to mention the usefulness that this card has in other formats.
Bombard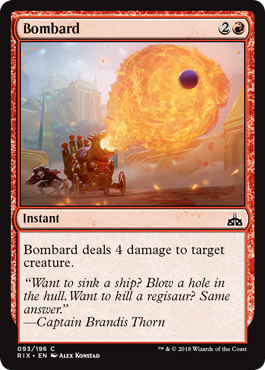 Rating:  1.5 (
)
Overall Thoughts: Electrify never really caught on in Standard, so let's see what happens when they shave of 1 mana for the same effect.  I'm skeptical, but we'll see.
Brass's Bounty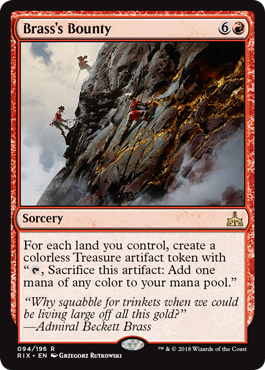 Rating:  1.5 (
)
Overall Thoughts:  Wow, a 7-mana card that basically doubles your mana for a future turn.  If only Emrakul was still in Standard.  Since there's nothing huge to get for all of that mana, maybe this will see play in a Revel in Riches deck?
Brazen Freebooter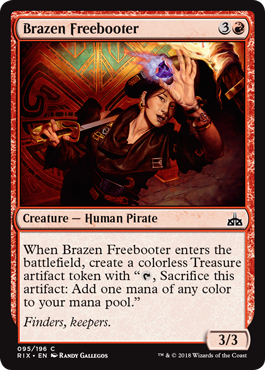 Rating:  1.5 (
)
Overall Thoughts:  Another red card that's making Treasure tokens?  Maybe a red-blue Treasure making deck that just happens to run Revel in Riches but no black mana could work?  Either way, this is a 3/3 for basically 3 mana, so even though it's not exactly on curve, it could see a little fringe play.
Buccaneer's Bravado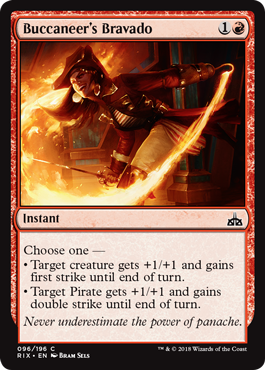 Rating:  2.0 (
)
Overall Thoughts:  Both first strike and double strike are very powerful abilities.  I can see the potential for this to be played in either a Pirate tribal deck or possibly a Dinosaur tribal deck.
Charging Tuskodon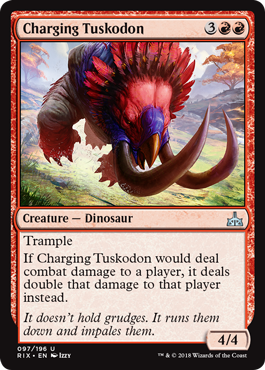 Rating:  3.0 (
)
Overall Thoughts:  While it's not one of the biggest Dinosaurs we've seen, this one has the potential to pack quite a punch.  Since it has trample, there's the potential for this creature to deal quite a bit of combat damage to your opponent.  I think this has real potential.
Daring Buccaneer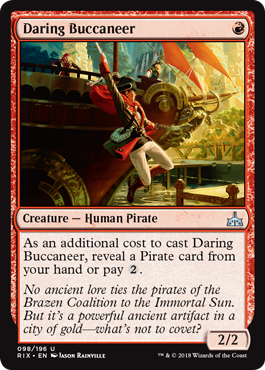 Rating:  2.5 (
)
Overall Thoughts:  In a Pirate tribal deck that's playing red, this is the type of card you want to see in your opening hand.  If I was building a red-black aggressive Pirate tribal deck, this is where I would start.  I think a lot of other people would too, so this card should see some play.
Dire Fleet Daredevil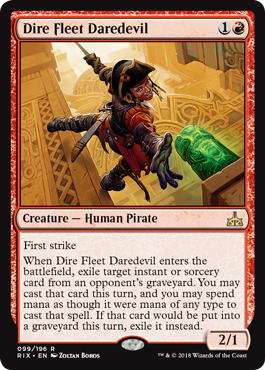 Rating:  2.5 (
)
Overall Thoughts:  While this card has a lot of potential, the fact that you have to pay for the opponent's spell you get with this card means you need to wait until later in the game for the ability to be useful.  I guess the optimal play is around turn 4 when you can play this card and still cast a 2-mana removal spell on one of your opponent's creatures.
Etali, Primal Storm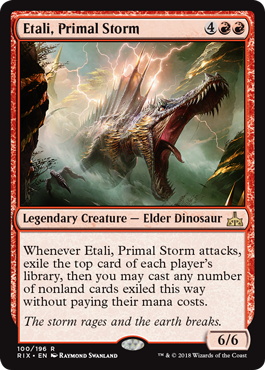 Rating:  4.0 (
)
Overall Thoughts:  This is a fantastic top-end for aggressive red decks.  Being able to cast your opponent's cards and use them against your opponent is a good way to put your opponent on tilt.  Plus it's a 6/6 for 6 mana, and can be given haste by Otepec Huntmaster.  I'm looking forward to trying this one out.
Fanatical Firebrand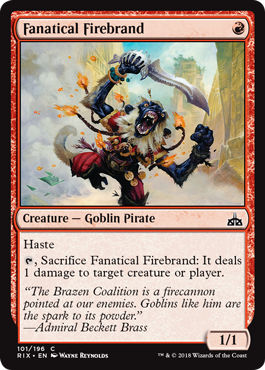 Rating:  2.5 (
)
Overall Thoughts:  A 1/1 for 1 mana with haste is just what the doctor ordered for Ramunap Red decks.  For those of you that don't like Soul-Scar Mage, here's a replacement.  The good part about this card is that it's cheap and fast.  The bad part is that it's a little fragile, and its activated ability requires you to tap it, which reduces some of its versatility.  I still like this card and think it will see a fair amount of play.
Forerunner of the Empire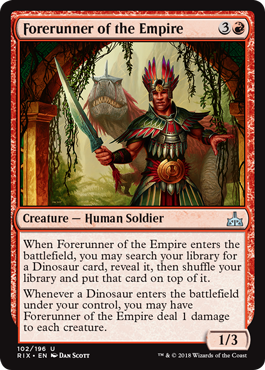 Rating:  3.5 (
)
Overall Thoughts:  I've already mentioned the benefit of searching your library for a specific card when I discussed the other Forerunners.  The thing that helps boost the rating a bit on this card is that it offers a repeatable way to trigger enrage abilities on your Dinosaurs.  Plus, if you opponent happens to have a bunch of 1/1 tokens on the battlefield, you can wipe them all out simply by growing your army.
Form of the Dinosaur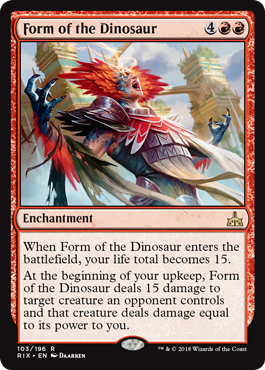 Rating:  2.5 (
)
Overall Thoughts:  Let me make one thing clear, I'm not a fan of this card.  That being said, since it costs 6 mana, you'll likely be setting your life total to a higher number when you play this card.  Also, being able to eliminate any potential threat your opponent has each turn does seem very powerful, but it comes at quite a cost.  Maybe once I try playing with this card I'll like it better.
Frilled Deathspitter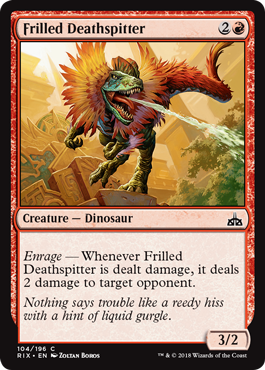 Rating:  2.0 (
)
Overall Thoughts:  Here's a Dinosaur with a pseudo-afflict 2 ability.  I have a feeling that this will die most of the time when I attack with it, and it will just end up being a 2-point damage spell for 3 mana.  But in the right deck built to take advantage of enrage, this could be a very important card.
Goblin Trailblazer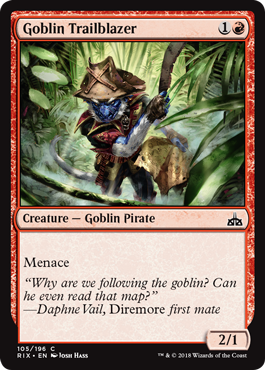 Rating:  1.0 (
)
Overall Thoughts:  As I've said before, menace is a very powerful, often underrated ability.  But it's simply better on creatures that have more than 1 point of toughness.  That 1 point of toughness is the reason this won't see play in Standard.
Mutiny
Rating:  2.5 (
)
Overall Thoughts:  How many times have you been behind on the number of creatures in play?  For me, it happens somewhat often.  I find myself with a Shock in my hand when I need to get rid of a creature with 4 toughness.  At those times, this would be a good card to draw.  You then have the option for the bigger creature to destroy a smaller one, or for a smaller one to deal damage to a larger one that you can then pick off with your Shock.  This card seems like a lot of fun.
Needletooth Raptor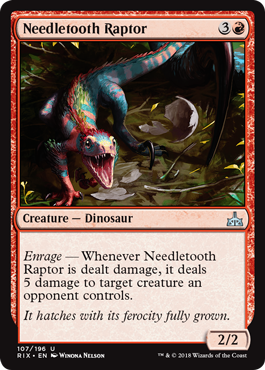 Rating:  2.0 (
)
Overall Thoughts:  This card makes me really hopeful that an enrage deck is possible.  While getting a 2/2 for 4 mana isn't very good, the potential to deal 5 damage to an opponent's creature is.  I'm not holding my breath that such a deck will be viable, but I'm hopeful.
Orazca Raptor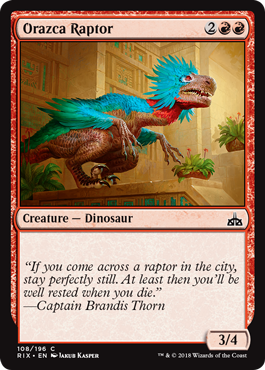 Rating:  1.0 (
)
Overall Thoughts:  A 3/4 for 4 mana is fine in Limited, but not having any sort of ability means it won't see play in Standard.
Pirate's Pillage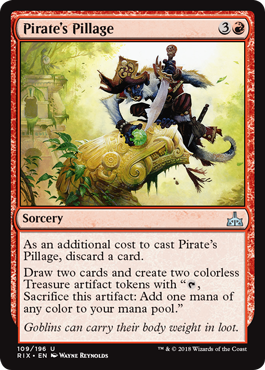 Rating:  1.5 (
)
Overall Thoughts:  Here's a Tormenting Voice that costs 2 more mana that also makes 2 Treasure tokens.  The only place this could see play is in a deck that wants a lot of Treasure tokens, and that hasn't proven itself to be a solid enough competitor in Standard.
Reckless Rage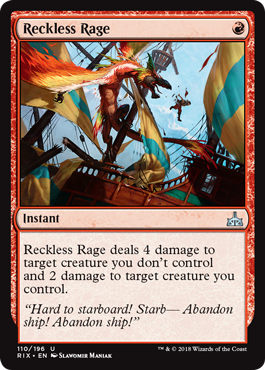 Rating:  2.0 (
)
Overall Thoughts:  This reminds me a little bit of Lethal Sting, and while that card doesn't see play in Standard, this card might.  Dealing 4 points of damage to an opponent's creature will likely be enough to destroy it, while the 2 points of damage you deal to your own could be put to good use with an enrage ability.
Rekindling Phoenix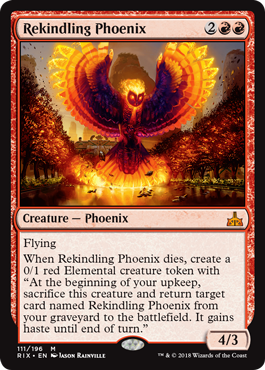 Rating:  3.0 (
)
Overall Thoughts:  Typically any creature that can come back from the graveyard will see some amount of play in Standard, and this card is no exception.  Both the Phoenix and the Elemental token have a low enough toughness that they can be dealt with by using only 1 burn spell on each, and by destroying the Elemental you prevent the Phoenix from returning.  But many decks will have a hard time keeping this Phoenix down, and for that reason I believe this will see play in Standard.
See Red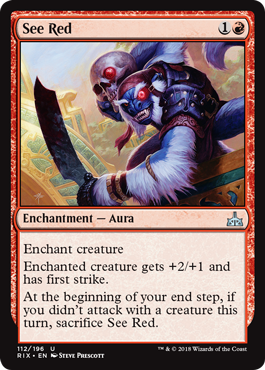 Rating:  2.5 (
)
Overall Thoughts:  If you were to put this on a lowly 1/1 creature, you suddenly have a 3/2 with first strike, capable of killing any blocker with a toughness less than 4 while remaining unscathed.  And that can happen as early as turn 2.  Seems good to me.  And the only downside is that if you fail to attack each turn, you have to sacrifice the enchantment.  That's a price I'm willing to pay.
Shake the Foundations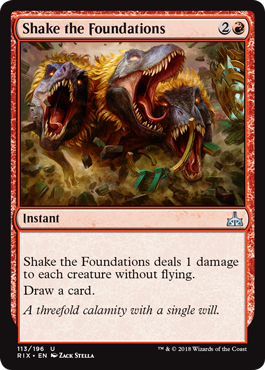 Rating:  2.5 (
)
Overall Thoughts:  Cards like this one are what make me think that a deck built around enrage will be possible.  So, for 3 mana you can trigger all of your Dinosaurs with enrage (that don't have flying) as well as pick off any of the smaller ground forces your opponent has in play, plus you get to draw a card.  That sounds like a card that will see some play in Standard to me.
Shatter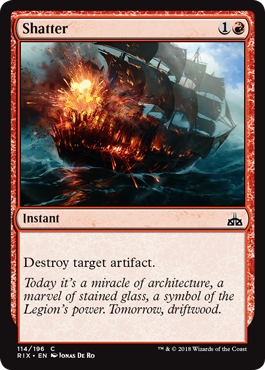 Rating:  1.0 (
)
Overall Thoughts:  While there are some artifacts that need to be destroyed once they hit the battlefield, we already have Abrade in Standard which can also damage creatures if there's no artifacts to be seen.
Silverclad Ferocidons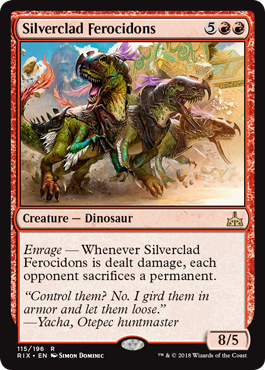 Rating:  2.5 (
)
Overall Thoughts:  This card is a great top-end for the theoretical enrage deck I've been talking about.  I'm very hopeful that this deck can compete, because triggering this enrage ability sounds like so much fun (for me, not my opponent).
Stampeding Horncrest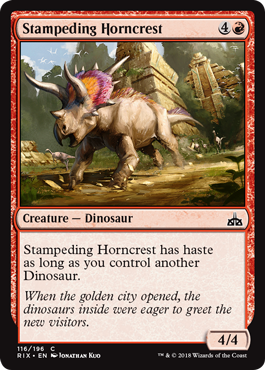 Rating:  1.5 (
)
Overall Thoughts:  In the right Dinosaur tribal deck, I could see this card getting a little action.  Especially in those decks that play Kinjalli's Caller and Otepec Huntmaster as a way to get out bigger threats in the early game.
Storm Fleet Swashbuckler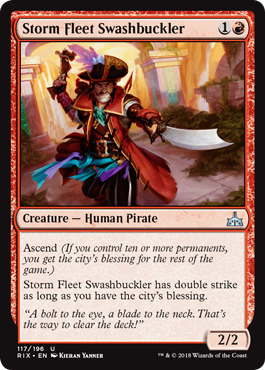 Rating:  2.0 (
)
Overall Thoughts:  While a 2/2 for 2 is right on curve, it's not very exciting.  However, since this card has the potential to gain double strike if you have the City's Blessing, it's not a completely useless card if you draw it in the late game.
Sun-Collared Raptor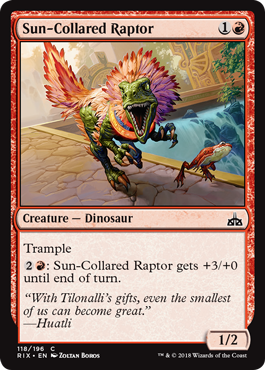 Rating:  1.0 (
)
Overall Thoughts:  Paying 3 mana to get +3 power is much different than paying 1 mana 3 times to get +3 power.  Since it's much harder to pump this Dinosaur up multiple times in a turn, I'm not expecting this to see any Standard play.
Swaggering Corsair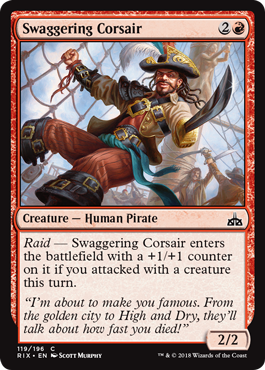 Rating:  1.0 (
)
Overall Thoughts:  Since this card is right on curve (a 3/3 for 3 mana) only if you can trigger raid, I'm not expecting him to see any Standard play.  It's just not up to snuff.
Tilonalli's Crown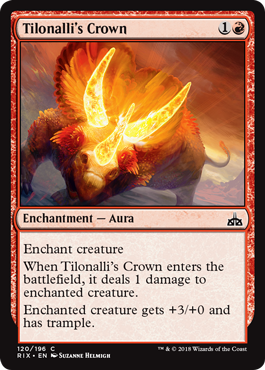 Rating:  1.5 (
)
Overall Thoughts:  Here's a nice way to trigger enrage on a creature while also giving a great power bonus plus trample.  It's also fairly cheap to play, so in an enrage deck this card could see a bit of play.
Tilonalli's Summoner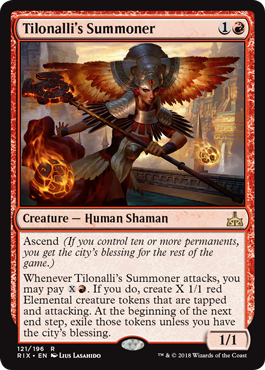 Rating:  2.0 (
)
Overall Thoughts:  I absolutely love everything about this card except for it's power and toughness.  Unless you have a way to pump this creatures stats, you're looking at 1 chance to be able to create some Elemental tokens.  If you're lucky, you'll be able to create enough to give you the City's Blessing so those tokens will stick around, because your opponent will surely be blocking this creature.
Wrapping Up
Thank you for joining me today for my thoughts on the Red cards in Rivals of Ixalan.  I'd love to know your thoughts.  Let me know by leaving a comment below, or contact me on Twitter (@mikelikesmtg), or email me directly at mikelikesmtg@gmail.com.  And be sure to join me tomorrow when I'll take a look at the Green cards.  I'll see you then!
Mike Likes
Comments