Hi everyone. Welcome to the final article in my series of reviews of the cards in the upcoming Rivals of Ixalan expansion. Today we'll be taking a look at all of the Multicolored cards, Artifacts, and Lands. In this article, I will discuss these cards as they relate to Standard play. My system uses number ratings ranging from 0 – 5 to gauge how well I think the cards will perform Standard play. I will offer some pros and cons for these cards and give my thoughts and rating on the card for Standard play. Please keep in mind that these ratings are based on my opinion only and may differ from your opinion. (If you have a different opinion, please sound off in the Comments section below and let me know your thoughts.)
How My Rating System Works
5.0: Format All-Star. This card is a total Bomb card. For those that aren't familiar with this term, it basically means this card will win you the game if left unchecked for a turn or two. These cards tend to be hard to defend against and can turn a game around in a hurry. Some cards that are bombs in limited may only be a mediocre card in constructed play. This card will see a lot of play in top tier tournament decks or will be the lynchpin of a top tier deck.
4.0: Above Average Card. This card is great. It can be played in multiple decks and will have an impact on the game every time. These cards can change a game quickly, get you back in the game, or shift the tempo of the game. These cards are usually vulnerable to some type of removal (or are a removal spell themselves), but they make up the majority of cards found in major tournament decks. This card will be a good support card in a top tier tournament deck.
3.0: Average Card. These are generally good cards, and many of them will be the majority of cards found in a tribal deck. Cards in this category are usually similar to other (higher-ranked) cards but cost 1 mana more or have a drawback in some manner. In Limited play, these are the majority of your deck. This card will likely be in a fair number of top tier tournament decks and will generally be interchangeable with other similarly-rated cards.
2.0: Niche Card. These cards serve are very narrow function and are usually meant for your sideboard. They could be removal spells that only remove 1 type of card, or cards with mediocre stats that have an ability that helps against opponents playing a certain color or strategy. In Limited play, these cards are put in your deck if you have no other options and need the card to reach your 40-card minimum deck size. For Constructed play, you will rarely play this card unless it's from your sideboard or you want to be "cute". This card will only be seen in select decks that are usually trying to play around with a specific ability or in tribal decks.
1.0: Will Rarely See Play. The worst of the worst. These cards are rarely played (if they're played at all). These cards generally have bad stats, cost too much mana, or have basically no impact on the game when they're played. Overall stay away from this card if possible. This card will likely not see any tournament play.
And now, on to the cards…
Angrath, the Flame-Chained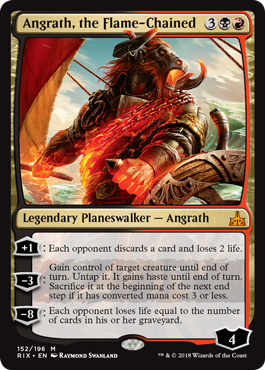 Rating:  2.0 (
)
Overall Thoughts:  I really like the character of Angrath, but I'm not sure if his planeswalker card has a home yet in Standard.  I do appreciate how each of the abilities feels very red or black, but I'm not convinced that he has any synergy with anything else in red or black.  I think people will try to brew with him, but I don't look for those brews to be very successful just yet.
Atzocan Seer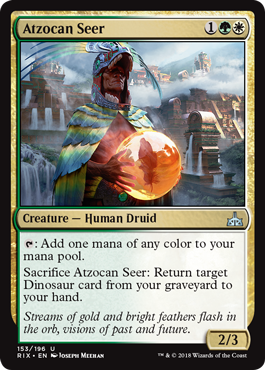 Rating:  1.5 (
)
Overall Thoughts: A 3-mana creature that produces mana isn't exactly what we're looking for.  And the fact that it can return a Dinosaur from your graveyard to your hand would be great, but it would have been better if it was a green and red creature instead of green and white.  I do like how the artwork looks like the creature is holding one of the Palantir from Lord of the Rings and I'm curious about the image it shows.
Azor, the Lawbringer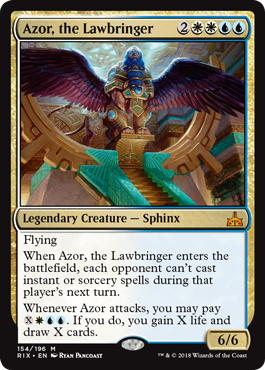 Rating:  5.0 (
)
Overall Thoughts:  Here's another great payoff for playing a blue-white control deck.  Azor, founder of the Azorious.  Creator of the Guildpact.  This is the definition of what a mythic rare creature should be.  The repeatable ability to cast Sphinx's Revelation makes this a great finisher.
Deadeye Brawler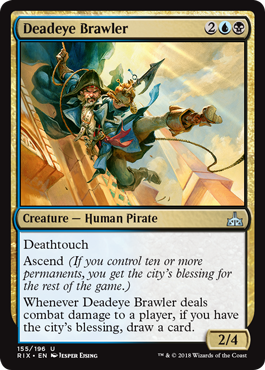 Rating:  2.0 (
)
Overall Thoughts:  While I'm not sure if this has an immediate home in Standard, I think people will try to incorporate it in their decks.  It is a very difficult creature to profitably block, and with the City's Blessing your opponent will need to decide which is worse, taking 2 points of damage and allowing you to draw a card or losing multiple creatures to block this.
Dire Fleet Neckbreaker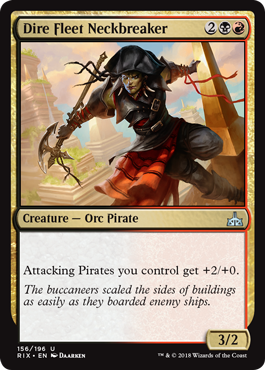 Rating:  2.0 (
)
Overall Thoughts:  If I'm playing a red-black Pirate deck, my goal is to hit the opponent fast and hard.  Since this costs 4 mana, it doesn't really hit them fast, but it sure helps your whole team hit harder.  I don't see it getting played a ton, but in the right deck this card will be amazing.  And it's especially gross if you manage to get multiples of it in play.
Elenda, the Dusk Rose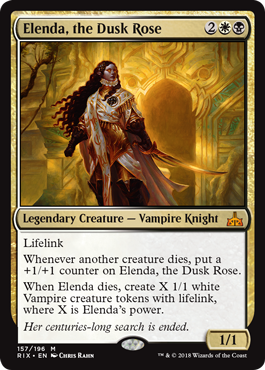 Rating:  2.5 (
)
Overall Thoughts:  For 4 mana, I'm hoping to get more than just a 1/1 creature.  And while she has lifelink, I still want more.  I do like that when she dies, the number of Vampire tokens you create is based on her power rather than the number of +1/+1 counters on her, so you could build a Mardu (red-white-black) deck with her, use instant combat tricks to increase her power, attack and then Fling her at your opponent, dealing a bunch of damage to your opponent and creating a bunch of Vampire tokens.  Sounds fun to me.
Huatli, Radiant Champion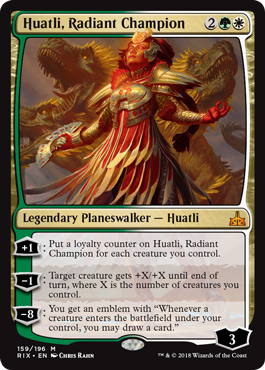 Rating:  2.5 (
)
Overall Thoughts:  There hasn't been a green-white deck in Standard for a while, but if one is created, Huatli, Radiant Champion could be a good centerpiece for it.  Her +1 loyalty ability could enable you to create an emblem the following turn if you have enough creatures in play.  That gives you card advantage, which we know is something that helps people win games.  And don't overlook her -1 loyalty ability, especially if she targets a creature with trample.
Jungle Creeper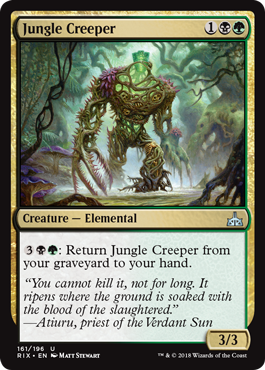 Rating:  1.5 (
)
Overall Thoughts:  I've said before that being able to return a creature from your graveyard to your hand (or the battlefield) is a very powerful ability.  And while that's exactly what this card does, it does it at a high mana cost.  Because of that, I don't see this getting much play in Standard.
Kumena, Tyrant of Orazca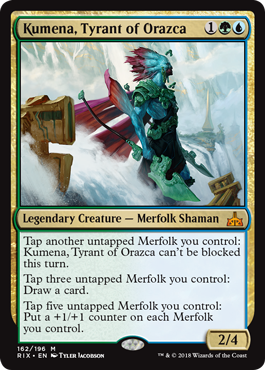 Rating:  5.0 (
)
Overall Thoughts:  Here's another amazing mythic rare.  Having three abilities makes this almost feel like a planeswalker.  I love how in the Magic story, Kumena doesn't want to work with the other Merfolk from the story, but this card is basically just the opposite of that.  This Kumena wants you to have lots of other Merfolk in play and wants to work hand-in-hand with them.  One thing to remember is that you can tap any Merfolk on the turn they come into play (including Kumena himself) for any of the three abilities listed on this card since they don't use the tap symbol.
Legion Lieutenant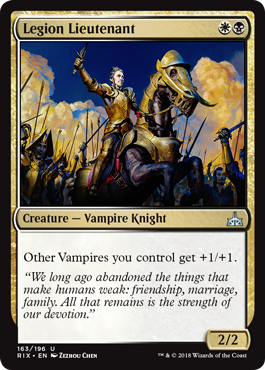 Rating:  3.0 (
)
Overall Thoughts:  Finally we get a Vampire "lord" for Standard.  I like that it exists, but I kind of wish it had cost 2 hybrid black-white mana instead, so you could choose to build mono-black or mono-white Vampire tribal decks.
Merfolk Mistbinder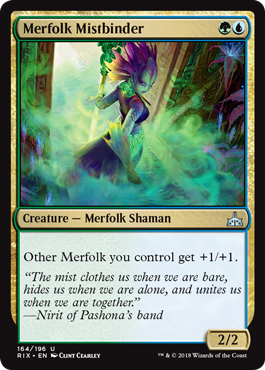 Rating:  3.0 (
)
Overall Thoughts:  Everything I said about Legion Lieutenant applies to this card as well.  A hybrid mana cost would have been better, but I'm still happy this exists.
Protean Raider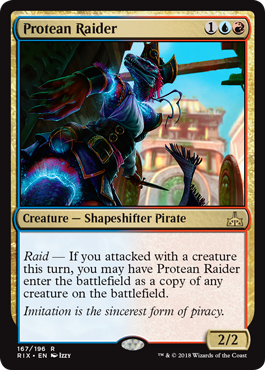 Rating:  2.0 (
)
Overall Thoughts:  A Clone that needs another creature to have attacked this turn isn't exactly what people were asking for.  But, this is a new direction that a blue-red deck can go in, so maybe a new brew will pop up.
Raging Regisaur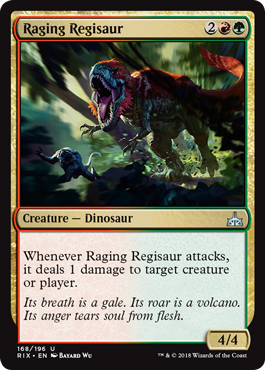 Rating:  2.5 (
)
Overall Thoughts:  This is a nice creature to include in a deck built around the enrage ability.  It's also very good against token decks that haven't found a way to pump up their tokens yet.  And, if all else fails, you can always just deal the 1 point of damage directly to your opponent.
Relentless Raptor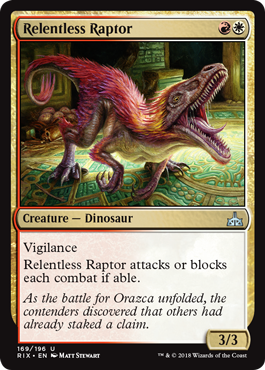 Rating:  2.5 (
)
Overall Thoughts:  Getting a 3/3 for 2 mana is nice.  It having vigilance is also nice.  But there's definitely a drawback for the value this card grants.  Once the game goes long enough, your opponent will undoubtedly cast a creature large enough to kill this creature.  So make the most of this while you've got it.
Resplendent Griffin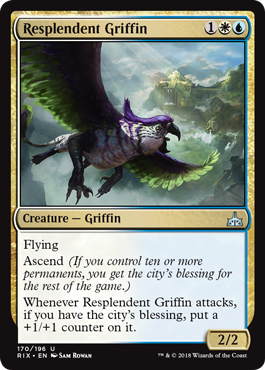 Rating:  2.5 (
)
Overall Thoughts:  Who knew parrots and griffins were interchangeable?  All kidding aside, even without having the City's Blessing, this isn't a bad creature.  And if you're able to get it, this creature becomes even better with each combat.
Siegehorn Ceratops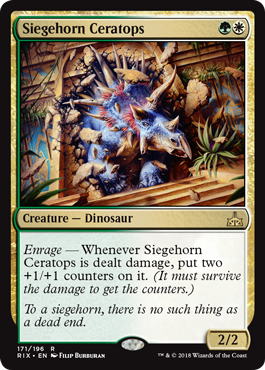 Rating:  2.5 (
)
Overall Thoughts:  If you were somehow able to repeatedly ping this creature for 1 damage, not only would it survive but it would become bigger and bigger with each point of damage.  It only works though if the damage comes in one point at a time.  This is another good creature for an enrage deck, but with it having white in its mana cost, I'm not sure it's a good fit.
Storm Fleet Sprinter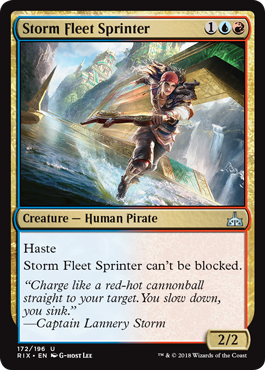 Rating:  2.5 (
)
Overall Thoughts:  This Pirate is so fast, he can attack the turn you cast him and can't be blocked.  That sounds pretty good for an aggressive Pirate deck.  Slap on a Pirate's Cutlass and the game can be over pretty quickly.  Just be aware that your opponent will likely have some removal for this creature.
Zacama, Primal Calamity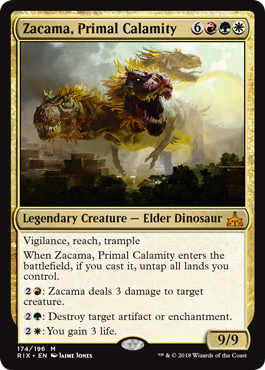 Rating:  2.5 (
)
Overall Thoughts:  As much as I want to give this card a higher rating, I can't simply due to the fact that it costs 9 mana.  And while there are creatures that reduce the mana needed to cast Dinosaur spells as well as many cards that ramp your mana, I don't see this having a home in Standard outside of possibly a God-Pharaoh's Gift deck.  Even there, I'm not sure it could see play because you be basically putting in an uncastable card into your deck in the hope that you'll be able to reanimate this.  Even there, I'm not sure you'd want this since you'd be losing out on nearly everything that makes this card so good.
Hadana's Climb / Winged Temple of Orazca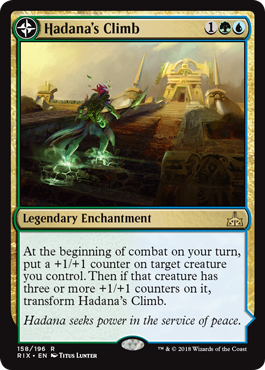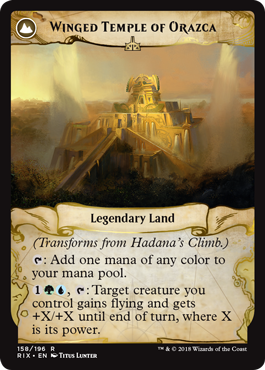 Rating:  3.0 (
)
Overall Thoughts:  Based on how easy it is to get +1/+1 counters on Merfolk, it seems like this card should be an auto-include in those Merfolk tribal decks.  The only reason not to play this would be having an already overcrowded 3-drop slot.  If more Merfolk are needed for your deck, this could be something that's easy to cut.
Journey to Eternity / Atzal, Cave of Eternity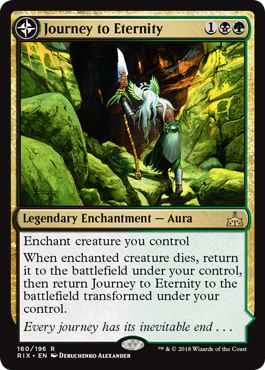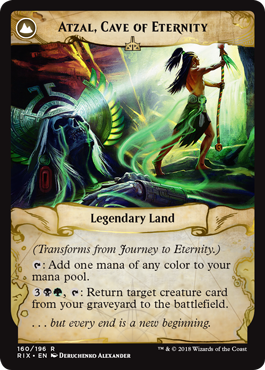 Rating:  3.5 (
)
Overall Thoughts:  This card has the potential to be the most annoying card in the set.  Play this enchantment on a creature that your opponent must answer and let the graveyard recursion begin.  Move over God-Pharaoh's Gift, there's a new reanimator in town that can continually bring back the best creature in your graveyard.
Path of Mettle / Metzali, Tower of Triumph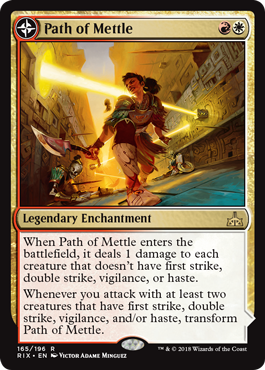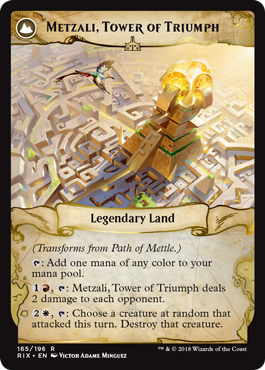 Rating:  2.0 (
)
Overall Thoughts:  This card isn't an auto-include in just any aggressive deck.  The deck this goes into will need to be one that is planned for with this card in mind.  And while the enchantment side of this card is just okay, it's the land side that excites me.  Unless your opponent has a lot of attacking creatures, being able to randomly destroy any one of them might make attacking look less appealing for them.
Profane Procession / Tomb of the Dusk Rose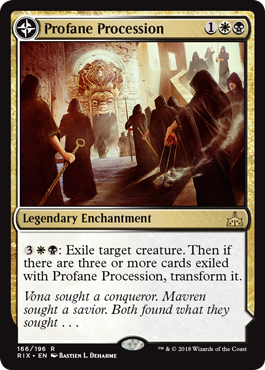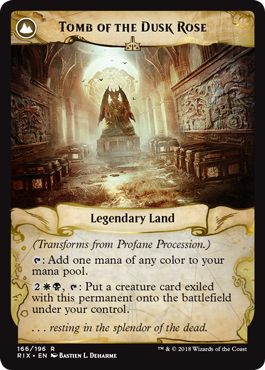 Rating:  2.0 (
)
Overall Thoughts:  While it's pretty expensive to exile a creature, doing so could give you enough of an advantage over your opponent that you never have to flip this enchantment.  But if you do flip this to the land side, seeing the look on your opponent's face as you use their own creatures against the could be priceless.
Storm the Vault / Vault of Catlacan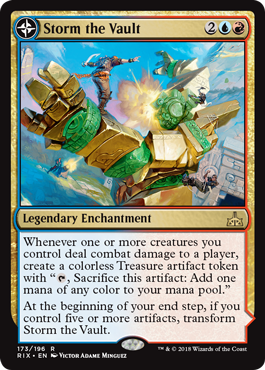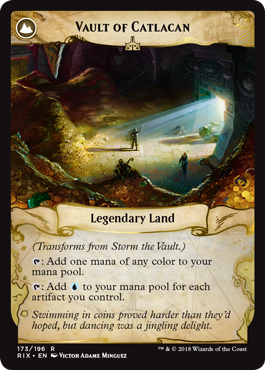 Rating:  3.0 (
)
Overall Thoughts:  The fact that you need any 5 artifacts in play in order for this enchantment to flip is what makes this card so playable.  And once it's flipped, you have a land that equates to Tolarian Academy, with an additional mana ability.  I know there will be people that try to break this card in Standard.
Azor's Gateway / Sanctum of the Sun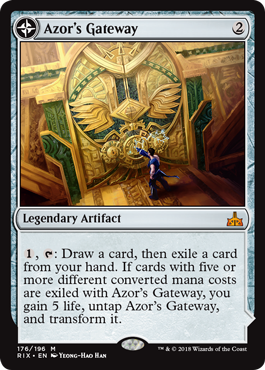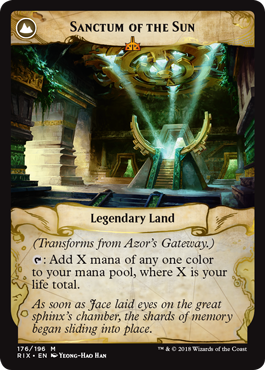 Rating:  1.5 (
)
Overall Thoughts:  When I read this card, everything sounds incredible.  I get visions of being able to tap the land side of this card for a minimum of 6 mana (and possibly much more).  Then I realize that I have practically no cards in my had to use that mana on since I had to exile them in order to flip the artifact into the land.  That's when I realize just how much of a trap this card really is.
Golden Guardian / Gold-Forge Garrison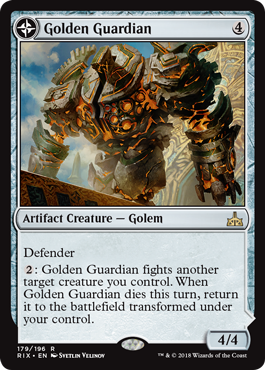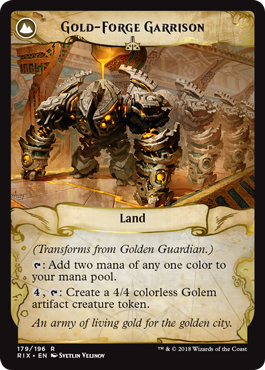 Rating:  1.5 (
)
Overall Thoughts:  The main thing to remember with this card is that you only get to transform it if the activated ability has been triggered.  So, this won't turn into a land unless the creature dies while fighting another creature (or fought a creature and survived earlier in the turn).  I would have given this a better rating if it could fight creatures that your opponent controls.  The fact that the land isn't legendary makes me hope to live the dream of getting 3 in play, so I can tap 2 of them for mana and the other to create a golem.
Awakened Amalgam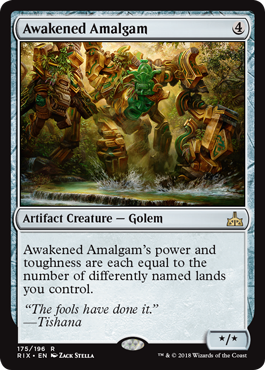 Rating:  1.0 (
)
Overall Thoughts:  This is a creature that I think will see much more play in Commander than it will in Standard.  Usually my Standard decks will play 4-5 different land names by the time the game is over.  I think most decks are built like this, so paying 4 mana for a creature with no special abilities that might not even be a 4/4 seems pretty bad to me.
Captain's Hook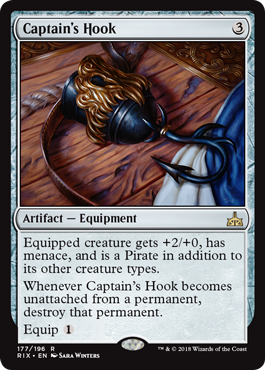 Rating:  1.5 (
)
Overall Thoughts:  In most cases, I think this card will be pretty bad.  In my opinion, if it had a mana cost of 2 it might be playable, but as it is it's a little too expensive to see anything other than fringe play.
Gleaming Barrier
Rating:  1.0 (
)
Overall Thoughts:  The only place this could possibly see any play would be in a control deck.  But the latest control decks have been opting to play 0-2 creatures in order to make their opponent's removal cards useless.  For that reason, I don't see this card finding a home in Standard.
The Immortal Sun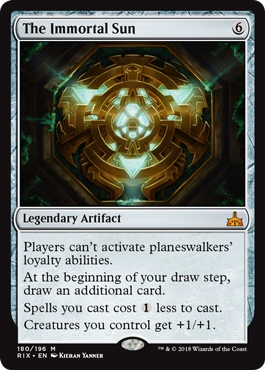 Rating:  2.5 (
)
Overall Thoughts:  I'm going to go out on a limb and say that I believe there are enough cards in Standard to build a decent mama ramp deck.  And this card will be an all-star in that deck.  And that will be the only place in Standard that this will see play.
Orazca Relic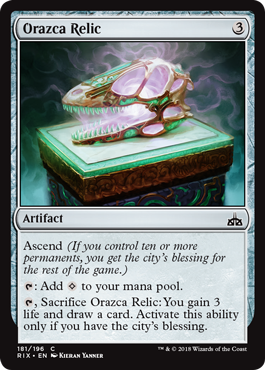 Rating:  1.5 (
)
Overall Thoughts:  3-mana mana rocks usually have a hard time finding a home in Standard.  I don't think this card will be an exception to that rule.  The fact that it taps for colorless mana in a set with no colorless requirements makes it less than appealing.  However, if there is a ramp deck, this could see some fringe play in that deck.
Silent Gravestone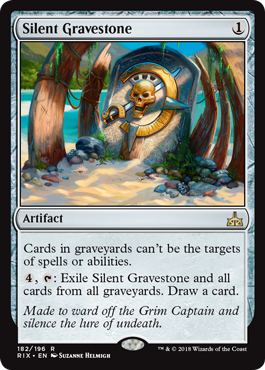 Rating:  1.5 (
)
Overall Thoughts:  Many people might think this would be a good card to sideboard in against God-Pharaoh's Gift and The Scarab God decks, and they'd be half right.  God-Pharaoh's Gift doesn't target, so this card doesn't work against it.  The Scarab God is a different story though.  This card will likely have a much bigger impact in other formats (like Modern) than it will in Standard.
Strider Harness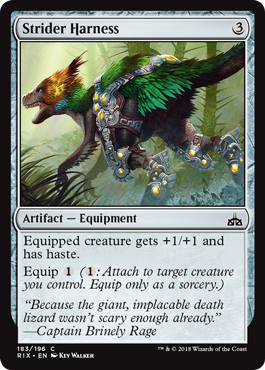 Rating:  2.0 (
)
Overall Thoughts:  I've always liked Strider Harness and have fond memories of using it during the Scars of Mirrodin block.  It can certainly make combat difficult for your opponent, as any creature you play could gain haste (and a +1/+1 bonus to boot).
Traveler's Amulet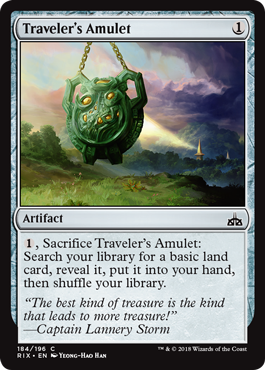 Rating:  1.5 (
)
Overall Thoughts:  This is a nice card to have that allows you to splash a color in your deck without having to commit too many land slots for it.  It's a nice tool that is sometimes missing from Standard.
Arch of Orazca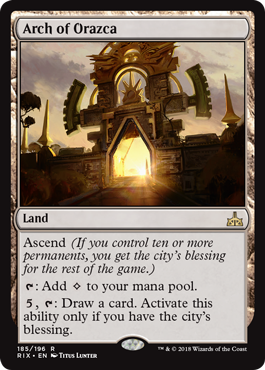 Rating:  1.5 (
)
Overall Thoughts:  Any card that allows you to draw a card has the potential to be played in Standard.  The fact that this card allows you to do it for the low cost of just 6 mana is the primary limiting factor on this card.  I only expect to see this at the fringes of Standard.
Evolving Wilds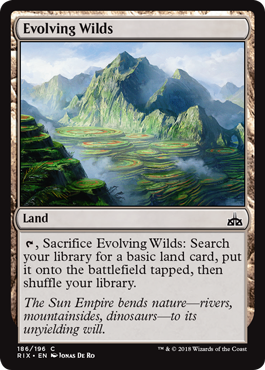 Rating:  1.5 (
)
Overall Thoughts:  Evolving Wilds is a card like Traveler's Amulet that allows players to splash a color more easily.  The fact that this can be unusable if Blood Sun is in play makes this less playable than normal.
Forsaken Sanctuary / Foul Orchard / Highland Lake /
Stone Quarry / Woodland Stream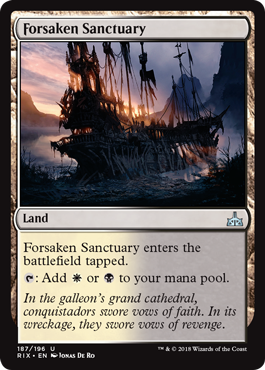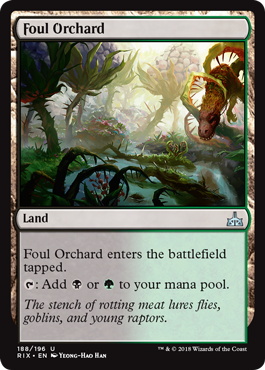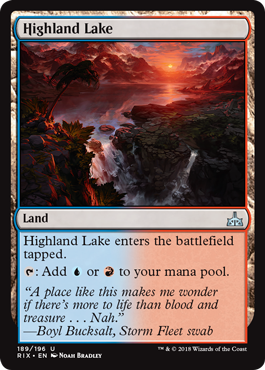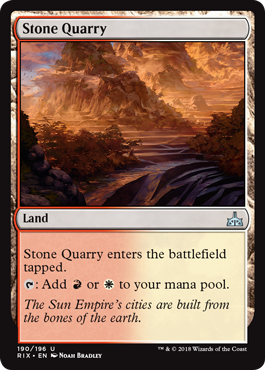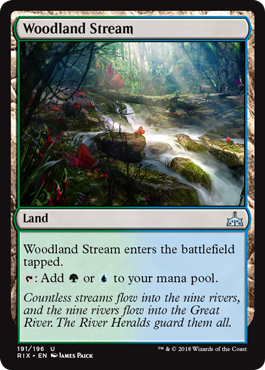 Rating:  3.0 (
)
Overall Thoughts:  Enemy-colored dual lands are in short supply in Standard right now, and if you're not playing the fastlands from Kaladesh, these are your only option.  They get a 3.0 rating from me because they're staple cards currently.
Wrapping Up
Thank you for joining me today for my thoughts on the final batch of cards in Rivals of Ixalan.  I'd love to know your thoughts.  Let me know by leaving a comment below, or contact me on Twitter (@mikelikesmtg), or email me directly at mikelikesmtg@gmail.com.  I look forward to seeing any comments you might have.
Mike Likes
Comments