Hi everyone. Welcome to the fifth article in my series of reviews of the cards in the upcoming Ixalan expansion. Today we'll be taking a look at all of the Green cards. In this article, I will discuss these cards as they relate to Standard play. My system uses number ratings ranging from 0 – 5 to gauge how well I think the cards will perform Standard play. I will offer some pros and cons for these cards and give my thoughts and rating on the card for Standard play. Please keep in mind that these ratings are based on my opinion only and may differ from your opinion. (If you have a different opinion, please sound off in the Comments section below and let me know your thoughts.)
How My Rating System Works
5.0: Format All-Star. This card is a total Bomb card. For those that aren't familiar with this term, it basically means this card will win you the game if left unchecked for a turn or two. These cards tend to be hard to defend against and can turn a game around in a hurry. Some cards that are bombs in limited may only be a mediocre card in constructed play. This card will see a lot of play in top tier tournament decks or will be the lynchpin of a top tier deck.
4.0: Above Average Card. This card is great. It can be played in multiple decks and will have an impact on the game every time. These cards can change a game quickly, get you back in the game, or shift the tempo of the game. These cards are usually vulnerable to some type of removal (or are a removal spell themselves), but they make up the majority of cards found in major tournament decks. This card will be a good support card in a top tier tournament deck.
3.0: Average Card. These are generally good cards, and many of them will be the majority of cards found in a tribal deck. Cards in this category are usually similar to other (higher-ranked) cards but cost 1 mana more or have a drawback in some manner. In Limited play, these are the majority of your deck. This card will likely be in a fair number of top tier tournament decks and will generally be interchangeable with other similarly-rated cards.
2.0: Niche Card. These cards serve are very narrow function and are usually meant for your sideboard. They could be removal spells that only remove 1 type of card, or cards with mediocre stats that have an ability that helps against opponents playing a certain color or strategy. In Limited play, these cards are put in your deck if you have no other options and need the card to reach your 40-card minimum deck size. For Constructed play, you will rarely play this card unless it's from your sideboard or you want to be "cute". This card will only be seen in select decks that are usually trying to play around with a specific ability or in tribal decks.
1.0: Will Rarely See Play. The worst of the worst. These cards are rarely played (if they're played at all). These cards generally have bad stats, cost too much mana, or have basically no impact on the game when they're played. Overall stay away from this card if possible. This card will likely not see any tournament play.
And now, on to the cards…
Aggressive Urge
Rating:  1.5 (
)
Overall Thoughts:  In Standard, combat tricks really need to be powerful.  This, unfortunately, is not.  It does allow you to draw a card, which is nice, but I don't think that it will see much Standard play.
Cacophodon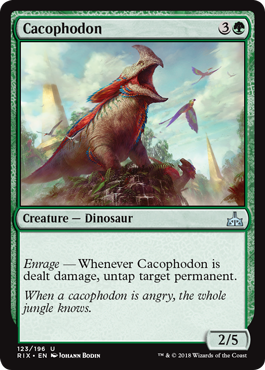 Rating:  2.0 (
)
Overall Thoughts: Unless there's a broken combo in Standard that I haven't seen, this card won't see play outside of a dedicated enrage deck.  And even there, it'll have a hard time competing with cards that have enrage abilities that deal extra damage.
Cherished Hatchling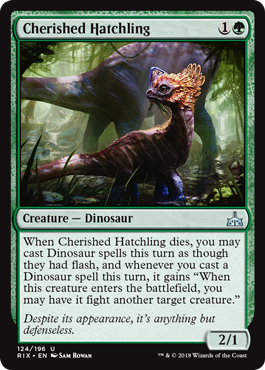 Rating:  1.5 (
)
Overall Thoughts:  I want to like this card so badly, but I just can't.  If there was a way to be sure you could trigger its death ability whenever you wanted to, the card might be playable.  I imagine this card will be tried, but will end up being killed during your end step, forcing you to use your mana on creatures that you would have rather flashed in as surprise blockers.  I guess the upside is still that they get to fight any target creature, so you can either try to kill off an upcoming attacker or trigger an enrage ability of your own Dinosaurs.
Colossal Dreadmaw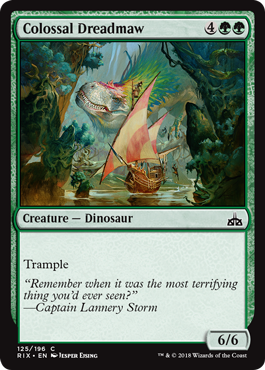 Rating:  1.0 (
)
Overall Thoughts:  I think the flavor text on this new version says it all.  There's just better options to be played in Standard.
Crested Herdcaller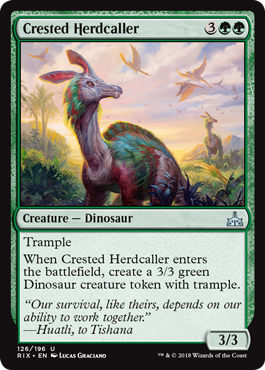 Rating:  2.5 (
)
Overall Thoughts:  A total of 6 power and 6 toughness spread across two bodies for 5 mana is a good deal.  If you can find a way to flicker this, you'll really be in business.
Deeproot Elite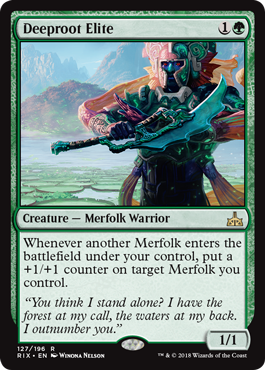 Rating:  3.5 (
)
Overall Thoughts:  I think this will definitely be a staple card for Merfolk tribal decks trying to use +1/+1 counters to their advantage.  I also think this works well alongside Deeproot Waters as a way to get extra +1/+1 counters.  If only Winding Constrictor could be added as well…
Enter the Unknown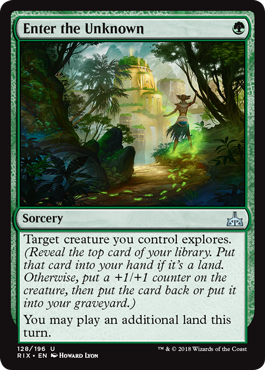 Rating:  3.5 (
)
Overall Thoughts:  Let the ramping begin!  For only 1 mana, this card sure does a lot.  As long as you have a creature in play, you're able to explore twice.  If you happen to draw a land card or two, you're able to accelerate your mana production by playing an additional land.  That's great!  However, the main drawback of this spell is that you must have a creature in play you can target with it, and it must be a legal target for the spell when it resolves, or the entire thing fizzles.  I think it's worth the risk and that this card will be played quite a bit.
Forerunner of the Heralds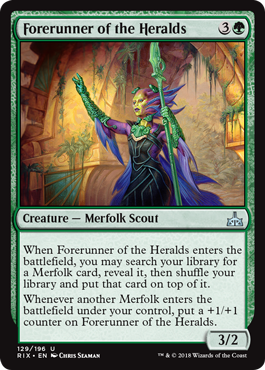 Rating:  3.5 (
)
Overall Thoughts:  Man, oh man, does this go great alongside Deeproot Waters and Deeproot Elite?  This creature can grow unnaturally large in a short amount of time if left unchecked.  If you can find a way to make it unblockable or give it trample, it's a real beater.
Ghalta, Primal Hunger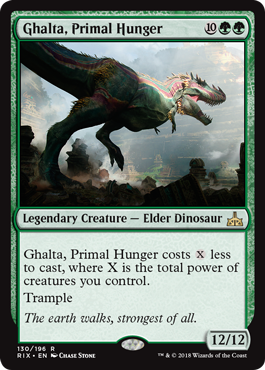 Rating:  4.0 (
)
Overall Thoughts:  This is by far the simplest of the Elder Dinosaurs, and it's hard to know just how powerful it actually is.  Any card that allows you to cheat on mana will be played in Standard, and this card is no exception.  To me, it feels like a win-more card (if you're able to play this card you were likely already winning the battle), but that doesn't stop it from being playable.  It's true that it dies to a lot of removal, but if your opponent doesn't have that removal in hand when you cast this, they're in for a world of hurt.
Giltgrove Stalker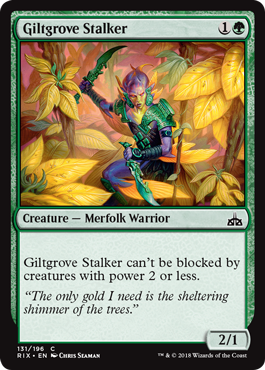 Rating:  1.5 (
)
Overall Thoughts:  While it's not a card I would want to play in most decks, in a Merfolk tribal deck that's built around +1/+1 counter strategies, this card could be pretty good.
Hardy Veteran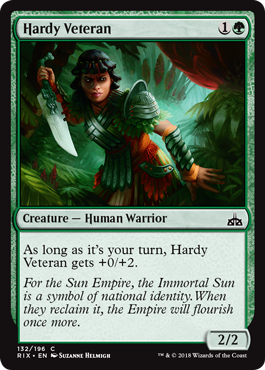 Rating:  1.0 (
)
Overall Thoughts:  The fact that your opponent knows that this card only gets a defensive bonus on your turn means that this is much more likely to die on your opponent's turn due to removal.  In Limited, this could be a good card, but in Standard it's not.
Hunt the Weak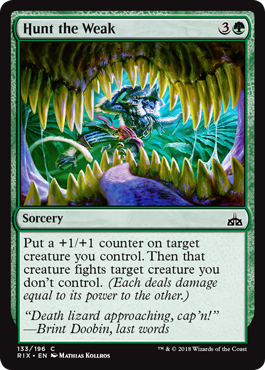 Rating:  1.0 (
)
Overall Thoughts:  Hunt the Weak is already in Standard thanks to Kaladesh, and it doesn't see any play.  I'm doubtful that will change now.
Jade Bearer
Rating:  1.5 (
)
Overall Thoughts:  Being able to get 2 points of power and toughness for only 1 mana is great.  However, I usually want my 1-drop creatures to be good on their own without having to rely on there being another creature on the battlefield.
Jadecraft Artisan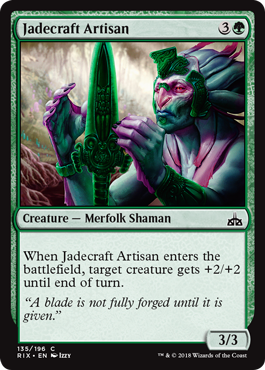 Rating:  1.0 (
)
Overall Thoughts:  Here's another example of a creature with a dependency of having another creature on the battlefield that can receive the benefit this card brings.  Cards like this are good in Limited play, but probably won't see play in Standard.
Jadelight Ranger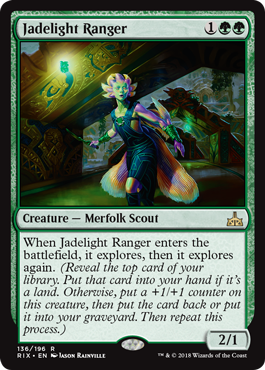 Rating:  3.0 (
)
Overall Thoughts:  Getting anywhere from a 2/1 plus 2 lands for 3 mana all the way up to a 4/3 plus 2 scrys for 3 mana makes this card super playable and exciting.  Look for this card to become a Standard staple in Merfolk tribal decks.
Jungleborn Pioneer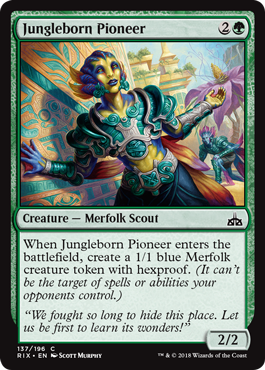 Rating:  2.0 (
)
Overall Thoughts:  Playing this card will help your Merfolk tribal deck be able to swarm your opponent easier.  It also gives 2 triggers for cards that trigger when a Merfolk enters the battlefield.  Those are the types of decks where this card shines.
Knight of the Stampede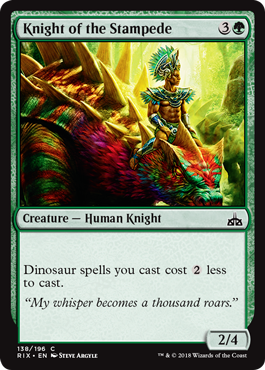 Rating:  1.5 (
)
Overall Thoughts:  While I don't believe this card will be as widely played in Dinosaur tribal decks as Kinjalli's Caller and Otepec Huntmaster are, I do believe that this will see a small amount of fringe play, especially in those decks trying to splash for Elder Dinosaurs.
Naturalize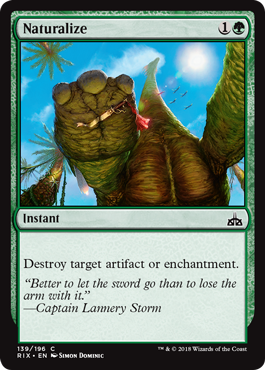 Rating:  1.5 (
)
Overall Thoughts:  It's been a little while since Naturalize has been in Standard.  This card could replace Appetite for the Unnatural in sideboards, but I wouldn't look for it in the main 60 anywhere.
Orazca Frillback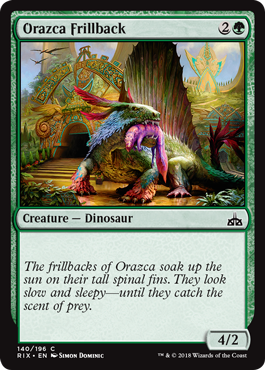 Rating:  1.0 (
)
Overall Thoughts:  While vanilla is my favorite flavor of ice cream, it's my least favorite flavor of dinosaur.  Creatures with no abilities don't usually see any plan in standard, and that's what I'm expecting to happen here.
Overgrown Armasaur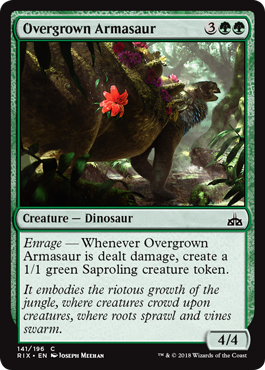 Rating:  2.5 (
)
Overall Thoughts:  Here's another potential card to play in an enrage deck.  I'm not sure flavorwise how this Dinosaur makes Saproling tokens, but it's a cool effect.  It's just too bad that Saprolings aren't a supported tribe in Ixalan.  I wonder if this card is hinting at future Saprolings when we got to Dominaria?
Path of Discovery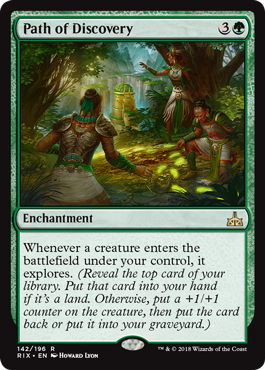 Rating:  2.5 (
)
Overall Thoughts:  I'd really like explore to be a mechanic that a deck is built around, but unfortunately many of the cards that allow you to repeatedly explore are a slight bit overcosted.  If this cost 3 mana I think it would see quite a bit of play.  As it is, I still think it will see some play, but I'm skeptical that the deck will become Tier 1.
Plummet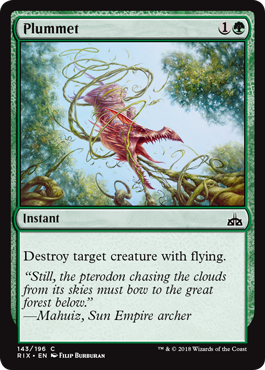 Rating:  1.5 (
)
Overall Thoughts:  Plummet's back again, and as it usually is, I expect to see it played from the sideboard much more often than the main deck.
Polyraptor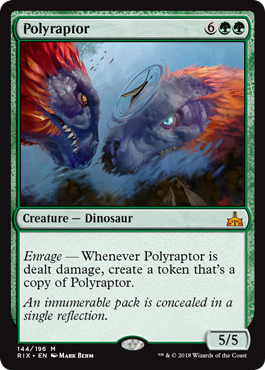 Rating:  2.5 (
)
Overall Thoughts:  Hopefully an enrage deck will come to fruition, because this is one cool creature.  Hit it once and you get another copy of it.  If you can then hit them both, you'll end up with 4 in total.  It's like the gift that keeps on giving.  The main downside is its mana cost, but with Dinosaurs there are ways to get around that problem.
Strength of the Pack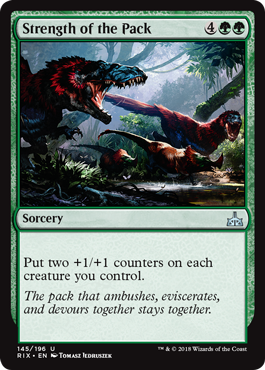 Rating:  1.5 (
)
Overall Thoughts:  Since this is a sorcery, you won't be able to gain an unexpected advantage when you play this card.  It's also a little situational since you really wouldn't want to cast this unless you have 3 or more creatures already in play.  But keep in mind that this does work well with Winding Constrictor, so there's a chance this could see a little play in Standard.
Swift Warden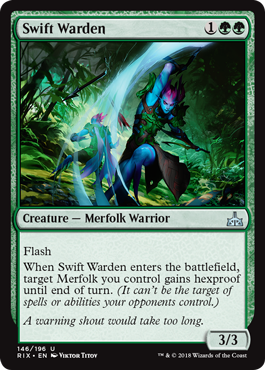 Rating:  3.0 (
)
Overall Thoughts:  This card is a great way to further advance your board while also protecting what you've already built.  I think this will see play in many Merfolk tribal decks in Standard.
Tendershoot Dryad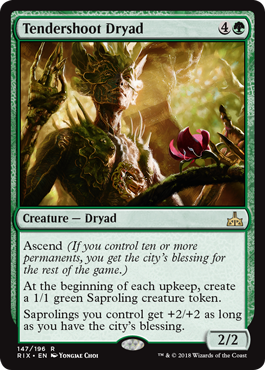 Rating:  3.5 (
)
Overall Thoughts:  Being able to create a Saproling token each turn for free is a nice ability.  It becomes really great if you manage to get the City's Blessing and those small Saproling tokens are suddenly 3/3 creatures.  It's nice that if you play this early on, the Saproling tokens help you draw the game out so that you can get the 10 permanents needed for the City's Blessing.
Thrashing Brontodon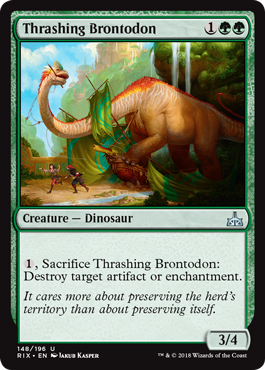 Rating:  3.0 (
)
Overall Thoughts:  It's not often that we get a creature that we can sacrifice to destroy an artifact or enchantment, but when we do, they're usually worth playing.  I think this is no exception, and I expect it to be a staple card in green decks in Standard.
Thunderherd Migration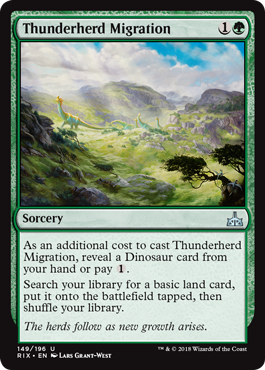 Rating:  2.5 (
)
Overall Thoughts:  In Dinosaur tribal decks, this is an excellent way to ramp your mana.  I think it's a little too expensive to see play in other archetypes though.
Wayward Swordtooth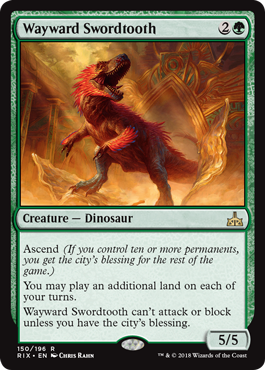 Rating:  3.0 (
)
Overall Thoughts:  Being able to play multiple lands each turn is quite powerful.  Those lands will add up quickly and push your permanent count above 10 allowing you to get the City's Blessing.  Once that happens and this card is able to attack and block you should be well ahead of your opponent and on your way to winning the game.
World Shaper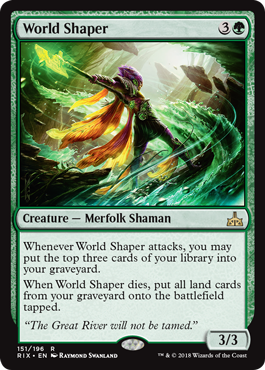 Rating:  3.5 (
)
Overall Thoughts:  I'm not sure why this creature flavor-wise is so helpful for obtaining the City's Blessing, but I think it's cool that it is.  It's also a 3/3 which is no joke when it's attacking.  The way I see it, your opponent can either take 3 points of damage or block this and either lose a smaller creature or kill this one, which benefits you as well.  Just watch out for creatures with power less than 3 and toughness greater than 3.
Wrapping Up
Thank you for joining me today for my thoughts on the Green cards in Rivals of Ixalan.  I'd love to know your thoughts.  Let me know by leaving a comment below, or contact me on Twitter (@mikelikesmtg), or email me directly at mikelikesmtg@gmail.com.  And be sure to join me tomorrow when I'll take a look at the Multicolored cards, Artifacts, & Lands.  I'll see you then!
Mike Likes
Comments