Hello, and welcome to another episode of Raise Your Standards.  This weekend is the Prerelease for M19, the latest core set to be released for Magic.  As such, there's not much of a point in talking about the latest deck that are doing well on Magic Online, since the format is about to be shaken up by this new release.  So this week I decided to talk a little about some of the cards that have me most excited from M19.  These cards will be in no particular order and they are simply some of my favorite cards from the set.  Without further ado, let's begin looking at the cards that I most want to see in decks once M19 releases.
---
Druid of Horns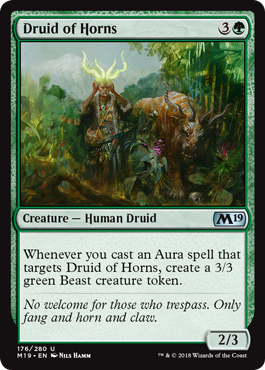 The first card I hope to find a deck for is Druid of Horns.  Normally it's not ideal to cast auras on your creatures because you run the risk of being two-for-one'd, but this nullifies that.  I'd love to run this in a deck with Metallic Mimic and other cards that can bump up the power level of the 3/3 Beast tokens the Druid of Horns creates.  Plus, you can combine this with some of the Cartouches from Amonkhet to make your Druid of Horns into a powerful, evasive threat while creating a small army for him at the same time.
---
Psychic Corrosion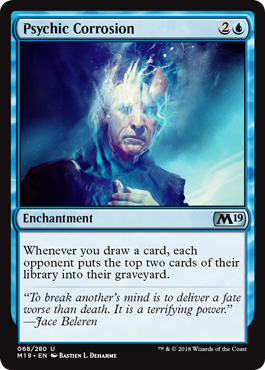 The next card I hope finds a home in Standard is Psychic Corrosion.  Those of you that have read some of my past articles might know I love alternate win conditions, so the thought of milling out an opponent brings me joy.  Combine this with cards like Glimmer of Genius, Divination, Opt, and Millstone and you have the beginnings of a fun, casual deck that has potential to become a powerful control deck with the addition of some additional counterspells.  Also, let's not forget that both Fraying Sanity and Ipnu Rivulet are still Standard legal for a few more months.
---
Leonin Warleader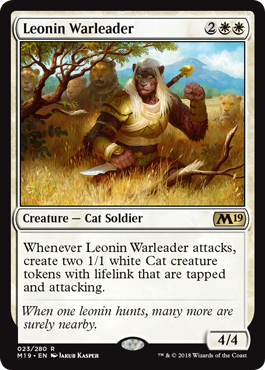 Leonin Warleader looks like a fun addition to an aggressive Cat-based deck.  While he's no Brimaz, King of Oreskos, getting additional Cat tokens each time he attacks can get out of hand quickly.  If you have a way to either make additional tokens when a token enters the battlefield (such as Anointed Procession) or a way to gain additional combat phases (such as Combat Celebrant), this will get out of hand quickly.  Is that the beginning of a W/R Aggro deck I smell?
---
Open the Graves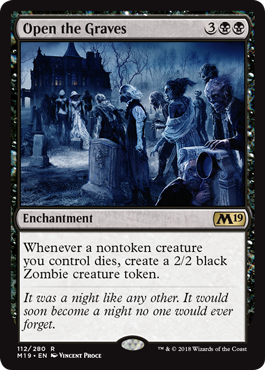 This is another card that I see pairing with Anointed Procession nicely.  Plus, if you can set up a reliable sacrifice outlet (such as Temple of Aclazotz) with a Reassembling Skeleton, you can repeatedly create Zombie tokens, enough to make your own army of the damned.  This could work well in Modern as well, where there are cards like Zulaport Cutthroat and Nantuko Husk to combo off with.
---
Runic Armasaur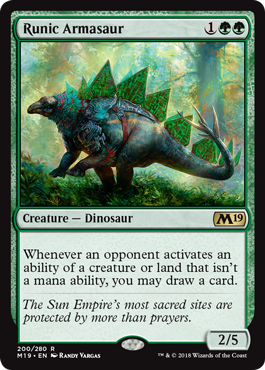 Runic Armasaur is a card I could see being in a lot of player's sideboards.  It's another card I think could see more play in older formats like Modern, but I think this could be a player in Standard as well.  It will allow you to draw a card whenever your opponent activates their The Scarab God, which may help you find an answer you've been looking for.  It also works well against Walking Ballista as each time they remove a +1/+1 counter to deal a point of damage is an activation, and that could add up to a lot of cards you can draw.  Luckily it's a 'may' ability so you don't have to worry about decking yourself.
---
Resplendent Angel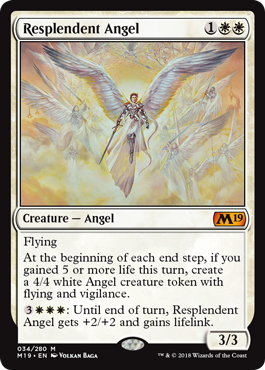 Here's a card I have no doubt that people will try out in Standard.  I think this card has the potential to be amazing, and of course I want to try it out alongside one of my favorite cards, Crested Sunmare.  I'm not sure how feasible having both in the same deck will be since they're both expensive threats, but hopefully someone will figure out the right combination to make my dream a reality.
---
Vampire Neonate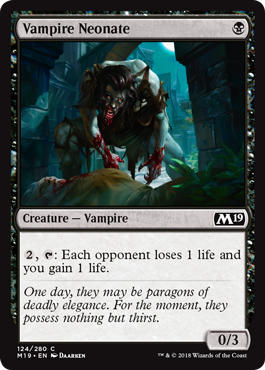 Another card I think pairs well with Crested Sunmare is Vampire Neonate.  It allows you to play creatures with lifelink that you can use to attack with on your turn (gaining you a 5/5 Horse token) while still giving you a way to gain life on your opponent's turn without having to rely on blocking with a creature with lifelink (gaining you another 5/5 Horse token).  In case you can't tell, I think I have a little fondness for Crested Sunmare.
---
Mare Cycle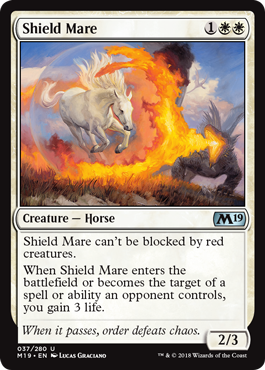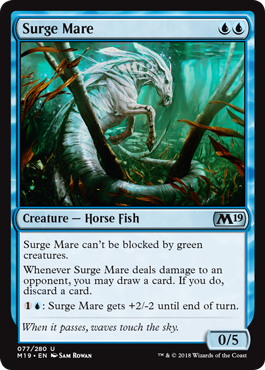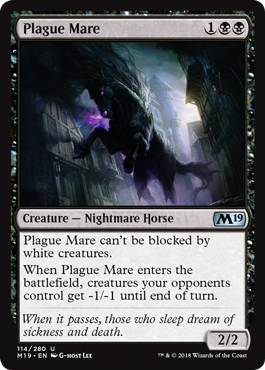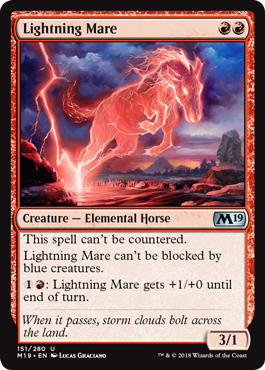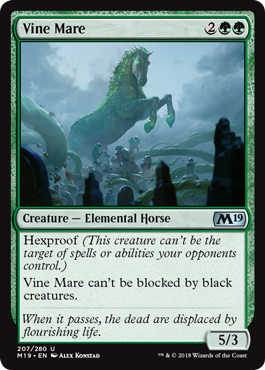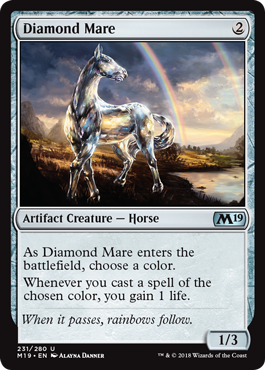 Maybe I misspoke in that last paragraph.  The fondness I spoke of might actually be an unhealthy obsession.  Regardless, I'm excited to try out the cycle of Mare cards from M19 in order to determine which the best is.  I think I'm leaning towards making a B/W deck, but each of the Mares has potential.
---
Wrapping Up
As you can see, there are quite a few cards coming out in M19 that I'm hopeful will see play in competitive Standard decks.  I'm hoping to brew up some decks with the cards I've listed, and when I do I'll be sure to share them here with you.  What cards are you most looking forward to from M19?  Let me know by leaving a comment.  Or you can reply to me directly on Twitter (@mikelikesmtg), or email me directly at mikelikesmtg@gmail.com.  And, don't forget to like our Facebook page (https://www.facebook.com/MTGDeckTechs/) to be sure to be notified when a new article is posted.
Also, be sure to check out my articles every Thursday on GatheringMagic.com.  If you like the innovative decks I write about here each week, you'll want to check out my articles there as well.
Be sure to join me back here next week for another installment of Raise Your Standards.  I'll see you then!
— Mike Likes
Comments