Hi everyone.  Welcome to the final article in my series of reviews of the cards in the upcoming Ixalan expansion.  Today we'll be taking a look at all of the Multicolored cards, Artifacts, and Lands.  In this article, I will discuss these cards as they relate to Standard play.  My system uses number ratings ranging from 0 – 5 to gauge how well I think the cards will perform Standard play.  I will offer some pros and cons for these cards and give my thoughts and rating on the card for Standard play.  Please keep in mind that these ratings are based on my opinion only and may differ from your opinion.  (If you have a different opinion, please sound off in the Comments section below and let me know your thoughts.)
How My Rating System Works
5.0:  Format All-Star.  This card is a total Bomb card.  For those that aren't familiar with this term, it basically means this card will win you the game if left unchecked for a turn or two.  These cards tend to be hard to defend against and can turn a game around in a hurry.  Some cards that are bombs in limited may only be a mediocre card in constructed play.  This card will see a lot of play in top tier tournament decks or will be the lynchpin of a top tier deck.
4.0:  Above Average Card.  This card is great.  It can be played in multiple decks and will have an impact on the game every time.  These cards can change a game quickly, get you back in the game, or shift the tempo of the game.  These cards are usually vulnerable to some type of removal (or are a removal spell themselves), but they make up the majority of cards found in major tournament decks.  This card will be a good support card in a top tier tournament deck.
3.0:  Average Card.  These are generally good cards, and many of them will be the majority of cards found in a tribal deck.  Cards in this category are usually similar to other (higher-ranked) cards but cost 1 mana more or have a drawback in some manner.  In Limited play, these are the majority of your deck.  This card will likely be in a fair number of top tier tournament decks and will generally be interchangeable with other similarly-rated cards.
2.0:  Niche Card.  These cards serve are very narrow function and are usually meant for your sideboard.  They could be removal spells that only remove 1 type of card, or cards with mediocre stats that have an ability that helps against opponents playing a certain color or strategy.  In Limited play, these cards are put in your deck if you have no other options and need the card to reach your 40-card minimum deck size.  For Constructed play, you will rarely play this card unless it's from your sideboard or you want to be "cute".  This card will only be seen in select decks that are usually trying to play around with a specific ability or in tribal decks.
1.0:  Will Rarely See Play.  The worst of the worst.  These cards are rarely played (if they're played at all).  These cards generally have bad stats, cost too much mana, or have basically no impact on the game when they're played.  Overall stay away from this card if possible.  This card will likely not see any tournament play.
And now, on to the cards…
Admiral Beckett Brass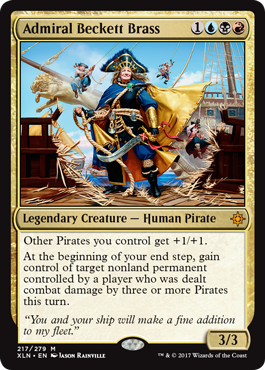 Rating:  3.0 (
)
Overall Thoughts:  This is a card I have high hopes for in Standard.  She slots well into a mostly two-colored tribal pirate deck that has ways to make Treasure tokens to use to cast the third color of this card with.  I think people will try this, and I'm very hopeful that this sees a fair amount of play.
Belligerent Brontodon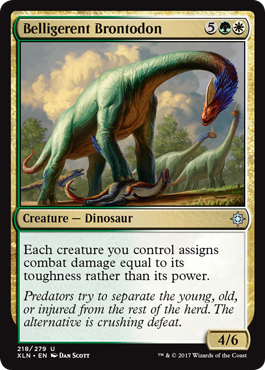 Rating:  1.5 (
)
Overall Thoughts:  While I think there's enough cards to build a tribal dinosaur deck that can abuse this card's ability, I'm skeptical that it will be good enough to compete in Standard.  If there was a way to make this indestructible, I could see it happening.  But, as it is, this card needs to be built around for maximum effect and a deck built around toughness typically doesn't do enough in Standard to see play.
Call to the Feast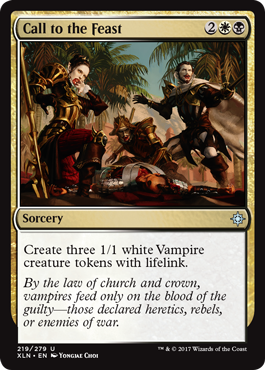 Rating:  2.0 (
)
Overall Thoughts:  I think this card is perfect for a tribal vampire deck, but outside of that type of deck, I don't see it getting much play in Standard.
Deadeye Plunderers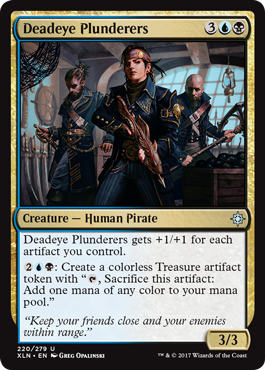 Rating:  3.0 (
)
Overall Thoughts:  This card could find a home in a tribal pirate deck looking to make Treasure tokens, or in an improvise deck looking to power out Metalwork Colossus and Herald of Anguish.  I think it's likely that this sees some amount of play in Standard.
Dire Fleet Captain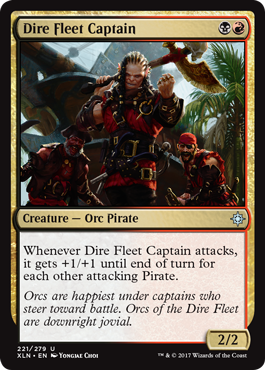 Rating:  2.0 (
)
Overall Thoughts:  Aggressive tribal pirate decks love this guy, and for good reason.  He can hit hard if you're attacking with a host of other pirates.  Assuming that a R/B pirate deck is a thing in Standard, then this should see play there, but likely nowhere else.
Gishath, Sun's Avatar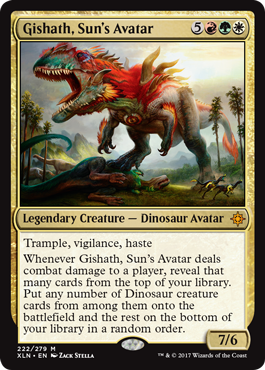 Rating:  4.0 (
)
Overall Thoughts:  The only things stopping me from giving this card a higher rating are its mana cost and the fact that you need other dinosaurs in your deck to utilize it.  Being able to attack and still remain as a blocker thanks to vigilance is such a huge benefit for this card.  Also, being able to play any of the dinosaurs you find when you do damage to your opponent (which is helped by having trample), is amazing.  In a deck that has a high density of dinosaurs, you can easily get anywhere from 1-6 additional creatures on the battlefield each turn (depending on how your opponent blocks).  That can end games quickly.
Hostage Taker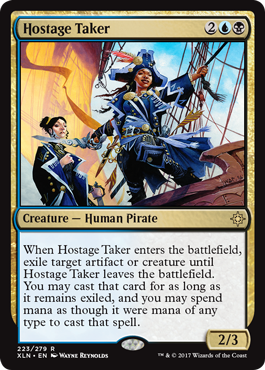 Rating:  3.5 (
)
Overall Thoughts:  Being able to permanently take any creature or artifact your opponent has in play is very powerful.  This card will certainly see a lot of Standard play.  Just make sure you cast the card you exile with this card before your opponent destroys this creature or they'll get their card back.
Huatli, Warrior Poet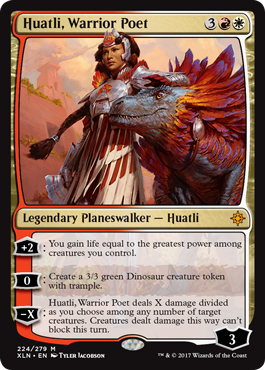 Rating:  3.5 (
)
Overall Thoughts:  This is a great planeswalker that I expect will see a fair amount of play.  If you don't happen to have any creatures in play, you can use her 0 loyalty cost ability to create one, which you can then use to gain life with her +2 loyalty counter ability on future turns.  Then, once you have built up a large enough force, you can use her –X loyalty counter ability to ensure your creatures aren't blocked by any of your opponent's creatures.  Or, use the –X ability to ping your own creatures and trigger their enrage abilities.
Marauding Looter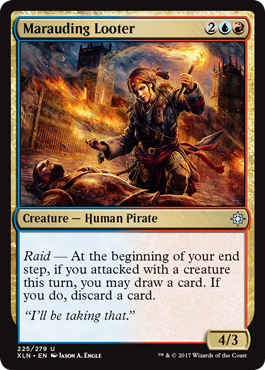 Rating:  3.0 (
)
Overall Thoughts:  The fact that you can trigger the raid ability each turn is great.  This should see play in a lot of tribal pirate decks and possibly other decks as well.
Raging Swordtooth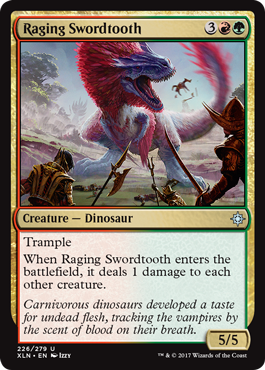 Rating:  3.0 (
)
Overall Thoughts:  This is a good card to trigger all of your enrage abilities (although it will trigger your opponents' enrage abilities as well).  It also does a great job of wiping any X/1 creatures from the battlefield.  I wouldn't be surprised to see this getting a decent amount of play in Standard.
Regisaur Alpha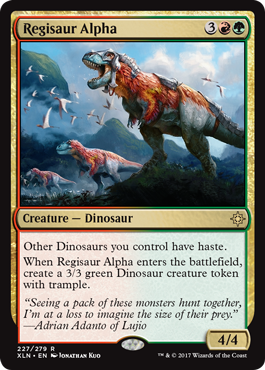 Rating:  4.0 (
)
Overall Thoughts:  The rate of return for this card is absolutely fabulous, netting you 7/7 worth of stats for only 5 mana.  Don't forget that the 3/3 dinosaur token this creates can attack right away, due to haste.  This is a terrific upper end to an aggressive R/G tribal dinosaur deck.
Shapers of Nature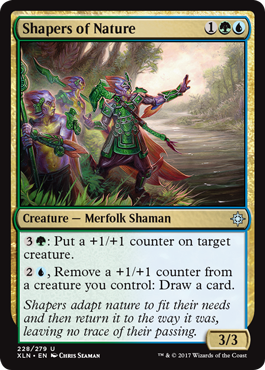 Rating:  4.0 (
)
Overall Thoughts:  Here's a card that will likely find itself right at home in a tribal merfolk deck.  Or maybe a Sultai deck will be created, allowing this card to play side-by-side with Winding Constrictor.  Regardless of where it ends up, I'm certain it will be played.  Also, don't forget that this creature can save itself and other creatures at instant speed if they are targeted by lethal damage spells simply by creating a +1/+1 counter for the target.
Sky Terror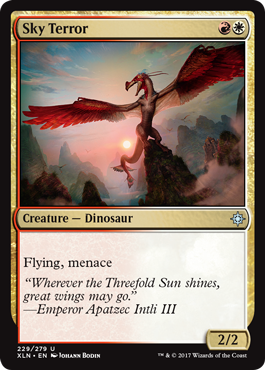 Rating:  3.0 (
)
Overall Thoughts:  Sky Terror is an aggressive flyer with menace, which will make it difficult for your opponent to block.  Throw a buff or two on this and it can be game over in a turn or two.  This should find a home in Standard.
Tishana, Voice of Thunder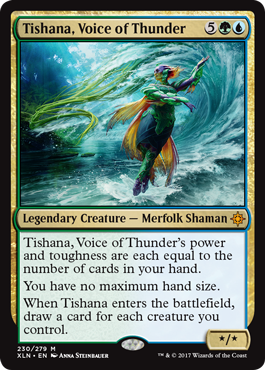 Rating:  2.5 (
)
Overall Thoughts:  I think this will be an amazing card for Commander, but for Standard it will only be okay.  The main drawback for this card is the 7 converted mana cost it has, but there are ways to mitigate that in Standard, so I do think she could find a home somewhere in a deck with a ramp strategy.
Vona, Butcher of Magan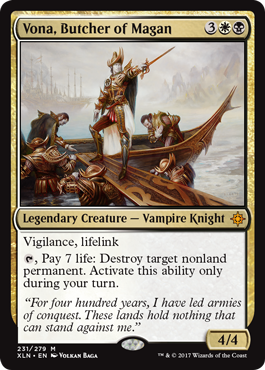 Rating:  4.5 (
)
Overall Thoughts:  This is a creature whose bad side I surely don't want to get on.  Not only does it have lifelink, but it also has vigilance, which can allow you to gain life on both player's turn.  Then you can use that life to destroy any nonland permanent on the battlefield.  Now that's real power.  The sad part is that you can't destroy an opponent's Glorybringer unless they exerted it the turn before, but I guess you can't have everything.
Vraska, Relic Seeker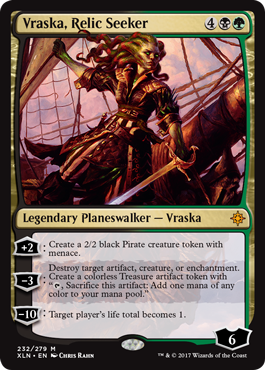 Rating:  3.5 (
)
Overall Thoughts:  Vraska's back and ready for business.  Three turns after you play her, you could make your opponent's life total become 1.  That's pretty powerful.  She also has a way to protect herself by making a pirate token or by destroying most types of permanents and replacing them with a Treasure token for you.  She's good, but she comes with a hefty 6 mana price tage which might limit her play a bit in Standard.
Conqueror's Galleon / Conqueror's Foothold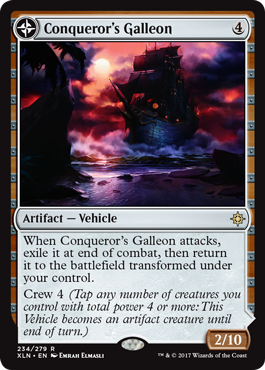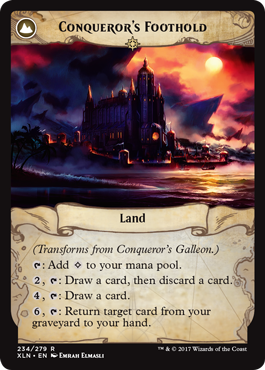 Rating:  2.5 (
)
Overall Thoughts:  If you're able to crew the Conqueror's Galleon to attack with it, you'll likely get to transform it since dealing 10 points of damage to it will probably be tough for your opponent to do.  Once it transforms, it helps you get the cards you're looking for from your deck or your graveyard.  It's a slow process to accomplish, but it's worth it.
Dowsing Dagger / Lost Vale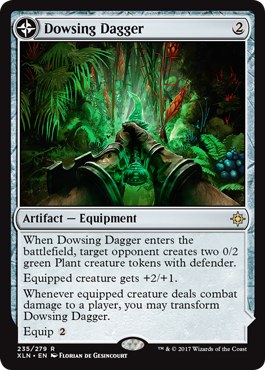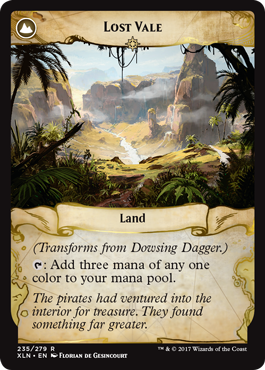 Rating:  3.5 (
)
Overall Thoughts:  As much as I hate giving my opponent two blockers to use, being able to transform this card is worth it.  If you can make the equipped creature unblockable, you can immediately transform the dagger to the Lost Vale which will really ramp your mana production into high gear.  Combine this land with Blossom Dryad and you're talking enough mana to cast nearly anything you want every turn.  Also note that this land is not legendary, so getting multiples of this in play is entirely possible.
Primal Amulet / Primal Wellspring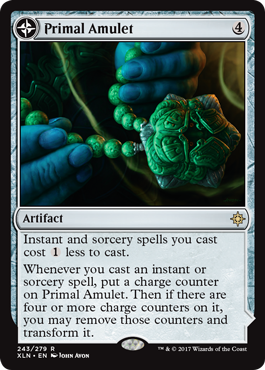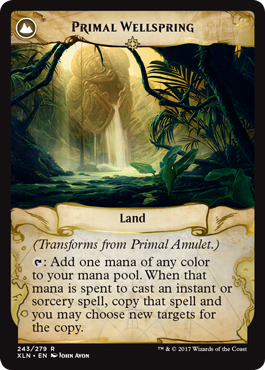 Rating:  2.5 (
)
Overall Thoughts:  Overall, this card is good at what it does, but it's pretty slow.  That's the real limiting factor for this card.  But being able to copy a spell for free is a great ability, so I'm sure this will make its way into Standard a bit.
Thaumatic Compass / Spires of Orazca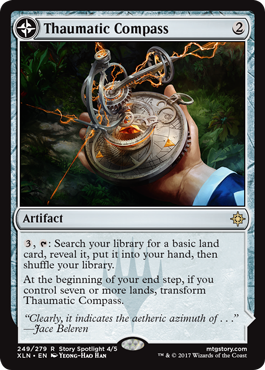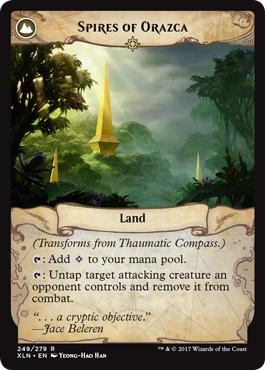 Rating:  2.5 (
)
Overall Thoughts:  Getting the Maze of Ith ability is great, but there are a lot of hoops to jump through to get it.  I guess this works best in a ramp deck, which will likely need the ability to remove an opponent's largest attacker each turn in order to survive after doing nothing but ramping for the first few turns.  As it stands, I'd rather include this as a 1-of in my midrange decks, so it can be a nice bonus for me if I can find and play this, but it's not something that I'm depending on having.
Treasure Map / Treasure Cove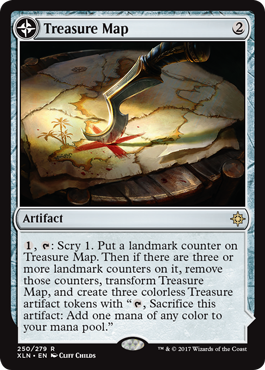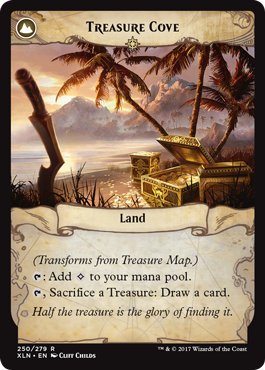 Rating:  2.5 (
)
Overall Thoughts:  This is one of the easier transform cards to play and transform.  The problem with it is that transforming it doesn't do much.  I get that it provides you 4 mana that you can use right away when it transforms, and that can bring you a huge tempo swing.  I can also see how this could be good in a deck that wants to amass Treasure tokens.  Simply put, the effect that this land gives you just aren't as flashy as the other transform cards.  But, that being said, I do anticipate this getting a fair amount of play, as having extra mana lying around (or extra cards to be drawn) isn't a bad problem to have.
Cobbled Wings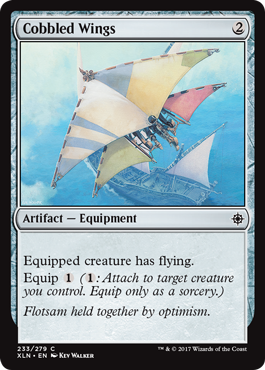 Rating:  1.5 (
)
Overall Thoughts:  While I'll admit that this card isn't great, I could see it getting play in a tribal pirate deck that uses a lot of flying creatures and Favorable Winds.  That way you can include some of the non-flying pirates and still allow them to get the same benefit your ones with flying get.  I don't see this getting a lot of play in Standard, though.
Dusk Legion Dreadnought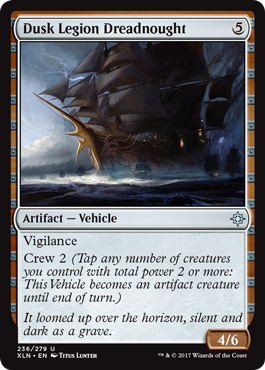 Rating:  1.0 (
)
Overall Thoughts:  It's a shame that vehicles are back so soon after being introduced in Kaladesh.  Since the initial batch was so heavily pushed, their power level is miles above the power level of the vehicles in Ixalan.  If there were no Kaladesh block vehicles in Standard, I think this could be played at the top end of a vehicles-based deck.  As it stands though, I don't expect the Ixalan vehicles to be able to compete with the Kaladesh vehicles.
Elaborate Firecannon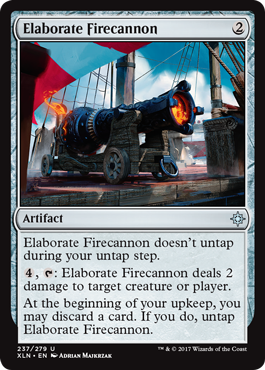 Rating:  1.0 (
)
Overall Thoughts:  Vizier of Tumbling Sands, Janjeet Sentry, and Mobile Garrison all work well with this card.  Unfortunately, none of those cards see any play in Standard.  Also, the cost of discarding a card in Standard is worth more than 2 points of damage to your opponent in most cases.  I don't see this being played in Standard.
Fell Flagship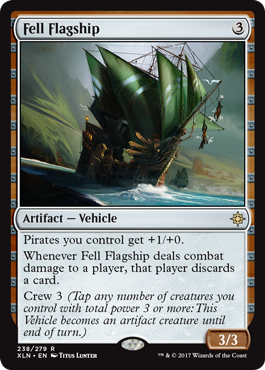 Rating:  2.0 (
)
Overall Thoughts:  Earlier I said that the Ixalan vehicles probably wouldn't see much play because the Kaladesh vehicles are still Standard legal?  Well, this card may be the exception to that rule.  This card is tailor-made for tribal pirate decks and it's hard to imagine that any pirate deck wouldn't want this card.  If there's a tribal pirate deck in Standard, this card will see some play.
Gilded Sentinel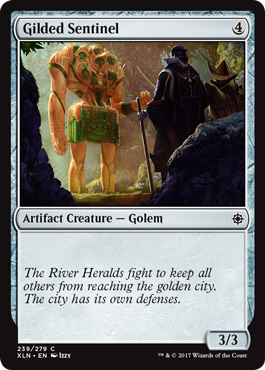 Rating:  1.0 (
)
Overall Thoughts:  This card is playable in limited play, but not in Standard.  No synergy, high casting cost, no abilities of any kind.  Yeah, there's nothing to see here.  This is not the droid you're looking for.
Hierophant's Chalice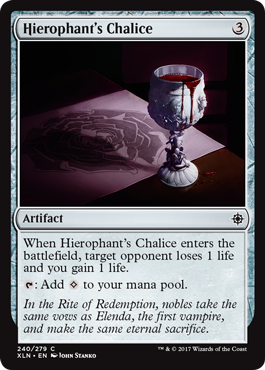 Rating:  1.0 (
)
Overall Thoughts:  A 3 cost mana rock that only makes colorless mana isn't great in a set that doesn't care about colorless mana.  If this were legal when the Eldrazi were in Standard, there's a chance it would have seen some play.  But even with the enter the battlefield effect, I don't see this getting played in the current Standard.
Pillar of Origins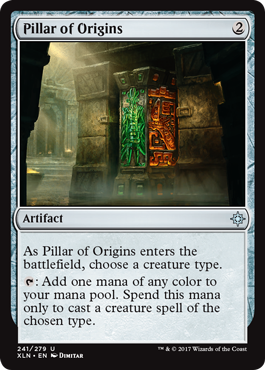 Rating:  2.0 (
)
Overall Thoughts:  While the mana this provides will only help you cast creatures of the chosen type, I think there will be a lot of tribal strategies tried out which means this card might see a bit of play.
Pirate's Cutlass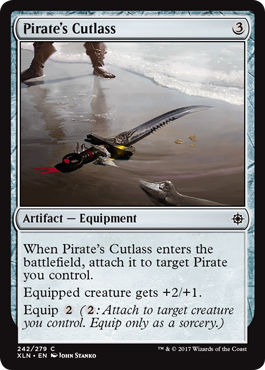 Rating:  1.5 (
)
Overall Thoughts:  In a tribal pirate deck, I might consider running a copy or two of this card.  That's about the only place I think you'll see this, though, since the 3 mana cost to play it is already a little steep, not to mention the additional 2 mana needed to equip this to a non-pirate.
Prying Blade
Rating:  1.0 (
)
Overall Thoughts:  Getting a Treasure token from using this card is going to be tough.  And in most cases the risk of playing this card doesn't seem worth the reward.  This blade doesn't provide any sort of evasion, and the bonus your creature gets is very minor.  This is best left for limited play (and even there I'll probably leave it in my sideboard).
Sentinel Totem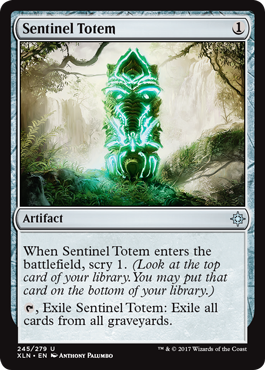 Rating:  2.0 (
)
Overall Thoughts:  This is a nice card to have in your sideboard to bring in against decks that are looking to gain an advantage by bringing something back from their graveyards (like God-Pharaoh's Gift decks).  It's a cheap way to remove all of the threats in one shot.
Shadowed Caravel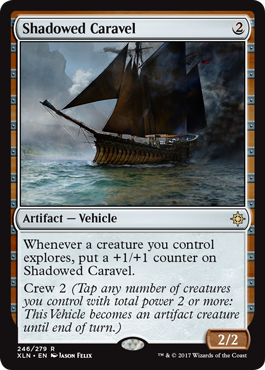 Rating:  2.0 (
)
Overall Thoughts:  Here's another vehicle that might see some play in Standard if there's a deck that's built around the explore mechanic.  In the right deck, this could become rather large very quickly.  Plus, it has a low enough crew cost to make it fairly easy to crew.
Sleek Schooner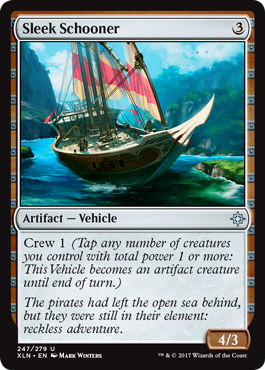 Rating:  1.0 (
)
Overall Thoughts:  While this vehicle has a great crew cost, not being able to attack with it until turn 4 is a big drawback.  It has that 3 toughness that seems like it'll be the cutoff point for whether a creature is safe from the prevalent removal.  It also doesn't have any sort of evasion.  For those reasons, I don't see this being played in Standard.
Sorcerous Spyglass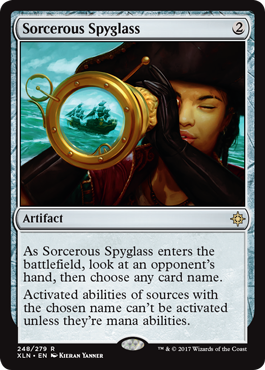 Rating:  3.5 (
)
Overall Thoughts:  Finally we have a form of Pithing Needle back in Standard.  The nice thing about this card is that you get the knowledge of what cards are in your opponent's hand, but you don't have to name any of them.  You can name any other card.  For instance, in game 2 if you had trouble dealing with your opponent's Vraska, you can name her card even if she's not in your opponent's hand.  You could also name something that's already on the battlefield for immediate effect.
Vanquisher's Banner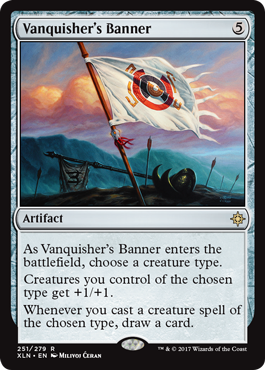 Rating:  2.0 (
)
Overall Thoughts:  While this is a little bit pricy in the mana department, buy the time you're able to play it you probably have a few creatures in play that can take advantage of the bonus.  And, being able to draw a card when you play a creature of the chosen type helps you keep a full battlefield.  I think this should see play in most tribal decks.
Dragonskull Summit/ Drowned Catacomb / Glacial Fortress / Rootbound Crag / Sunpetal Grove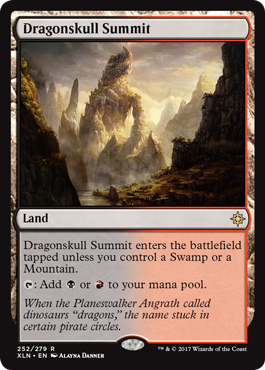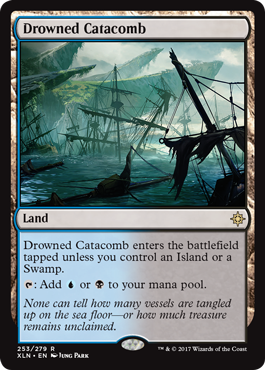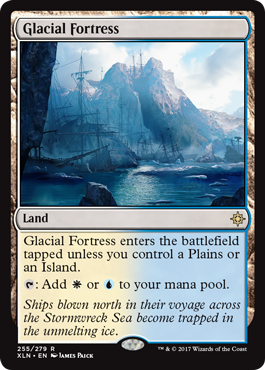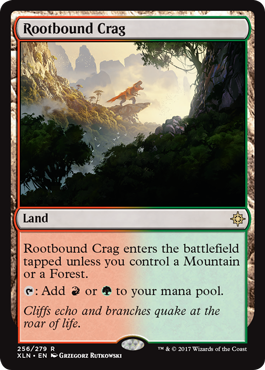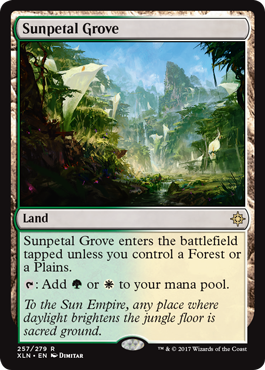 Rating:  4.0 (
)
Overall Thoughts:  This cycle of lands should see a lot of play while they're in Standard.  Don't forget that the cycling lands from Amonkhet all have land types on them which will make these 'check lands' come into play untapped easier.
Field of Ruin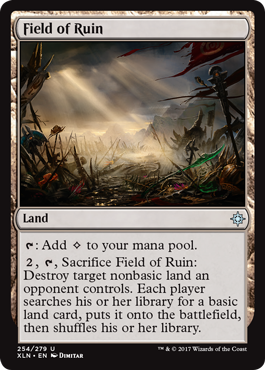 Rating:  2.0 (
)
Overall Thoughts:  If this sees play, it'll likely be because of one of the new transform lands.  That cycle of lands is pretty powerful and this is an inexpensive way to deal with them.  I wouldn't anticipate this seeing main deck play though.  It's good sideboard tech.
Unclaimed Territory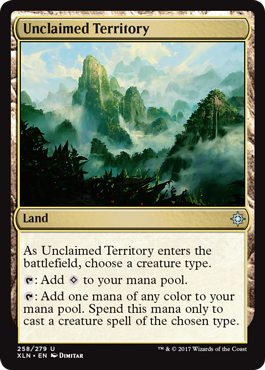 Rating:  2.0 (
)
Overall Thoughts:  Cavern of Souls is an amazing card in a tribal deck.  And, while this doesn't grant your creature the ability to be uncounterable, I still think this will be played in many tribal decks just because it can tap for any color of mana.
Unknown Shores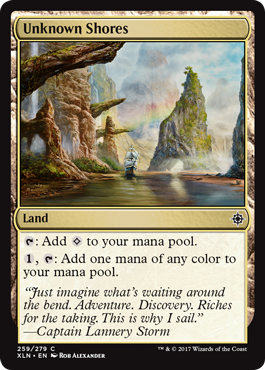 Rating:  1.0 (
)
Overall Thoughts:  Lands that change one color of mana into for a cost another aren't usually played in Standard.  This card won't be an exception to that rule.
Wrap-Up
And that's a wrap on my review of Ixalan.  If you managed to read through all six parts, I say 'Thank You!'  I would love to hear your thoughts and opinions on these cards, as what you have to say might make me reevaluate my rating for a particular card.  Get the discussion started by leaving a comment, or by contacting me on Twitter (@mikelikesmtg) or by emailing me directly at mikelikesmtg@gmail.com.
I hope you've enjoyed reading my thoughts on how these new cards will perform in Standard.  As always, join me next Friday for my usual column, Raise Your Standards, where we'll take a look at the state of Standard and search for interesting and innovative decks.  I hope to see you then!
Mike Likes
Comments