Hi everyone.  Welcome to the third article in my series of reviews of the cards in the upcoming Ixalan expansion.  Today we'll be taking a look at all of the Black cards.  In this article, I will discuss these cards as they relate to Standard play.  My system uses number ratings ranging from 0 – 5 to gauge how well I think the cards will perform Standard play.  I will offer some pros and cons for these cards and give my thoughts and rating on the card for Standard play.  Please keep in mind that these ratings are based on my opinion only and may differ from your opinion.  (If you have a different opinion, please sound off in the Comments section below and let me know your thoughts.)
How My Rating System Works
5.0:  Format All-Star.  This card is a total Bomb card.  For those that aren't familiar with this term, it basically means this card will win you the game if left unchecked for a turn or two.  These cards tend to be hard to defend against and can turn a game around in a hurry.  Some cards that are bombs in limited may only be a mediocre card in constructed play.  This card will see a lot of play in top tier tournament decks or will be the lynchpin of a top tier deck.
4.0:  Above Average Card.  This card is great.  It can be played in multiple decks and will have an impact on the game every time.  These cards can change a game quickly, get you back in the game, or shift the tempo of the game.  These cards are usually vulnerable to some type of removal (or are a removal spell themselves), but they make up the majority of cards found in major tournament decks.  This card will be a good support card in a top tier tournament deck.
3.0:  Average Card.  These are generally good cards, and many of them will be the majority of cards found in a tribal deck.  Cards in this category are usually similar to other (higher-ranked) cards but cost 1 mana more or have a drawback in some manner.  In Limited play, these are the majority of your deck.  This card will likely be in a fair number of top tier tournament decks and will generally be interchangeable with other similarly-rated cards.
2.0:  Niche Card.  These cards serve are very narrow function and are usually meant for your sideboard.  They could be removal spells that only remove 1 type of card, or cards with mediocre stats that have an ability that helps against opponents playing a certain color or strategy.  In Limited play, these cards are put in your deck if you have no other options and need the card to reach your 40-card minimum deck size.  For Constructed play, you will rarely play this card unless it's from your sideboard or you want to be "cute".  This card will only be seen in select decks that are usually trying to play around with a specific ability or in tribal decks.
1.0:  Will Rarely See Play.  The worst of the worst.  These cards are rarely played (if they're played at all).  These cards generally have bad stats, cost too much mana, or have basically no impact on the game when they're played.  Overall stay away from this card if possible.  This card will likely not see any tournament play.
And now, on to the cards…
Anointed Deacon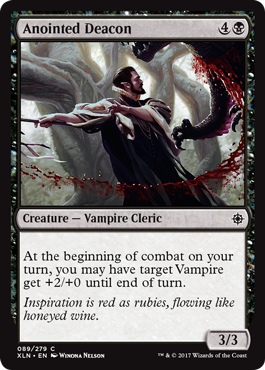 Rating:  1.0 (
)
Overall Thoughts:  5 mana for a 3/3 isn't very good, and this ability is pretty dependent on you being in a position to attack each turn, which you might not be.
Bishop of the Bloodstained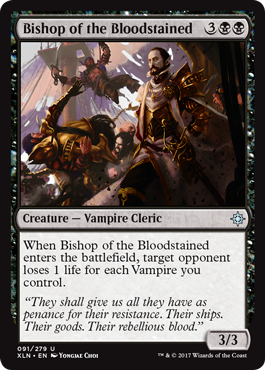 Rating:  2.0 (
)
Overall Thoughts:  In a tribal vampire deck, this card could win you the game on the spot.  While I'm down on the stats to cost ratio, I do like the ability this card has.  And if you're able to blink this a time or two, that life loss will really put a hurting on your opponent.
Blight Keeper
Rating:  1.5 (
)
Overall Thoughts:  The fact that this has flying makes it possible that this could see a little play.  Also, even though it might not survive the early game, if it is alive during the late game this card could win the game outright for you.
Bloodcrazed Paladin
Rating:  3.0 (
)
Overall Thoughts:  The fact that this creature gets a counter for any creature that died this turn, regardless of whether it's yours or your opponent's, makes this a pretty powerful card.  Combine this with a sweeper card of some sort and this guy can become huge.  And let's not forget the flash ability he has, which can help him come down as a surprise blocker if needed.
Boneyard Parley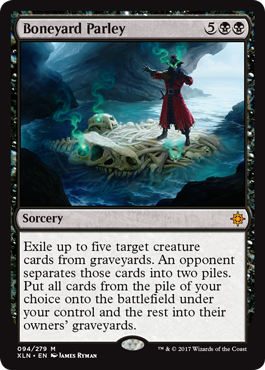 Rating:  3.5 (
)
Overall Thoughts:  This Fact or Fiction variant has the potential to be pretty powerful.  As long as games go long enough for you to cast this 7 mana card, you get the cream of the crop of the creatures that have gone to the graveyard this game.  The dream scenario is to get back The Scarab God before the trigger happens that would return it to its owner's hand.  I'm probably overrating this a little bit, but that's because it has a lot of potential to be busted.
Contract Killing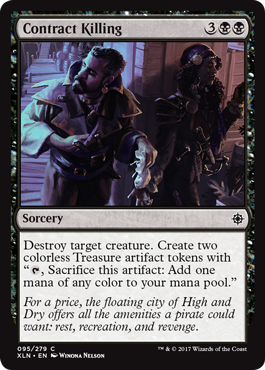 Rating:  1.0 (
)
Overall Thoughts:  I guess the nice part about this overcosted Murder is that it gives you the extra mana you spent on it back in the form of Treasure tokens.  Unfortunately the initial price of 5 mana means that this isn't likely to see play (even if you want those Treasure tokens).
Costly Plunder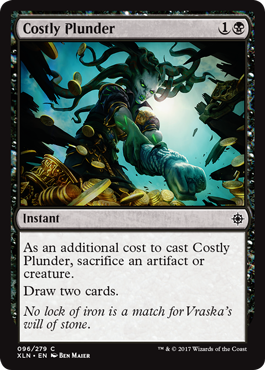 Rating:  2.0 (
)
Overall Thoughts:  Drawing cards is always nice, and I think this card could see some play because of that.  It's not hard to imagine a scenario where you need to chump block a larger creature but instead sacrifice that creature after declaring it as a blocker to get to draw those 2 cards.  Or you could sacrifice a piece of treasure you're not using to get that bonus.  I don't think this will be played in every deck, but in the right deck it could be good.
Dark Nourishment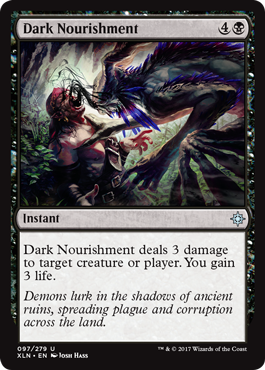 Rating:  1.0 (
)
Overall Thoughts:  Alms of the Vein was a card I saw played against me numerous times, but that was mostly played for its Madness cost.  This card doesn't have that ability, so it's not likely to see play even if it can target both players or creatures.
Deadeye Tormentor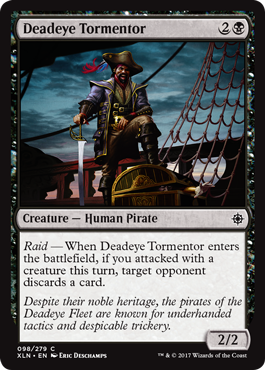 Rating:  2.0 (
)
Overall Thoughts:  This card is pretty good at all stages of the game, as long as you can trigger the Raid ability.  Without that, this card is below average.
Deadeye Tracker
Rating:  3.5 (
)
Overall Thoughts:  This card has a lot of potential.  Being able to explore over and over again enables this creature to potentially become very big.  Also, you can activate the ability after declaring blockers, so if things work out well, a poor looking combat could swing in your favor by exploring.  I think this will see a lot of play.
Deathless Ancient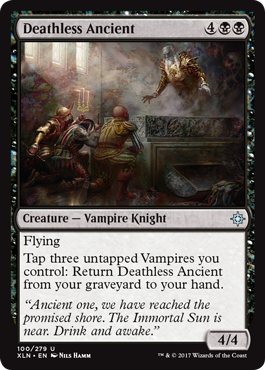 Rating:  2.5 (
)
Overall Thoughts:  This is a nice top end for a vampire deck, as it has the potential to return from death time and time again.  Vampires seem to have a fairly easy time of creating vampire tokens, so it should be very possible to have the 3 vampires needed to return this from your graveyard to your hand.  And even though the 4/4 stats for 6 mana are a little low, it does have flying, and a 4/4 flyer is pretty nice to have.
Desperate Castaways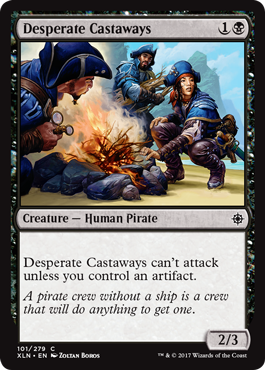 Rating:  2.0 (
)
Overall Thoughts:  The stats on this creature lend themselves more to blocking over attacking, so the drawback on this card isn't as bad as it would seem.  Also, pirates seem to have a lot of ways to create Treasure tokens, so as long as you can hang on to one, you can negate the disadvantage pretty easily.
Dire Fleet Hoarder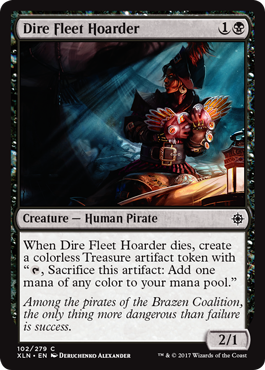 Rating:  2.0 (
)
Overall Thoughts:  See what I mean about the pirates being able to create Treasure tokens fairly easily?  This pirate is just dying to give you his treasure.  This could see play in a tribal pirate deck or a deck wanting to abuse Treasure tokens.
Dire Fleet Interloper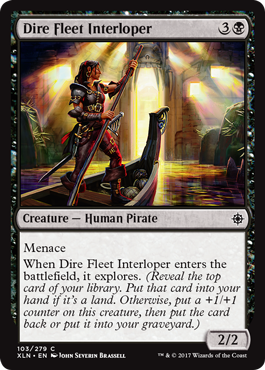 Rating:  1.5 (
)
Overall Thoughts:  Best suited in a tribal pirate deck, the stats on this creature are a bit low unless you manage to get a +1/+1 counter from exploring.  I'm doubtful this will see play, but the menace ability could allow it to be in a tribal pirate deck somewhere.
Dire Fleet Ravager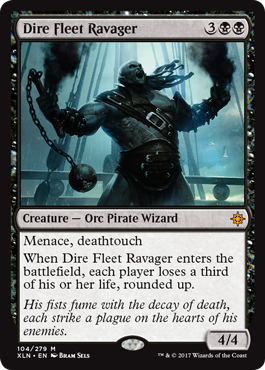 Rating:  4.5 (
)
Overall Thoughts:  Assuming your opponent's life total hasn't changed since the game started, when this card enters the battlefield your opponent will lose 7 life.  That's pretty good, but not completely back breaking.  Luckily this card has both menace and deathtouch, so unless your opponent wants to lose 4 points of life each turn, they must block with 2 creatures and both of them will almost certainly die.  This card creates a huge swing in momentum when you cast him.  But be on the lookout for an exerted Glorybringer, because he won't play fairly with this card.
Duress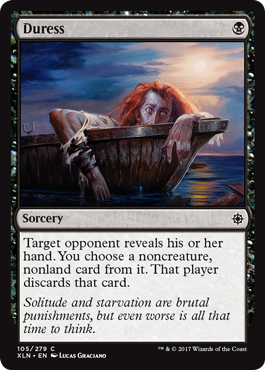 Rating:  3.5 (
)
Overall Thoughts:  Duress is back and should see a lot of play.  It's a great card to play that can potentially disrupt your opponent's plans.  At the very least, you get to see your opponent's hand and can formulate a plan to deal with whatever they have.
Fathom Fleet Captain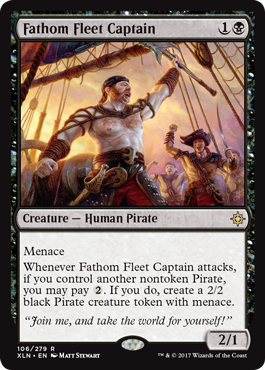 Rating:  3.0 (
)
Overall Thoughts:  2/2's with menace are difficult to deal with.  If this guy goes unchecked for a couple of turns, he's suddenly created an army of 2/2's with menace that you may have a hard time blocking.  Even if you have an equal number of creatures as your opponent, you won't have enough blockers to block all of the ones they have with menace.  And if those menace creatures get bumped up, your pain just becomes worse.  Look for this guy to be buffed up in some way before he attacks, so he can survive the combat and continue creating additional pirates.
Fathom Fleet Cutthroat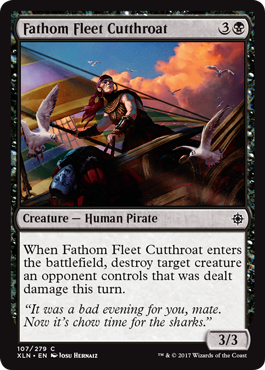 Rating:  2.5 (
)
Overall Thoughts:  How often have you had to decide whether to destroy an opponent's creature with a spell in your hand, or cast a creature of your own.  When you don't have enough mana to do both, it can be a tough decision.  Luckily for you, there's this card.  Simply attack with a creature that's certain to die if it's blocked.  Your opponent will either take the damage or block.  If they block, you cast this card and destroy their creature anyway.  It's a win-win scenario for you.  And you get to trigger any raid abilities of your own creatures.  This can also be used if you have a spell that deals damage to a creature, but not enough to destroy them.  It takes more mana to do it, but it can be an effective way to get rid of something troublesome.
Grim Captain's Call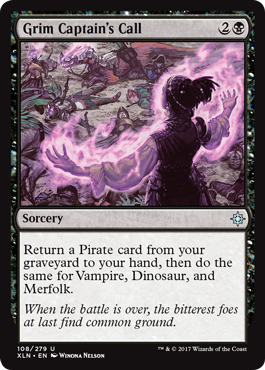 Rating:  1.5 (
)
Overall Thoughts:  Here's a tribal card for all of the tribes… sort of.  Dinosaurs are on White, Red, and Green, and Merfolk are in Blue and Green, so if you're playing a tribal deck using only the colors of the tribe, you'll only be using this for Pirates or Vampires.  And since there's no 'crossing of the streams', it's unlikely that you'll get back more than 1 card with this spell.  It's useful, but it probably won't find a home in Standard.
Heartless Pillage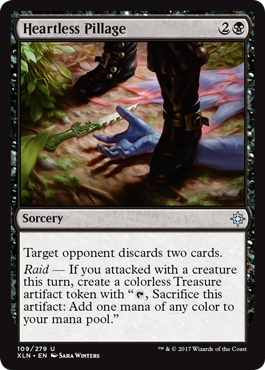 Rating:  1.5 (
)
Overall Thoughts:  Possibly in a deck trying to use Treasure tokes as a means to victory, this card could see some play.  However, there's a lot of way to make treasure, so even there I wouldn't look for this to be played too often.
Kitesail Freebooter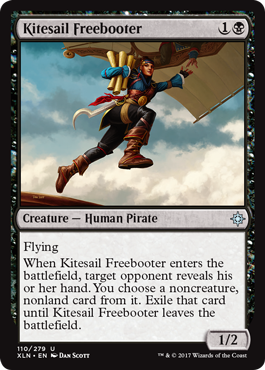 Rating:  2.5 (
)
Overall Thoughts:  Against some decks, this card won't be able to get rid of anything.  Against others though, and this card can be an all-star.  As a flying pirate, I expect this card to see some play.  You'll need to find a way to buff the stats on this though, as a 2 toughness is a definite liability in the current Standard format.
Lurking Chupacabra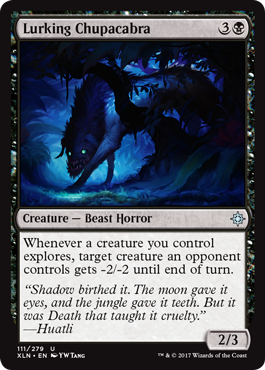 Rating:  3.0 (
)
Overall Thoughts:  This card will be great in a black/green deck dedicated to exploring.  There's not currently a deck like that, but with Winding Constrictor adding a bonus +1/+1 counter each time you gain one from exploring, I think there could be one soon.  Add in this card and you have repeatable removal as your creatures grow in size.
March of the Drowned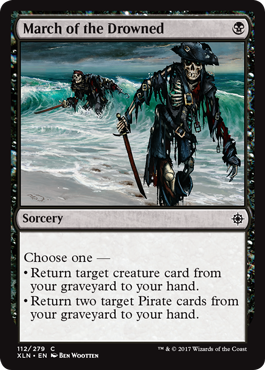 Rating:  2.5 (
)
Overall Thoughts:  I really like that this card only costs 1 mana.  I would look for this to see more play in tribal pirate decks than anywhere else, as getting back 2 creatures is better than getting 1.  This is a good way to get more treasure tokens from those pirates that bring them when they enter the battlefield.
Mark of the Vampire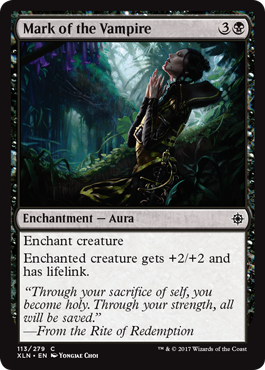 Rating:  2.0 (
)
Overall Thoughts:  With some of the vampires not having lifelink, this card could be a valuable addition to a tribal vampire deck.  Other decks could use the ability too, but that's not as likely to happen.  I could see this included in a W/B Crested Sunmare build.
Queen's Agent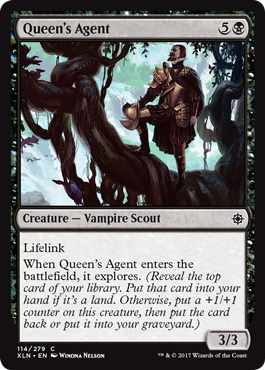 Rating:  2.0 (
)
Overall Thoughts:  6 mana for a 3/3 with lifelink isn't good.  6 mana for a 4/4 with lifelink is better, but not by much.  This could see a little play in a tribal vampire deck, but it probably won't due to its mana cost.
Queen's Bay Soldier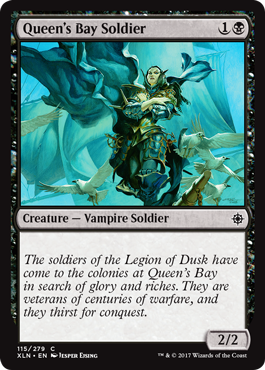 Rating:  1.5 (
)
Overall Thoughts:  A vanilla 2/2 for 2 mana isn't exciting, but it is a vampire if that matters to you.
Raiders' Wake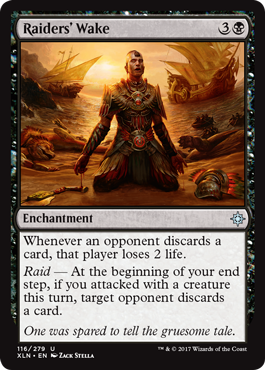 Rating:  3.0 (
)
Overall Thoughts:  This is a nice payoff card for the other cards that make your opponent discard a card.  It also can trigger itself as long as you have a creature that can attack each turn.  And by attacking, you're hopefully lowering your opponent's life total, which this card helps with while simultaneously removing future options for them.  This looks like a fairly good card.
Revel in Riches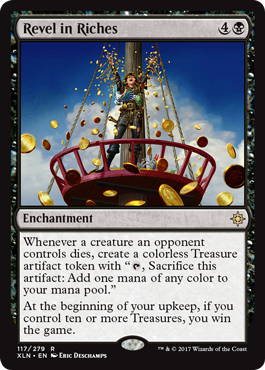 Rating:  3.0 (
)
Overall Thoughts:  If you've read my articles before, you know I'm a big fan of alternate win conditions.  So I was excited when this card was previewed.  Accumulating 10 treasure tokens doesn't seem like an easy feat, but with cards like Anointed Procession or Mechanized Production in Standard, this deck starts to build itself and looks like a ton of fun to try out.  I expect to see this card quite a bit in the early stages of Standard in order for people to find out if there's really a deck there or if it's all just fool's gold.
Ruin Raider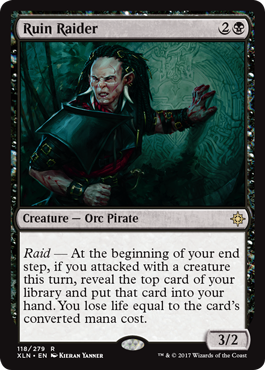 Rating:  3.5 (
)
Overall Thoughts:  The latest iteration of Dark Confidant looks pretty interesting.  You can attack during your combat phase, then play this during your second main phase.  As long as your opponent doesn't have an immediate answer for it, you'll get to draw a card (once you go to your end step).  And you can potentially do that every turn.  You might want to have a way to destroy this creature though, since the effect to draw a card isn't a may ability (so it must be done if the raid ability is triggered).  It'd be a shame to lose all of your life points to this card drawing ability.
Ruthless Knave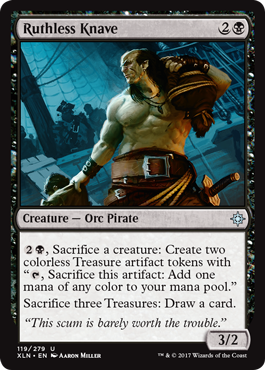 Rating:  2.5 (
)
Overall Thoughts:  I like the looks of this pirate.  Not only can he help out if you're playing a deck that wants to acquire lots of treasure tokens, but he helps out in other decks as well as a way to have a creature that's going to die in combat to become a piece of treasure that you can use to bring out more things.  He's very versatile.
Sanctum Seeker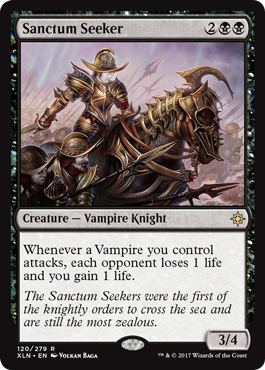 Rating:  3.5 (
)
Overall Thoughts:  Here's a vampire that is decently sized for its mana cost.  The 4 toughness is important due to the amount of direct damage spells that can deal up to 3 points of damage that are commonly played in Standard.  Plus, since his ability triggers whenever your creatures attack, your opponent must cast their removal spell prior to combat if they want to avoid being drained of a point of life by the creature they're removing.  I'd expect to see this played quite a bit in Standard.
Seekers' Squire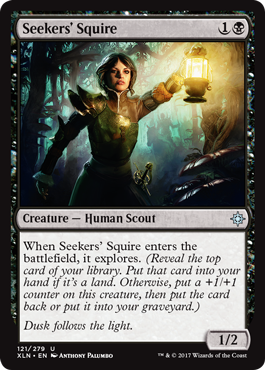 Rating:  2.5 (
)
Overall Thoughts:  I like everything about this card (the stats to cost ratio, the fact that it explores) except for the fact that it's a Human Scout.  That means that this card has no synergy with any of the tribes in Ixalan.  However, there are ways to correct this, and I still think this will see a decent amount of play.
Skittering Heartstopper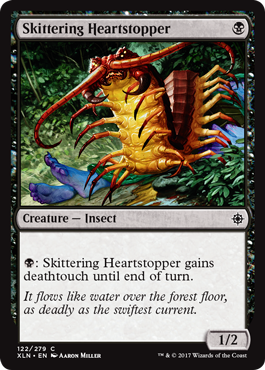 Rating:  3.0 (
)
Overall Thoughts:  There's just something about a small, inexpensive creature that has (or can get) deathtouch that I really like.  I expect to see this played a lot even if it typically won't even get a chance to block.  At least it'll be a nice target for a removal spell from your opponent, so your other creatures can breathe a little easier.
Skulduggery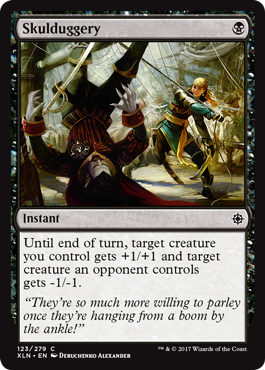 Rating:  3.0 (
)
Overall Thoughts:  Usually I'm not a big fan of combat tricks in Standard.  This card is an exception to that rule.  That's probably because I look at the bonus it grants my creature as pure gravy on this removal spell.  But, it really can mess up an opponent's combat math if played after blockers are declared, which can allow you to win an otherwise unwinnable combat.
Skymarch Bloodletter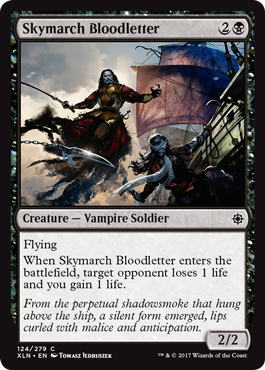 Rating:  2.0 (
)
Overall Thoughts:  A 2/2 flyer for 3 mana isn't bad, but I don't expect to see this outside of a tribal vampire deck.
Spreading Rot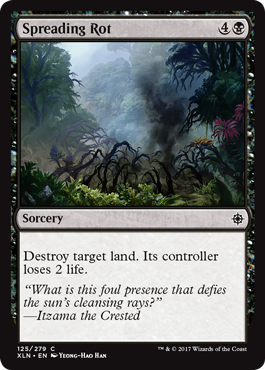 Rating:  1.5 (
)
Overall Thoughts:  The transform cards that turn into lands are a good enough reason for me to include this card in my sideboard.  Other than that, I don't see this doing too much in Standard as it's too expensive.
Sword-Point Diplomacy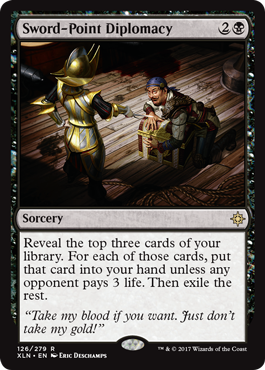 Rating:  3.5 (
)
Overall Thoughts:  Being able to draw 3 cards for 3 mana isn't bad.  This card is much better than some of the other 'punisher' effects we currently have in Standard.  I think this will see quite a bit of play because of the effect it has and the fact that it only costs 3 mana.
Vanquish the Weak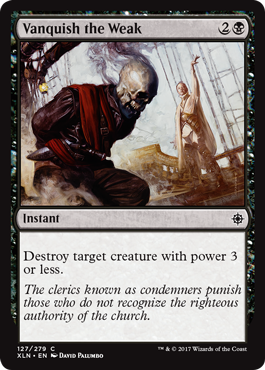 Rating:  1.0 (
)
Overall Thoughts:  This is too narrow and costs too much for it to see play in Standard.  There's simply better options to be found.
Vicious Conquistador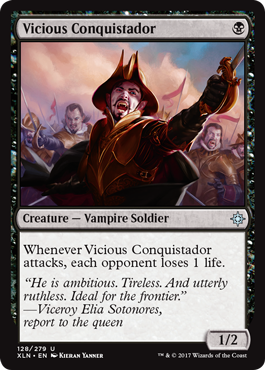 Rating:  3.0 (
)
Overall Thoughts:  This will be the opening play for most tribal vampire decks in Standard.  For only costing 1 mana, this can deal a surprising amount of damage to your opponent if it's not dealt with right away.
Vraska's Contempt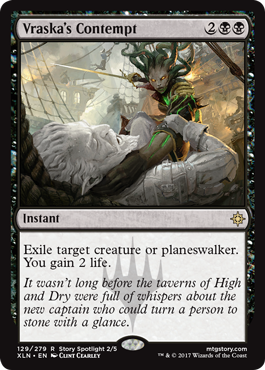 Rating:  4.0 (
)
Overall Thoughts:  4 mana is on the high end to see play as a removal spell in Standard.  But the fact that this exiles either a creature or a planeswalker instead of destroying them is a nice effect.  And as a bonus, you also gain 2 life when that happens.
Walk the Plank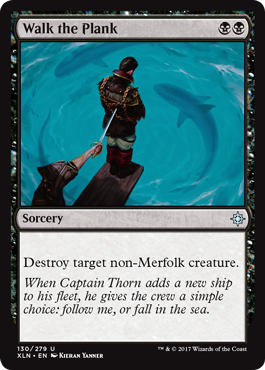 Rating:  3.0 (
)
Overall Thoughts:  Against most decks, this will be premium removal.  Only costing 2 mana to destroy most creatures (no matter how big their toughness) is very powerful.  But this is a blank against a tribal merfolk deck, so you'd better have a better option in your sideboard.
Wanted Scoundrels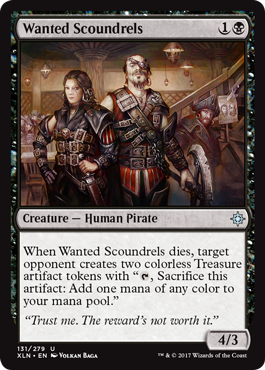 Rating:  2.0 (
)
Overall Thoughts:  For me, the flavor text on this card says it all.  However, I won't deny that getting a 4/3 for only 2 mana is very tempting, even if you give your opponent a Treasure token when this creature dies.  I expect this will see play in very aggressive tribal pirate decks, but it could find its way in other aggressive black-based decks.
Arguel's Blood Fast / Temple of Aclazotz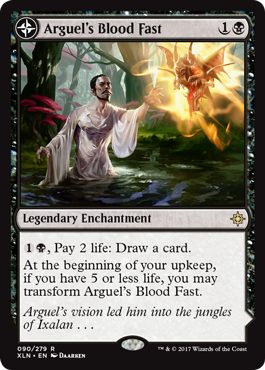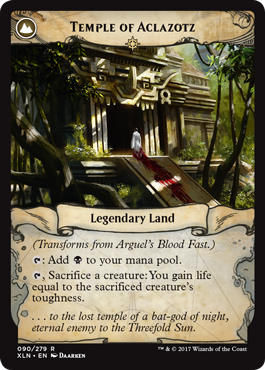 Rating:  2.0 (
)
Overall Thoughts:  This is probably my least favorite of the transform cards in Ixalan.  The ability to repeatedly draw cards on any player's turn is good, but transforming this into a land usually means you're in trouble.  Being at 5 life or less is not where I want to be, and if I'm at such a low life total already, I'll probably want to keep my creatures around for protection.  I suppose you can always sacrifice your creature after it has blocked in order to prevent combat damage and gain life, but you're still vulnerable to direct damage spells.
Wrap-Up
So, it looks like black has a handful of powerful cards for Standard. Do you agree or disagree with my assessment of the cards?  Let me know by leaving a comment, or by contacting me on Twitter (@mikelikesmtg) or by emailing me directly at mikelikesmtg@gmail.com.
Tomorrow I'll be taking a look at what red has to offer in Ixalan. Be sure to come back and see if your opinions match mine. I'll see you then!
Mike Likes
Comments