Hi everyone. Welcome to the next article in my series of reviews of the cards in the upcoming Guilds of Ravnica expansion. Today we'll be taking a look at all of the White cards. In this article, I will discuss these cards as they relate to Standard play. My system uses number ratings ranging from 0 – 5 to gauge how well I think the cards will perform Standard play. I will offer some pros and cons for these cards and give my thoughts and rating on the card for Standard play. Please keep in mind that these ratings are based on my opinion only and may differ from your opinion. (If you have a different opinion, please sound off in the Comments section below and let me know your thoughts.)
How My Rating System Works
5.0: Format All-Star. This card is a total Bomb card. For those that aren't familiar with this term, it basically means this card will win you the game if left unchecked for a turn or two. These cards tend to be hard to defend against and can turn a game around in a hurry. Some cards that are bombs in limited may only be a mediocre card in constructed play. This card will see a lot of play in top tier tournament decks or will be the lynchpin of a top tier deck.
4.0: Above Average Card. This card is great. It can be played in multiple decks and will have an impact on the game every time. These cards can change a game quickly, get you back in the game, or shift the tempo of the game. These cards are usually vulnerable to some type of removal (or are a removal spell themselves), but they make up the majority of cards found in major tournament decks. This card will be a good support card in a top tier tournament deck.
3.0: Average Card. These are generally good cards, and many of them will be the majority of cards found in a tribal deck. Cards in this category are usually similar to other (higher-ranked) cards but cost 1 mana more or have a drawback in some manner. In Limited play, these are the majority of your deck. This card will likely be in a fair number of top tier tournament decks and will generally be interchangeable with other similarly-rated cards.
2.0: Niche Card. These cards serve are very narrow function and are usually meant for your sideboard. They could be removal spells that only remove 1 type of card, or cards with mediocre stats that have an ability that helps against opponents playing a certain color or strategy. In Limited play, these cards are put in your deck if you have no other options and need the card to reach your 40-card minimum deck size. For Constructed play, you will rarely play this card unless it's from your sideboard or you want to be "cute". This card will only be seen in select decks that are usually trying to play around with a specific ability or in tribal decks.
1.0: Will Rarely See Play. The worst of the worst. These cards are rarely played (if they're played at all). These cards generally have bad stats, cost too much mana, or have basically no impact on the game when they're played. Overall stay away from this card if possible. This card will likely not see any tournament play.
And now, on to the cards…
Bounty Agent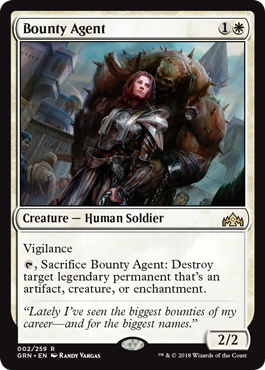 Rating:  3.0 (
)
Overall Thoughts:  This card offers a lot of versatility, even if it is a little limited by only being able to destroy something that is legendary.  This is a great sideboard option to play against any of the guild leader cards.
Candlelight Vigil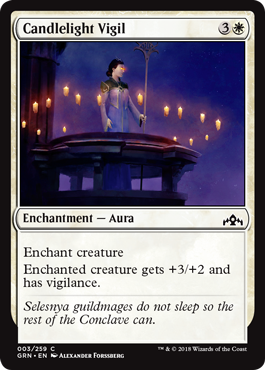 Rating:  1.0 (
)
Overall Thoughts:  I'm a guy who generally likes auras, but I'm not impressed with this one.  Four mana is a lot to spend for this aura, and if you cast this on a creature that doesn't have hexproof, it's going to feel really bad to get two-for-one'd once you've cast this card.
Citywide Bust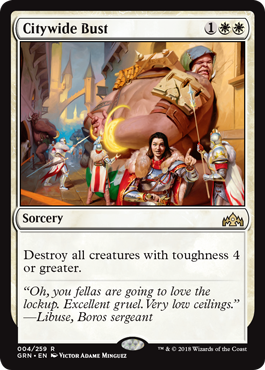 Rating:  3.5 (
)
Overall Thoughts:  As an aggro player, I really like this card.  The decks that I have the most trouble competing against are the Green decks that are playing large creatures.  This card handles the most troublesome of those creatures while leaving my smaller creatures unscathed.  It also doesn't target any creatures, so hexproof creatures like Carnage Tyrant will be affected by this as well.  Even though this card is very narrow, I still believe it will see a fair amount of Standard play, especially from sideboards.
Collar the Culprit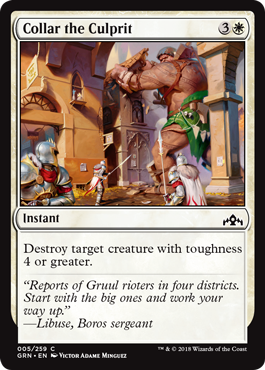 Rating:  1.0 (
)
Overall Thoughts:  This card is similar to Citywide Bust, but it's not nearly as good.  While I like that this is an instant instead of a sorcery, the fact that this only affects a single creature that has to be targeted by this spell makes this not worth playing.  And, it's also more mana that Citywide Bust.  I'm all for having more narrow answers, but this one is too narrow for my liking.
Crush Contraband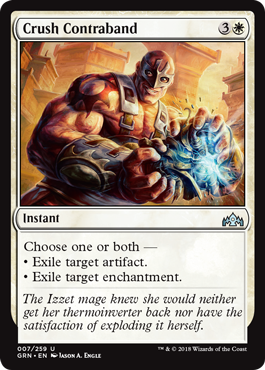 Rating:  1.0 (
)
Overall Thoughts:  While this is a nice sideboard card that offers options, it costs 4 mana which limits its playability.  I don't see this getting much Standard play.
Dawn of Hope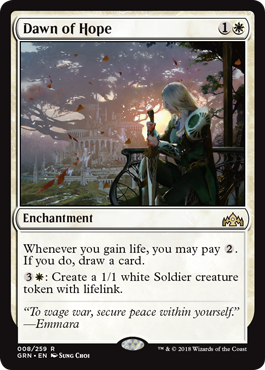 Rating:  3.5 (
)
Overall Thoughts:  Now this is my kind of card.  Being able to draw a card when you gain life, even at a cost of 2 mana, is great on a White card.  Plus this card will fit well in token strategies, especially since you're able to create multiple Soldiers as long as you have the mana needed for it.
Demotion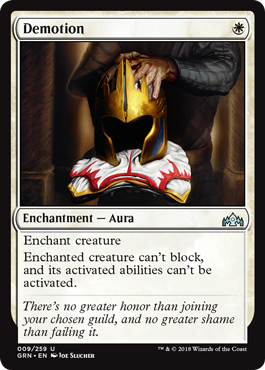 Rating:  1.5 (
)
Overall Thoughts:  This card will likely only see play as a sideboard card.  Its best use will be against control decks that try to win by playing 1-2 large creatures in their decks.  The fact that the creature this is played on can still attack, crew vehicles, and convoke other spells makes this not worth playing the majority of the time.
Divine Visitation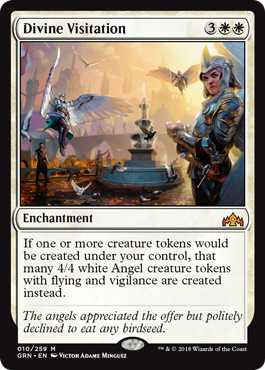 Rating:  4.0 (
)
Overall Thoughts:  This is a card I'm looking forward to building around.  This card goes hand-in-hand with Legion's Landing / Adanto, the First Fort.  It also goes well with the Saproling producers from Dominaria and Leonin Warleader from Core 2019.  Sure, it costs 5 mana to get into play, and you've likely created some of your tokens before playing this, but as long as you haven't played every token-producing card in your deck, this card will deliver amazing value for you.  Plus if you happen to also be playing Lyra Dawnbringer, these could be 5/5 creatures.
Gird for Battle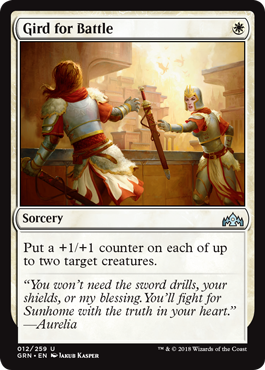 Rating:  1.5 (
)
Overall Thoughts:  The cost is right for this to see some amount of play.  The effect is good, but I'm not certain it's worth playing over other better cards in Standard.
Haazda Marshal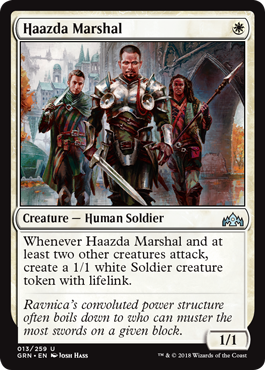 Rating:  2.0 (
)
Overall Thoughts:  In Standard, I think this could see a bit of play in an aggressive White deck.  This creature won't be able to attack for long without other forms of help, but you might be able to get a couple of tokens out of it.
Healer's Hawk
Rating:  3.0 (
)
Overall Thoughts:  This will almost certainly see Standard play.  For 1 mana, getting a 1/1 with lifelink is good.  When you add flying to that, this card becomes very good.
Hunted Witness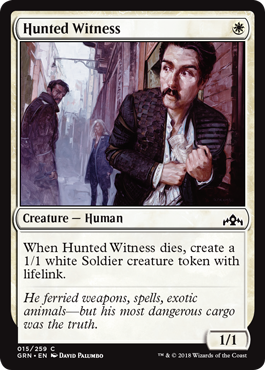 Rating:  2.5 (
)
Overall Thoughts:  Here's another 1 mana White creature that I think will see play.  Replacing itself with an upside when it dies makes gives value to this card, plus the token it creates will have lifelink.  This card will pair nicely with Divine Visitation.
Inspiring Unicorn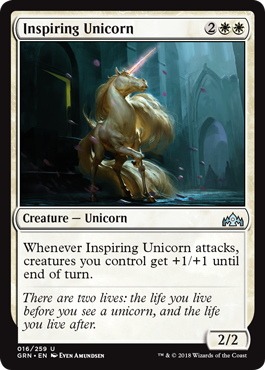 Rating:  1.5 (
)
Overall Thoughts:  The good news is that this pumps up your entire team, including itself.  The bad news is that it doesn't have some form of evasion so it's likely to get outclassed quickly.
Intrusive Packbeast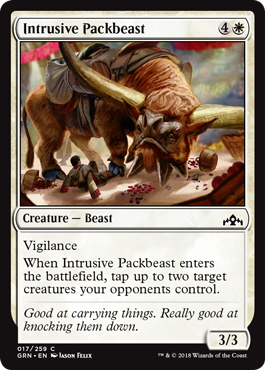 Rating:  1.0 (
)
Overall Thoughts:  For 5 mana I'm hoping to play a finisher of some sort.  While this will help out by tapping two potential blockers the turn it comes into play, it's really not worth the 5 mana investment.
Luminous Bonds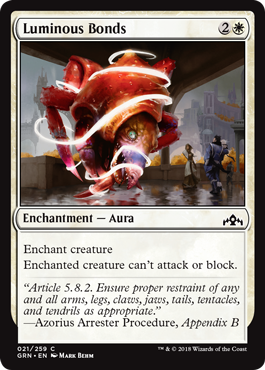 Rating:  1.5 (
)
Overall Thoughts:  Against certain decks, this will be premium removal.  Against other decks, like those wanting to convoke, this will only be adequate removal.  I think this will see some play, but it's not as good as some other White removal we currently have in Standard.
Righteous Blow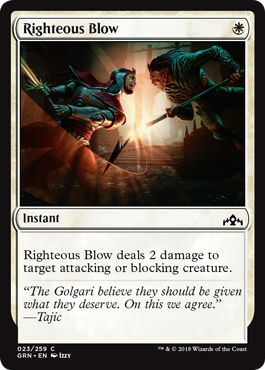 Rating:  1.0 (
)
Overall Thoughts:  In Limited, this will be an okay removal spell.  However, much of Standard sees creatures with more than 2 toughness so I don't think this will see any Standard play.
Roc Charger
Rating:  1.0 (
)
Overall Thoughts:  Pegasus Courser doesn't see any Standard play, and I don't think this will either.
Skyline Scout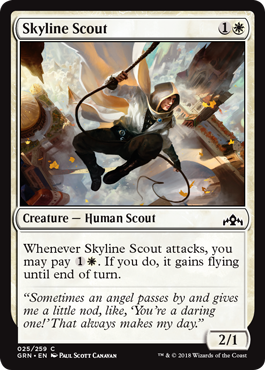 Rating:  1.0 (
)
Overall Thoughts:  Being able to give this creature flying is nice, but costing 2 mana to do so means this guy will see no play.
Sworn Companions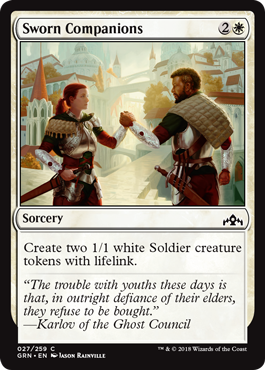 Rating:  2.0 (
)
Overall Thoughts:  In a deck that wants them, the 2 Soldier tokens this makes will be much appreciated.  It won't see play outside of tokens decks though.
Take Heart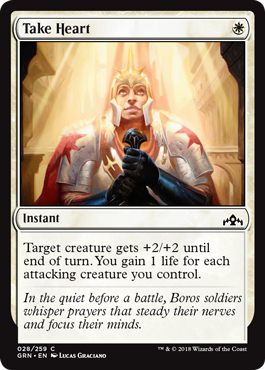 Rating:  1.5 (
)
Overall Thoughts:  This card has a little potential in either a token deck or a lifegain deck.  But either way, I don't see this getting more than fringe play.
Tenth District Guard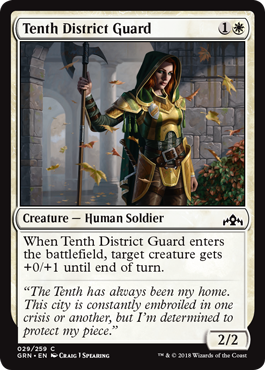 Rating:  1.0 (
)
Overall Thoughts:  If there were any sort of Soldier tribal deck, this card might have a chance to see play.  But since there's not a deck like this, this card has no chance.
Wrapping Up
Thank you for joining me today for my thoughts on the White cards in Guilds of Ravnica.  I'd love to know your thoughts.  Let me know by leaving a comment below, or contact me on Twitter (@mikelikesmtg), or email me directly at mikelikesmtg@gmail.com.  And be sure to join me next time when I'll take a look at the Blue cards.  I'll see you then!
— Mike Likes
Stay up to date on everything MTG Deck Techs:
Comments