Hi everyone. Welcome to the next article in my series of reviews of the cards in the upcoming Guilds of Ravnica expansion. Today we'll be taking a look at all of the cards featuring a Selesnya watermark. In this article, I will discuss these cards as they relate to Standard play. My system uses number ratings ranging from 0 – 5 to gauge how well I think the cards will perform Standard play. I will offer some pros and cons for these cards and give my thoughts and rating on the card for Standard play. Please keep in mind that these ratings are based on my opinion only and may differ from your opinion. (If you have a different opinion, please sound off in the Comments section below and let me know your thoughts.)
How My Rating System Works
5.0: Format All-Star. This card is a total Bomb card. For those that aren't familiar with this term, it basically means this card will win you the game if left unchecked for a turn or two. These cards tend to be hard to defend against and can turn a game around in a hurry. Some cards that are bombs in limited may only be a mediocre card in constructed play. This card will see a lot of play in top tier tournament decks or will be the lynchpin of a top tier deck.
4.0: Above Average Card. This card is great. It can be played in multiple decks and will have an impact on the game every time. These cards can change a game quickly, get you back in the game, or shift the tempo of the game. These cards are usually vulnerable to some type of removal (or are a removal spell themselves), but they make up the majority of cards found in major tournament decks. This card will be a good support card in a top tier tournament deck.
3.0: Average Card. These are generally good cards, and many of them will be the majority of cards found in a tribal deck. Cards in this category are usually similar to other (higher-ranked) cards but cost 1 mana more or have a drawback in some manner. In Limited play, these are the majority of your deck. This card will likely be in a fair number of top tier tournament decks and will generally be interchangeable with other similarly-rated cards.
2.0: Niche Card. These cards serve are very narrow function and are usually meant for your sideboard. They could be removal spells that only remove 1 type of card, or cards with mediocre stats that have an ability that helps against opponents playing a certain color or strategy. In Limited play, these cards are put in your deck if you have no other options and need the card to reach your 40-card minimum deck size. For Constructed play, you will rarely play this card unless it's from your sideboard or you want to be "cute". This card will only be seen in select decks that are usually trying to play around with a specific ability or in tribal decks.
1.0: Will Rarely See Play. The worst of the worst. These cards are rarely played (if they're played at all). These cards generally have bad stats, cost too much mana, or have basically no impact on the game when they're played. Overall stay away from this card if possible. This card will likely not see any tournament play.
And now, on to the cards…
Conclave Tribunal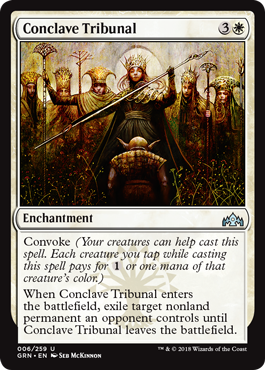 Rating:  4.0 (
)
Overall Thoughts:  Being able to exile any nonland permanent your opponent controls for potentially no mana is amazing.  Even though this competes with Ixalan's Binding, I'm certain this will see a lot of Standard play.
Flight of Equenauts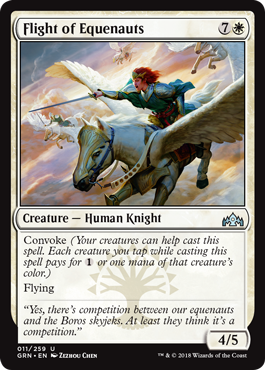 Rating:  1.0 (
)
Overall Thoughts:  Even being able to lower the casting cost with convoke doesn't make this very playable in Standard.  If you have enough creatures to convoke this at a reasonable cost, you're probably already winning the game.
Ledev Guardian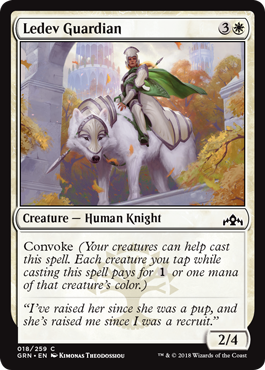 Rating:  2.0 (
)
Overall Thoughts:  A 2/4 for 4 mana isn't amazing, but since this is a knight it might find its way into some knight-tribal decks.
Loxodon Restorer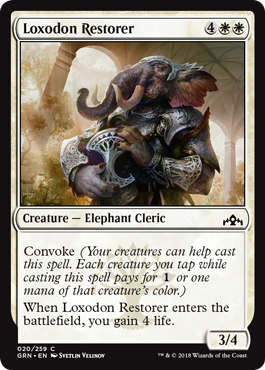 Rating:  2.0 (
)
Overall Thoughts:  Getting a 3/4 for 6 mana isn't great, but since you can convoke to help pay for the cost, it's acceptable.  It is nice that this give you back 4 points of life that you probably lost because you tapped creatures to cast this with instead of using them as blockers.
Venerated Loxodon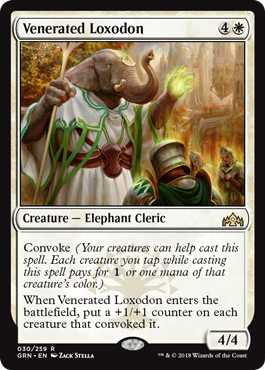 Rating:  3.0 (
)
Overall Thoughts:  Being able to potentially put a +1/+1 counter on up to five creatures makes this a very playable card.  The unfortunate side-effect of doing this is that you probably won't want to use those creatures to pay for convoke in the future.
Arboretum Elemental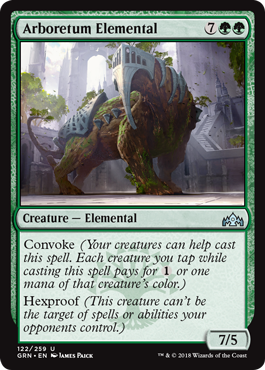 Rating:  1.5 (
)
Overall Thoughts:  In a deck looking to take advantage of being able to convoke, this is a nice finisher.  This won't see play in other styles of decks, though.
Pack's Favor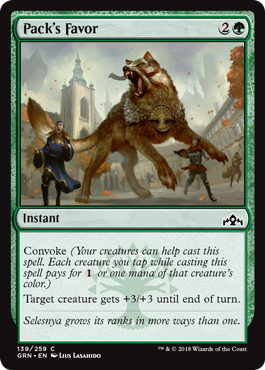 Rating:  1.0 (
)
Overall Thoughts:  While I think this is a pretty cool combat trick, I don't think it'll see play in Standard.  If you tap three creatures to convoke this, you've likely already missed out on the potential to deal any damage with them so the minimal +3/+3 isn't a big enough bonus.
Pause for Reflection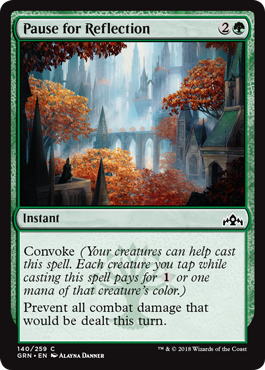 Rating:  2.5 (
)
Overall Thoughts:  If the Bant Nexus of Fate deck sticks around after rotation, this could find a home.  It is nice that you can declare blockers and then allow your opponent to cast any instants to pump their creatures with before you convoke this into play, ruining their plans.
Siege Wurm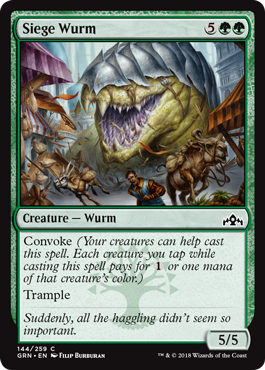 Rating:  2.0 (
)
Overall Thoughts:  This is a much better finisher for convoke decks than most of the other large creatures that have convoke for the simple fact that this has trample.  It will only see play in decks taking advantage of convoke, though, and nowhere else.
Sprouting Renewal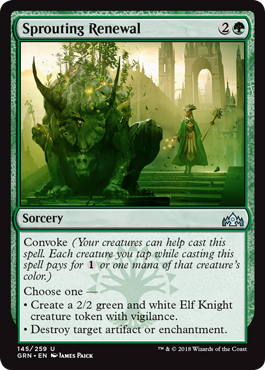 Rating:  2.0 (
)
Overall Thoughts:  I think this card is a great option that you can include in your main deck which can occasionally act as if it were a sideboard card.  It allows you to destroy any artifact or enchantment, but also offers playability if your opponent isn't playing any of those card types.
Camaraderie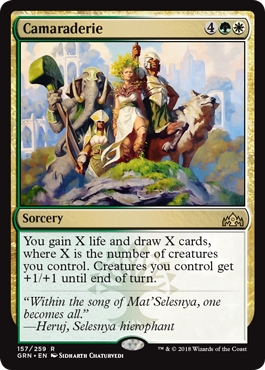 Rating:  1.5 (
)
Overall Thoughts:  Drawing cards and gaining life is great, however when both of those things are tied to the number of creatures you control, they lose some of their appeal.  Since this is a sorcery, you'll have to tap for this on your turn which will enable your opponent to cast instant-speed removal cards on your creatures in response.  I think that severely limits the playability of this card.
Centaur Peacemaker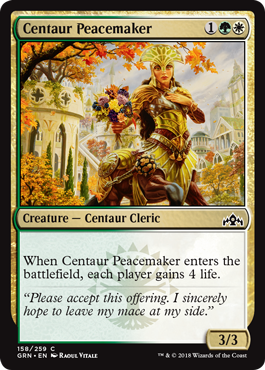 Rating:  1.0 (
)
Overall Thoughts:  In most games of Magic, my goal is to reduce my opponent's life to 0.  Since this card actively competes against that goal, I'm having a hard time figuring out why I would want to play this card.  Maybe if the stats were better I could understand playing this, but getting a 3/3 for 3 mana is right on par.
Conclave Cavalier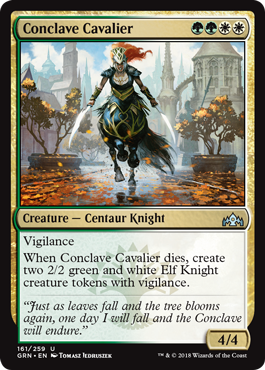 Rating:  3.0 (
)
Overall Thoughts:  This creature replaces itself when it dies.  That alone makes this a creature worth playing.  I love that it also has vigilance, so it can attack and then tap to convoke another spell.  The tokens also have vigilance, making this almost better after it dies.  This should see play in Standard, even with the difficult mana cost it has.
Conclave Guildmage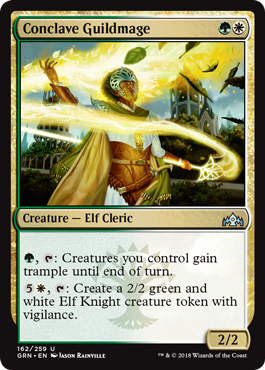 Rating:  4.0 (
)
Overall Thoughts:  I can't believe I'm giving a 4 star rating to an uncommon, but this guildmage is crazy good.  For a single Green mana, being able to give every other creature you control trample is amazing.  The other ability which creates Elf Knight creature tokens might be a little overpriced, but there are times where it will be just what the doctor ordered.
Emmara, Soul of the Accord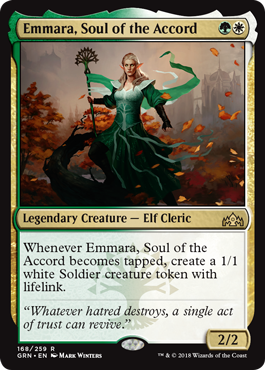 Rating:  4.0 (
)
Overall Thoughts:  Emmara does it all.  She attacks; She convokes other spells; She drives vehicles.  And every time she does any of those things, she creates another Soldier for the cause.  She'll be the cornerstone of a new convoke deck and makes me believe one that will be competitive.
Join Shields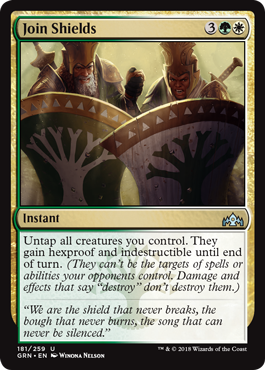 Rating:  1.0 (
)
Overall Thoughts:  The only time I could see this card being good is if you have a hand full of cards that can be convoked and 5 mana on the battlefield.  Since that scenario won't happen very often, this card likely will see no play in Standard.
Knight of Autumn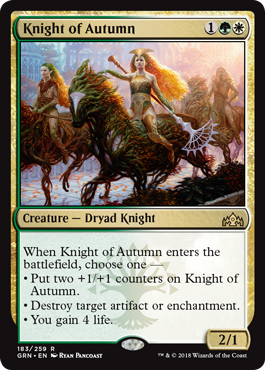 Rating:  4.0 (
)
Overall Thoughts:  Most of the time, I think this will be gain the two +1/+1 counters when it enters the battlefield.  But you have the option to either destroy an artifact or enchantment or gain 4 life which might be more important at the time.  Cards that offer options when they're played are always good and this is no exception.  This will see a lot of Standard play.
Ledev Champion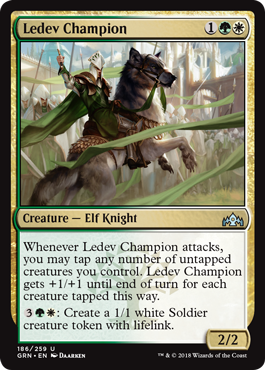 Rating:  1.5 (
)
Overall Thoughts:  While it's great that you can tap a creature to give this +1/+1 when it attacks, if you're not playing with a deck full of creatures with vigilance, using this ability doesn't do enough for this to see much play.  You have to tap the additional creatures as this attacks, so your opponent can still block in whatever way is most advantageous to them.  If you could tap the creatures any time the creature was attacking, you could at least hint at the threat of activation which would offer more interesting combat options.  The only reason this could see play is the synergy it has with other knights, but even then I'm not hopeful for it.
March of the Multitudes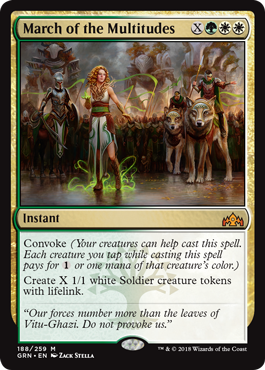 Rating:  3.5 (
)
Overall Thoughts:  As much as I really like this card, the fact that it creates 1/1 tokens makes playing this a little dicey.  Without outside help, those tokens are very vulnerable to cards that deal 1 point of damage to all creatures (like Goblin Chainwhirler, Swathcutter Giant, or Cosmotronic Wave), so you'll want to remember that when including this in your deck.  You can use this to give you a huge creature base that can help convoke out some large creatures for you or you can just go wide by attacking with all of them.
Rosemane Centaur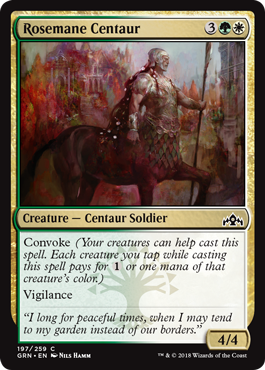 Rating:  2.5 (
)
Overall Thoughts:  For a common creature, I think this is pretty good.  I think it's worth paying 3 mana and tapping 2 creatures to cast this creature, and getting a 4/4 with vigilance is pretty good.  This could even see play outside of convoke decks.
Sumala Woodshaper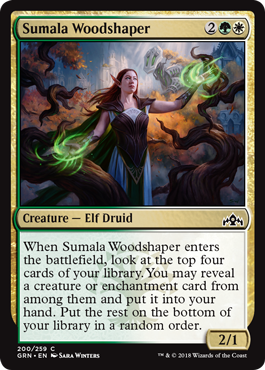 Rating:  1.0 (
)
Overall Thoughts:  Costing 4 mana is a definite drawback for this card which limits its playability.  Since this can only find a creature or enchantment, there's a chance that you could whiff when searching the top four cards of your library leaving you with only a 2/1 creature, which feels pretty bad.
Trostani Discordant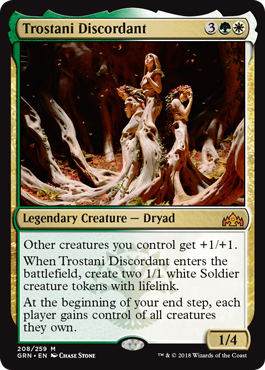 Rating:  4.0 (
)
Overall Thoughts:  Here's a difficult creature to remove thanks to having 4 toughness that also helps boost the rest of your team.  It also brings along a couple of 2/2 lifelinking Soldier tokens every time it enters the battlefield.  It also helps act as protection against Hostage Taker and other cards that take control of your creatures.  I think there's a good chance this will see play in Standard.
Worldsoul Colossus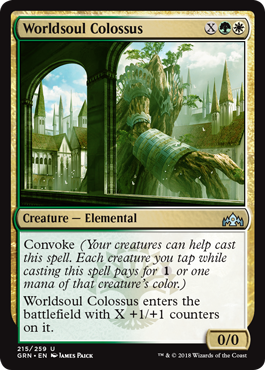 Rating:  1.0 (
)
Overall Thoughts:  Sure, you can make this into a huge creature if you have a lot of creatures in play, but if you have zero creatures in play this card is uncastable.  If you do manage to get a large creature, since it doesn't have some form of evasion, this can be chump-blocked all day long.  I'm not impressed with this card.
Vernadi Shieldmate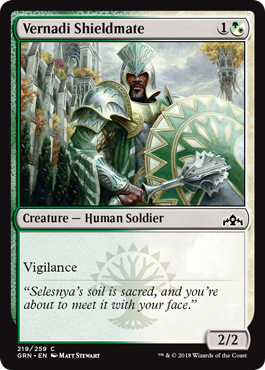 Rating:  2.5 (
)
Overall Thoughts:  Getting a 2/2 for 2 mana is just fine.  Having vigilance is an added bonus, and that allows this to either attack and still act as a blocker, or attack and be able to convoke a spell later in the turn.  This should see a lot of play in Standard.
Assure // Assemble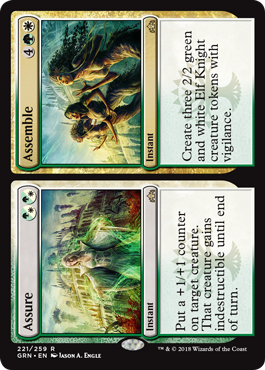 Rating:  4.0 (
)
Overall Thoughts:  I like both halves of this card.  With Assure, you're able to buff a creature you have and protect it from your opponent's removal card.  With Assemble, you get 6 points of both power and toughness spread over 3 tokens at instant speed.  Both sides provide value, so this should see Standard play.
Flower // Flourish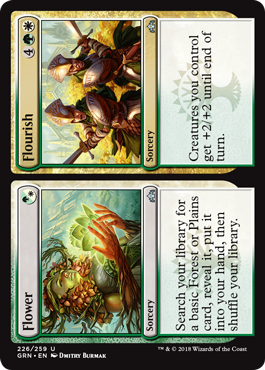 Rating:  1.5 (
)
Overall Thoughts:  While I can envision spots where casting Flower would be okay, only being able to get a basic Plains or Forest is underwhelming.  While this can help with mana-fixing, it's a feel-bad experience to have this in a format where there are shocklands that also feature land types but aren't basic.  Flourish simply costs too much mana for it to see play, even if it affects all of your creatures.
Selesnya Locket
Rating:  2.0 (
)
Overall Thoughts:  This entire cycle of lockets is very underwhelming.  This will ramp your mana a bit, but it's certainly not priced to be exciting.
Selesnya Guildgate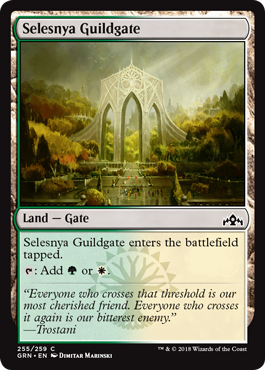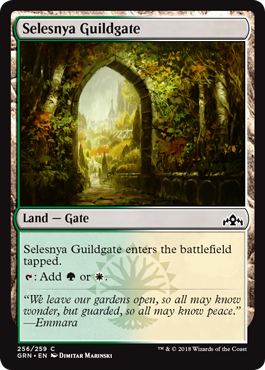 Rating:  2.0 (
)
Overall Thoughts:  These won't see much play once you have your set of Temple Gardens.
Temple Garden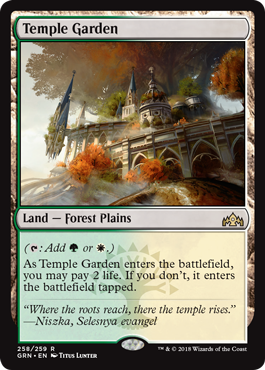 Rating:  4.0 (
)
Overall Thoughts:  This card features my favorite artwork from this new cycle of shocklands.  It reminds me of Rivendell from the Tolkien novels.  As always, shocklands are very good and will be played in most decks in Standard.
Wrapping Up
Thank you for joining me today for my thoughts on the Selesnya cards in Guilds of Ravnica.  I'd love to know your thoughts.  Let me know by leaving a comment below, or contact me on Twitter (@mikelikesmtg), or email me directly at mikelikesmtg@gmail.com.  And be sure to join me next time when I'll take a look at the White cards.  I'll see you then!
— Mike Likes
Stay up to date on everything MTG Deck Techs:
Comments