Hi everyone. Welcome to the next article in my series of reviews of the cards in the upcoming Guilds of Ravnica expansion. Today we'll be taking a look at all of the Red cards. In this article, I will discuss these cards as they relate to Standard play. My system uses number ratings ranging from 0 – 5 to gauge how well I think the cards will perform Standard play. I will offer some pros and cons for these cards and give my thoughts and rating on the card for Standard play. Please keep in mind that these ratings are based on my opinion only and may differ from your opinion. (If you have a different opinion, please sound off in the Comments section below and let me know your thoughts.)
How My Rating System Works
5.0: Format All-Star. This card is a total Bomb card. For those that aren't familiar with this term, it basically means this card will win you the game if left unchecked for a turn or two. These cards tend to be hard to defend against and can turn a game around in a hurry. Some cards that are bombs in limited may only be a mediocre card in constructed play. This card will see a lot of play in top tier tournament decks or will be the lynchpin of a top tier deck.
4.0: Above Average Card. This card is great. It can be played in multiple decks and will have an impact on the game every time. These cards can change a game quickly, get you back in the game, or shift the tempo of the game. These cards are usually vulnerable to some type of removal (or are a removal spell themselves), but they make up the majority of cards found in major tournament decks. This card will be a good support card in a top tier tournament deck.
3.0: Average Card. These are generally good cards, and many of them will be the majority of cards found in a tribal deck. Cards in this category are usually similar to other (higher-ranked) cards but cost 1 mana more or have a drawback in some manner. In Limited play, these are the majority of your deck. This card will likely be in a fair number of top tier tournament decks and will generally be interchangeable with other similarly-rated cards.
2.0: Niche Card. These cards serve are very narrow function and are usually meant for your sideboard. They could be removal spells that only remove 1 type of card, or cards with mediocre stats that have an ability that helps against opponents playing a certain color or strategy. In Limited play, these cards are put in your deck if you have no other options and need the card to reach your 40-card minimum deck size. For Constructed play, you will rarely play this card unless it's from your sideboard or you want to be "cute". This card will only be seen in select decks that are usually trying to play around with a specific ability or in tribal decks.
1.0: Will Rarely See Play. The worst of the worst. These cards are rarely played (if they're played at all). These cards generally have bad stats, cost too much mana, or have basically no impact on the game when they're played. Overall stay away from this card if possible. This card will likely not see any tournament play.
And now, on to the cards…
Arclight Phoenix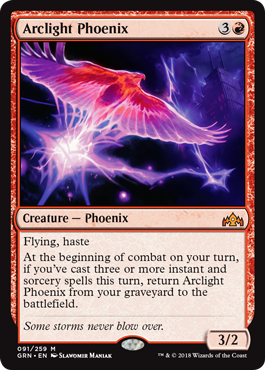 Rating:  3.0 (
)
Overall Thoughts:  Originally I wasn't fond of this card.  However after seeing how easy it can be to cast 3 spells in one turn thanks to jump-start, I'm more of a believer.  While it's still hard to bring back from the graveyard, even if you can only do it once in a game, you can really deal some damage with this hasty phoenix.
Book Devourer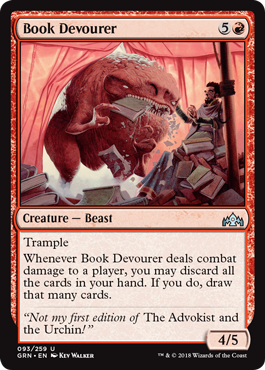 Rating:  1.5 (
)
Overall Thoughts:  Any creature with trample has potential to see play in Standard.  I think this one would have a better chance if its stats were switched though.  It won't be that difficult for your opponent to double-block this in order to make sure you can't dump your hand for a new one if they want to.  It's a neat design though and I'm hopeful the next time they use it it will be on a creature with better stats.
Command the Storm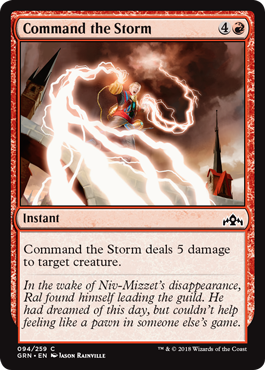 Rating:  1.0 (
)
Overall Thoughts:  5 mana for 5 points of damage is not great.  When that damage has to be done to a creature, it's even worse.  Don't look for this to see play in Standard.
Cosmotronic Wave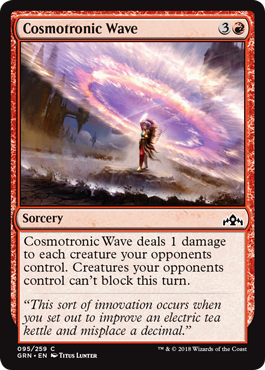 Rating:  3.5 (
)
Overall Thoughts:  This card is a great way to be able to finish off a game.  It also can double as a sweeper for small creatures in a pinch if that's what you need.  I'm hopeful that this will see a fair amount of Standard play.
Electrostatic Field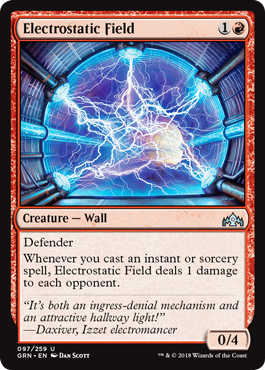 Rating:  2.0 (
)
Overall Thoughts:  In the right deck, this card will deal an absurd amount of damage to your opponent.  Pair this up with a ton of burn spells and you have a Mono-Red control deck in the making.
Erratic Cyclops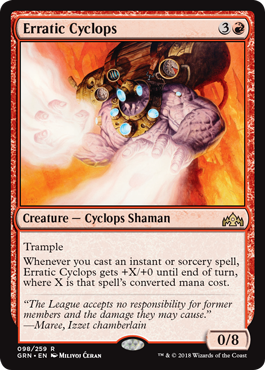 Rating:  2.0 (
)
Overall Thoughts:  This card pairs up nicely with Electrostatic Field and can act as quite a beater in the Mono-Red control deck I'm envisioning.  Having a 8 toughness means that your opponent has to go wide in order to get any damage through on you.
Experimental Frenzy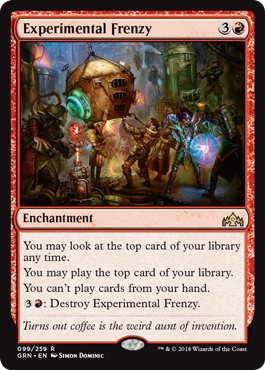 Rating:  2.5 (
)
Overall Thoughts:  In a fast, aggressive Red deck, this card basically has no drawback since you'll usually want to play all of the cards in your hand as quickly as possible.  Then you can play this as a way to gain access to the card on the top of your library at any time.
Fearless Halberdier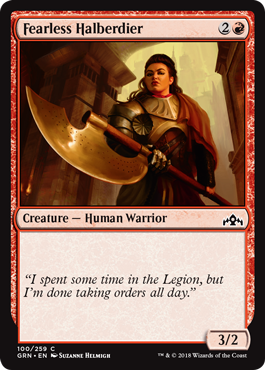 Rating:  1.0 (
)
Overall Thoughts:  A 3/2 for 3 mana with no abilities and no tribal synergies is fine for Limited, but won't make the cut in Standard.
Fire Urchin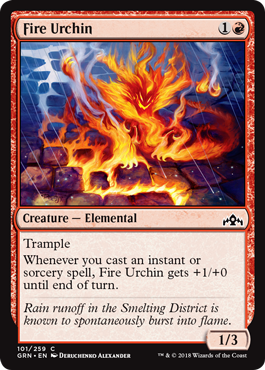 Rating:  1.5 (
)
Overall Thoughts:  It's the next incarnation of Kiln Fiend.  However Kiln Fiend gave you a much bigger payoff for casting instant or sorcery spells than this does.  This is nowhere near as good and won't see nearly as much play as Kiln Fiend.
Goblin Cratermaker
Rating:  3.0 (
)
Overall Thoughts:  In a goblin tribal deck, this card will see a lot of play.  I'm pretty confident we'll have a goblin tribal deck in Standard.  It's a great card to negate Karn, Scion of Urza, or to deal with a troublesome low-toughness creature your opponent has as a last resort.
Goblin Locksmith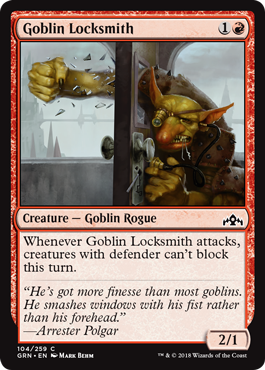 Rating:  2.0 (
)
Overall Thoughts:  While this card might see play in Limited where defenders are actually played, I'm doubtful we'll see a defenders-matter deck in Standard.  If it sees play, it'll be in a goblin tribal deck and will usually be flung at your opponent by Siege-Gang Commander.
Hellkite Whelp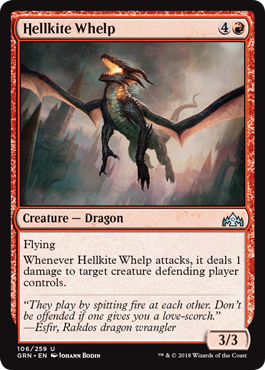 Rating:  1.5 (
)
Overall Thoughts:  I can see this getting played in a dragon tribal deck alongside Sarkhan, Fireblood.  The ability to deal 1 point of damage to an opponent's creature when it attacks isn't great, but you might be able to use it to make blocking difficult for certain creatures.  Overall, I'm not impressed with this creature.
Inescapable Blaze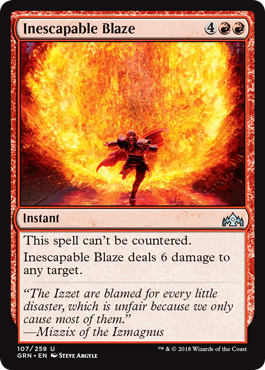 Rating:  1.5 (
)
Overall Thoughts:  The fact that this cannot be countered makes playing this card in Standard a possibility.  You still need to get to 6 mana in order to cast it, so it'll likely only be a 1-2 of, but sometimes you need to be able to get the last few points of damage through to be able to win a game.  I'd still rather play Banefire over this, but there's a chance this might see a small amount of play.
Lava Coil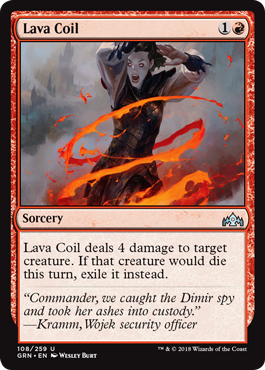 Rating:  3.0 (
)
Overall Thoughts:  While this is not as easy to cast as Magma Spray, it still exiles the creature it kills and is able to kill much larger creatures than Magma Spray could.  I expect to see this in Standard quite a bit.
Maniacal Rage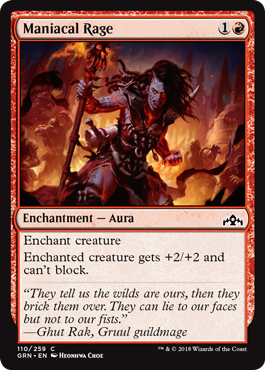 Rating:  1.5 (
)
Overall Thoughts:  In the most aggressive decks is where this card will really shine.  It does a good job of racking up a lot of damage quickly.  However, it's still just an aura, so the potential to get 2-for-1'ed is still there, plus this has a drawback by not allowing the enchanted creature to block.  I don't expect this to be more than a fringe player in Standard.
Ornery Goblin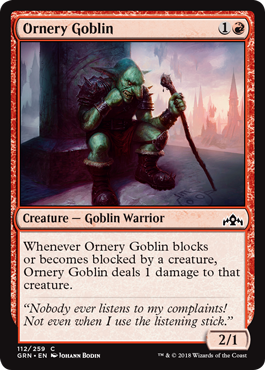 Rating:  2.5 (
)
Overall Thoughts:  This is another creature that sure messes up combat math for the opponent.  If this is blocked by any creature that has a 3 toughness or less, Ornery Goblin will destroy them.  Since it trades up so nicely, I'd expect this to be clogging up battlefields across Standard.
Rubblebelt Boar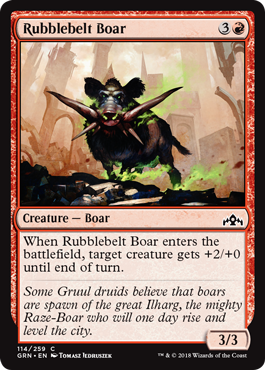 Rating:  1.0 (
)
Overall Thoughts:  A 3/3 for 4 mana is below the curve, and its ability when it enters the battlefield requires you to have another creature in play to utilize it.  Those limitations make this card see no play in Standard.
Runaway Steam-Kin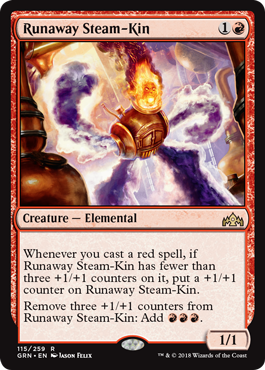 Rating:  3.0 (
)
Overall Thoughts:  This card is pretty easy to get up to being a 4/4, and the added possibility that you can use it for mana without destroying it can allow for additional shenanigans.  Look for this to be a staple in Red decks in Standard.
Smelt-Ward Minotaur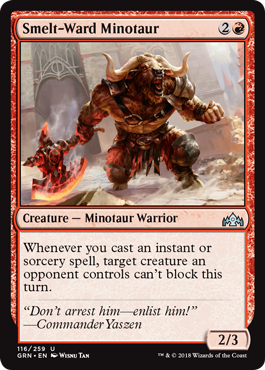 Rating:  2.5 (
)
Overall Thoughts:  This card goes great in a Red deck looking to cast burn spells as removal spells for the opponent's creatures.  Remove one with a Shock, make another unable to block thanks to this creature.  A good aggressive card I'm looking forward to trying out.
Street Riot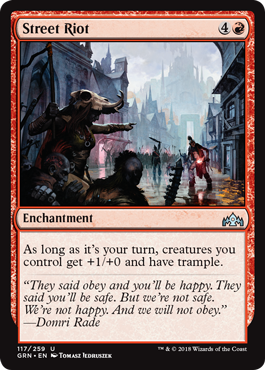 Rating:  1.5 (
)
Overall Thoughts:  This card could certainly be the VIP in the right deck.  Or it could also be a 5-mana enchantment that does nothing.  I'm not sure it'll be worth the risk to play this, but it could be a good sideboard option against certain decks.
Sure Strike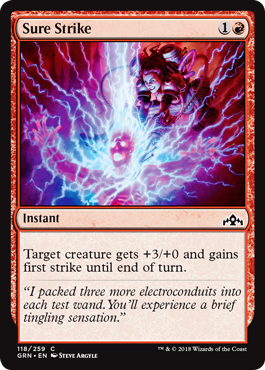 Rating:  1.0 (
)
Overall Thoughts:  Combat tricks like this very rarely see play in Standard.  I don't think this will be an exception to that rule.
Torch Courier
Rating:  3.0 (
)
Overall Thoughts:  I like this card a lot.  You can use it as soon as you cast it and if it ever gets outclassed, you can sacrifice it to give your latest threat haste.  You can also sacrifice it in response to being targeted by a removal spell that would exile it, like Vraska's Contempt, if you want to make sure it goes to your graveyard which will also negate the rest of the spell making your opponent gain 0 life.
Wrapping Up
Thank you for joining me today for my thoughts on the Red cards in Guilds of Ravnica.  I'd love to know your thoughts.  Let me know by leaving a comment below, or contact me on Twitter (@mikelikesmtg), or email me directly at mikelikesmtg@gmail.com.  And be sure to join me next time when I'll take a look at the Green cards.  I'll see you then!
— Mike Likes
Stay up to date on everything MTG Deck Techs:
Comments