Hi everyone. Welcome to the next article in my series of reviews of the cards in the upcoming Guilds of Ravnica expansion. Today we'll be taking a look at all of the cards featuring a Izzet watermark. In this article, I will discuss these cards as they relate to Standard play. My system uses number ratings ranging from 0 – 5 to gauge how well I think the cards will perform Standard play. I will offer some pros and cons for these cards and give my thoughts and rating on the card for Standard play. Please keep in mind that these ratings are based on my opinion only and may differ from your opinion. (If you have a different opinion, please sound off in the Comments section below and let me know your thoughts.)
How My Rating System Works
5.0: Format All-Star. This card is a total Bomb card. For those that aren't familiar with this term, it basically means this card will win you the game if left unchecked for a turn or two. These cards tend to be hard to defend against and can turn a game around in a hurry. Some cards that are bombs in limited may only be a mediocre card in constructed play. This card will see a lot of play in top tier tournament decks or will be the lynchpin of a top tier deck.
4.0: Above Average Card. This card is great. It can be played in multiple decks and will have an impact on the game every time. These cards can change a game quickly, get you back in the game, or shift the tempo of the game. These cards are usually vulnerable to some type of removal (or are a removal spell themselves), but they make up the majority of cards found in major tournament decks. This card will be a good support card in a top tier tournament deck.
3.0: Average Card. These are generally good cards, and many of them will be the majority of cards found in a tribal deck. Cards in this category are usually similar to other (higher-ranked) cards but cost 1 mana more or have a drawback in some manner. In Limited play, these are the majority of your deck. This card will likely be in a fair number of top tier tournament decks and will generally be interchangeable with other similarly-rated cards.
2.0: Niche Card. These cards serve are very narrow function and are usually meant for your sideboard. They could be removal spells that only remove 1 type of card, or cards with mediocre stats that have an ability that helps against opponents playing a certain color or strategy. In Limited play, these cards are put in your deck if you have no other options and need the card to reach your 40-card minimum deck size. For Constructed play, you will rarely play this card unless it's from your sideboard or you want to be "cute". This card will only be seen in select decks that are usually trying to play around with a specific ability or in tribal decks.
1.0: Will Rarely See Play. The worst of the worst. These cards are rarely played (if they're played at all). These cards generally have bad stats, cost too much mana, or have basically no impact on the game when they're played. Overall stay away from this card if possible. This card will likely not see any tournament play.
And now, on to the cards…
Chemister's Insight
Rating:  3.0 (
)
Overall Thoughts:  A repeatable Inspiration is just what Blue control decks need, and that's what this card offers.  This should be a staple card in a lot of decks in Standard.
Maximize Altitude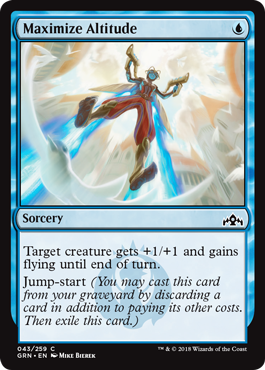 Rating:  1.5 (
)
Overall Thoughts:  Blue decks aren't the usual places that I think I'll find combat tricks such as this one.  I don't think this will see much play outside of a fringe deck here or there.
Quasiduplicate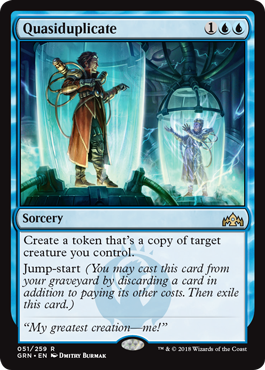 Rating:  3.0 (
)
Overall Thoughts:  Clone effects are usually better when you can target any creature, not just your own.  However, this is still a good effect and I think this will be a real role-player in Standard.  This card could get even better when Simic comes out in Ravnica Allegiance.
Radical Idea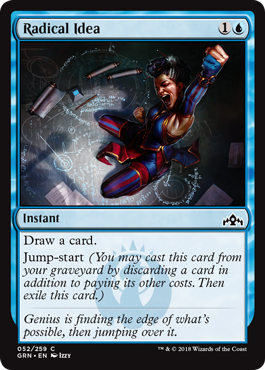 Rating:  2.5 (
)
Overall Thoughts:  I see this card filling a similar role as Chemister's Insight, just on a smaller scale.  While you'll usually want to have access to the bigger effect, there could be some decks that want this card due to its cheaper CMC.
Direct Current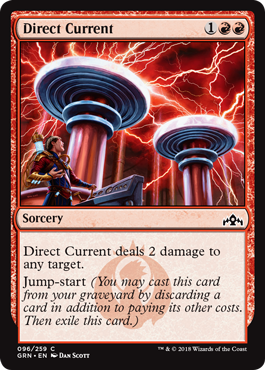 Rating:  1.5 (
)
Overall Thoughts:  In the right burn deck, this card could see some play.  However the cost is a little high in relation to the effect.  For that reason, I don't expect to see this outside of fringe play.
Gravitic Punch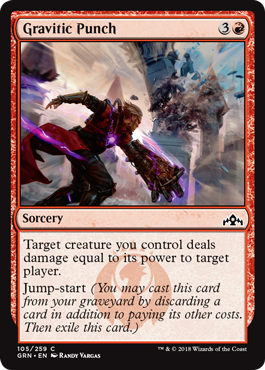 Rating:  2.0 (
)
Overall Thoughts:  One-sided fight cards are great for removing troublesome creatures from your opponent's battlefield.  This card, on the other hand, only deals damage to a player, not to their creatures.  It's possible that this is better than Fling, but it both costs more to use and only affects a player, not any target.  The fact that this playable from the graveyard is the main reason that this card could see some play in Standard.  I can envision pairing this alongside some powerful dinosaurs for maximum damage potential.
Maximize Velocity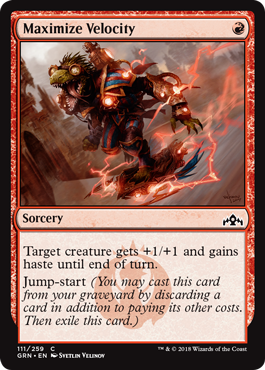 Rating:  1.5 (
)
Overall Thoughts:  If you're looking to cast a lot of spells in one turn, this is a card you'll want to play.  Otherwise, I don't expect to see this played outside of Limited very often.  The effect this provides isn't enough to justify spending a card slot on it.
Risk Factor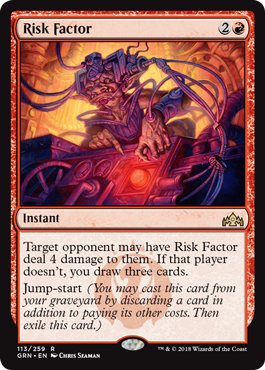 Rating:  3.0 (
)
Overall Thoughts:  This is a good punisher-style card, but the fact that it costs 3 mana is a major drawback.  While I expect it to see a fair amount of play, I can imagine a scenario where I cast this and my opponent allows me to draw three cards right before they kill me on the following turn.
Beacon Bolt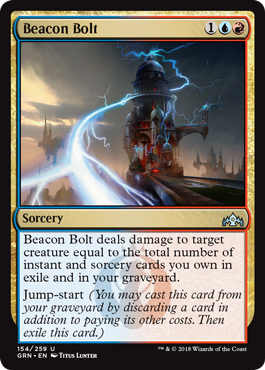 Rating:  1.5 (
)
Overall Thoughts:  In the right counter-burn deck, this card will be good.  In the majority of other decks, this card will be mediocre.  The fact that this can only hit creatures and you have to work on setting it up will limit the amount of play this sees.
Beamsplitter Mage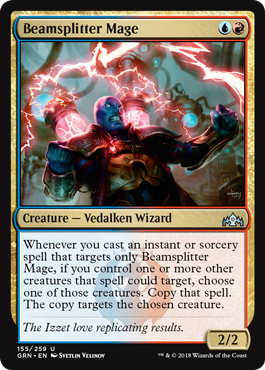 Rating:  1.5 (
)
Overall Thoughts:  We've seen similar cards like Zada, Hedron Grinder in the past, where the effect targeted all of your other creatures instead of just a single one.  But even then, those decks saw nothing more than fringe play.  I expect the same out of this card.
Crackling Drake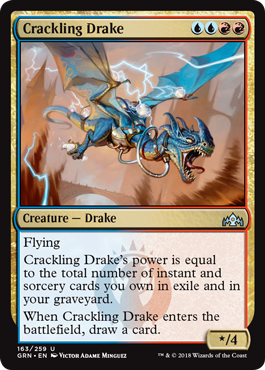 Rating:  2.0 (
)
Overall Thoughts:  I like the fact that this card's power counts the instants and sorceries you have in your graveyard as well as in exile.  That means it plays nicely with cards that have jump-start.  With that being said, there are still a lot of hoops you have to jump through to make this good, which will limit its Standard play.
Firemind's Research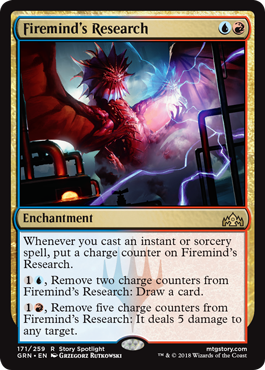 Rating:  3.5 (
)
Overall Thoughts:  Since this is an inexpensive enchantment that will both allow you to draw additional cards or deal damage to any target, it meets all of the criteria to allow it to see a decent amount of Standard play.  I like the versatility this card offers.
Goblin Electromancer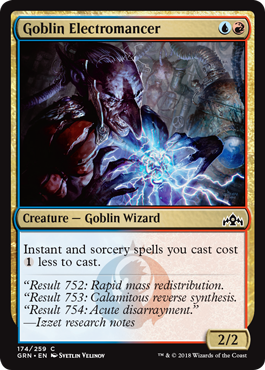 Rating:  3.5 (
)
Overall Thoughts:  Goblin Electromancer is back and just in time to slot into an Izzet wizard deck.  This deck has been a player in Standard since Dominaria came out, and it will only get better thanks to this card.
Hypothesizzle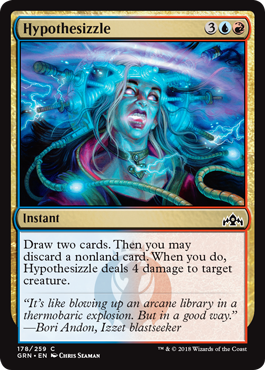 Rating:  1.5 (
)
Overall Thoughts:  While this card offers both card draw and creature removal, it does so at quite a high cost.  That cost will limit its playability in Standard, as there are better, cheaper options for both of these effects.
Ionize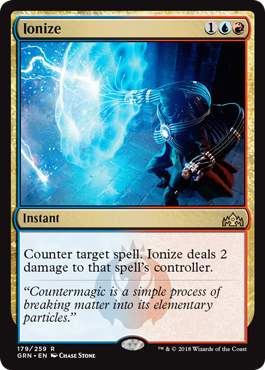 Rating:  2.0 (
)
Overall Thoughts:  This is like Cancel with an upside.  I think this has a home in a counter-burn deck, but that's likely the only place.  It's a nice way to kill two birds with one stone.  I think this is likely to see less play than Sinister Sabotage though.
League Guildmage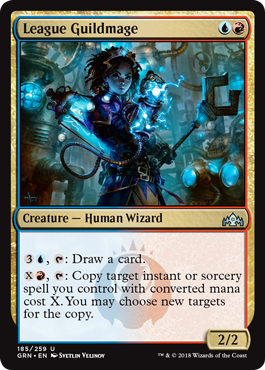 Rating:  2.0 (
)
Overall Thoughts:  Being able to draw a card on multiple turns is the saving grace that might allow this card to see some amount of play.  The ability to copy a spell simply costs too much to be able to be put to good use.  This card is also a wizard, so it could see play in a wizard-based deck.
Niv-Mizzet, Parun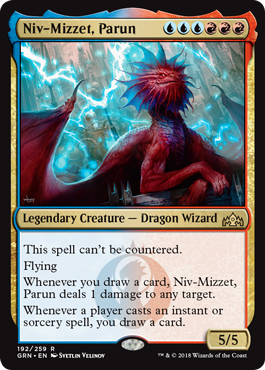 Rating:  4.0 (
)
Overall Thoughts:  While this card might be difficult to cast, once it's on the battlefield it's worth it.  a 5/5 flyer for 6 mana that can't be countered is great.  Add to that a way to deal damage to any target when you draw a card and a way to draw additional cards, and you have a terrific card that should see play in Standard.
Ral, Izzet Viceroy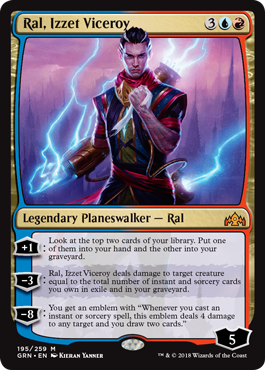 Rating:  2.5 (
)
Overall Thoughts:  Ultimately I'm not that impressed with this version of Ral.  I like his +1 loyalty ability, and using it sets up his -3 loyalty ability nicely.  The only problem is that I feel he's best in a deck with a lot of instant and sorcery spells and fewer creatures, so protecting him might be difficult.  As with most planeswalkers, his ultimate ability is bonkers, and if you are able to produce his emblem, the game should be firmly within your grasp.
Sonic Assault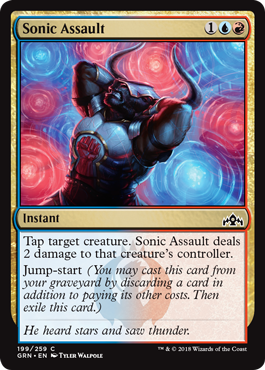 Rating:  1.0 (
)
Overall Thoughts:  Simply tapping down a creature for the turn in addition to dealing 2 points of damage to the creature's controller isn't quite enough to allow this to see play in Standard.  If this offered a more permanent way to deal with the creature (like dealing the damage to the creature directly), then it might be worthwhile, but as it is it's too costly of an effect for Standard, even if you can do it again later thanks to jump-start.
Thousand-Year Storm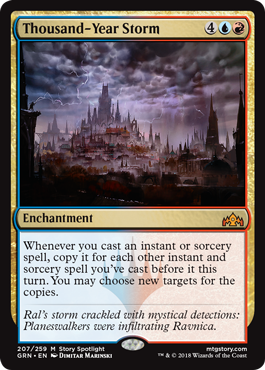 Rating:  2.5 (
)
Overall Thoughts:  I really like build-around cards like this one.  While I don't expect it to see a lot of play, I do expect that plenty of people will be brewing with this card and a deck might be found to showcase this card.  If you have a Lightning Strike and a Shock in hand with this in play, you can cast the Shock and then the Lightning Strike to deal 8 points of damage to your opponent.  This can allow games to end out of nowhere.  The effect of this card also allows your creature removal spells to be much more effective.
Wee Dragonauts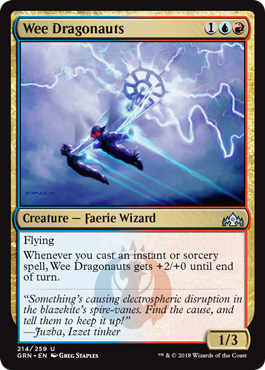 Rating:  2.0 (
)
Overall Thoughts:  In the wizard-tribal deck, this card could really shine.  However, the thing about that deck is that there are a lot of wizards in it, which are not instant or sorcery spells, limiting the effectiveness of this card.
Piston-Fist Cyclops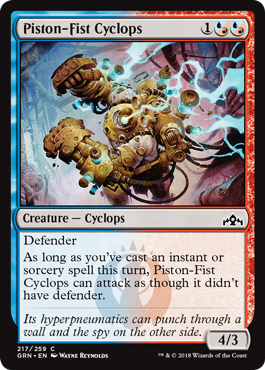 Rating:  2.5 (
)
Overall Thoughts:  A 4/3 creature for 3 mana is a great deal, even with a drawback.  But the drawback on this creature isn't really that much of a drawback since most Izzet decks will usually have quite a few instant and sorcery spells in them.  It is still a drawback, which will limit the effectiveness of this creature on those turns where it can't attack, which could limit its playability.
Expansion // Explosion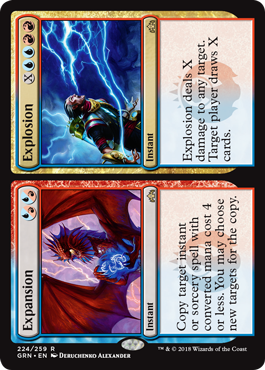 Rating:  3.5 (
)
Overall Thoughts:  Expansion is good insurance against any sort of creature removal spell your opponent might cast.  It allows you to Murder an opponent's creature when they Murder yours.  It also allows you the possibility of dealing direct damage to the opponent or drawing additional cards.  I'm less excited about the Explosion half of this card, although in prolonged games I can see how it could be useful.
Invert // Invent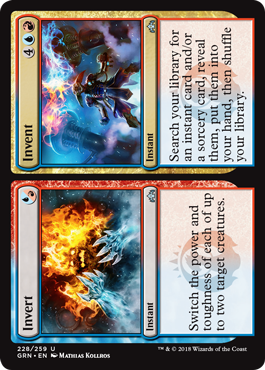 Rating:  3.5 (
)
Overall Thoughts:  Invert is a great combat trick that allows you to wipe out an attacking creature or two that have unbalanced stats.  Or, if you have a way to reduce a creature's power to 0, you can simply kill it on the spot.  Invent, while costly, will set up your next turn with the instant and sorcery of your choice.  It's a great way to find the missing spell you need to close out the game.
Izzet Locket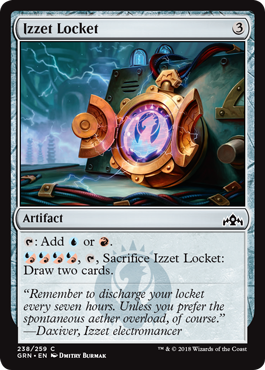 Rating:  2.5 (
)
Overall Thoughts:  Izzet is another guild where having the ability to sacrifice this card in order to draw a card could be useful.  But, like the other lockets in the cycle, 3 mana for a mana rock is kind of pricey for this to see much Standard play.
Izzet Guildgate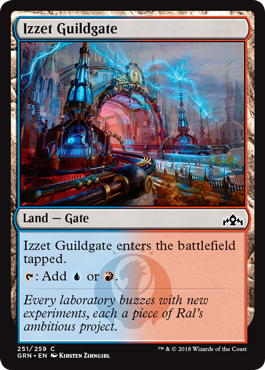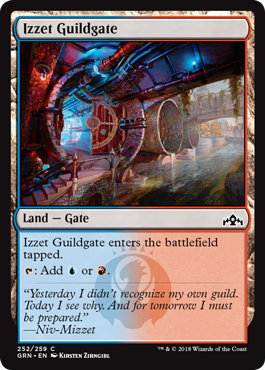 Rating:  2.0 (
)
Overall Thoughts:  A nice budget-friendly option when you don't have Steam Vents.  Otherwise, it's best left in your binder.
Steam Vents
Rating:  4.0 (
)
Overall Thoughts:  Who could have guessed that the shocklands would be Standard playable?  Oh, that's right… everyone.
Wrapping Up
Thank you for joining me today for my thoughts on the Izzet cards in Guilds of Ravnica.  I'd love to know your thoughts.  Let me know by leaving a comment below, or contact me on Twitter (@mikelikesmtg), or email me directly at mikelikesmtg@gmail.com.  And be sure to join me next time when I'll take a look at the Selesnya cards.  I'll see you then!
— Mike Likes
Stay up to date on everything MTG Deck Techs:
Comments