Hi everyone. Welcome to the next article in my series of reviews of the cards in the upcoming Guilds of Ravnica expansion. Today we'll be taking a look at all of the Green cards. In this article, I will discuss these cards as they relate to Standard play. My system uses number ratings ranging from 0 – 5 to gauge how well I think the cards will perform Standard play. I will offer some pros and cons for these cards and give my thoughts and rating on the card for Standard play. Please keep in mind that these ratings are based on my opinion only and may differ from your opinion. (If you have a different opinion, please sound off in the Comments section below and let me know your thoughts.)
How My Rating System Works
5.0: Format All-Star. This card is a total Bomb card. For those that aren't familiar with this term, it basically means this card will win you the game if left unchecked for a turn or two. These cards tend to be hard to defend against and can turn a game around in a hurry. Some cards that are bombs in limited may only be a mediocre card in constructed play. This card will see a lot of play in top tier tournament decks or will be the lynchpin of a top tier deck.
4.0: Above Average Card. This card is great. It can be played in multiple decks and will have an impact on the game every time. These cards can change a game quickly, get you back in the game, or shift the tempo of the game. These cards are usually vulnerable to some type of removal (or are a removal spell themselves), but they make up the majority of cards found in major tournament decks. This card will be a good support card in a top tier tournament deck.
3.0: Average Card. These are generally good cards, and many of them will be the majority of cards found in a tribal deck. Cards in this category are usually similar to other (higher-ranked) cards but cost 1 mana more or have a drawback in some manner. In Limited play, these are the majority of your deck. This card will likely be in a fair number of top tier tournament decks and will generally be interchangeable with other similarly-rated cards.
2.0: Niche Card. These cards serve are very narrow function and are usually meant for your sideboard. They could be removal spells that only remove 1 type of card, or cards with mediocre stats that have an ability that helps against opponents playing a certain color or strategy. In Limited play, these cards are put in your deck if you have no other options and need the card to reach your 40-card minimum deck size. For Constructed play, you will rarely play this card unless it's from your sideboard or you want to be "cute". This card will only be seen in select decks that are usually trying to play around with a specific ability or in tribal decks.
1.0: Will Rarely See Play. The worst of the worst. These cards are rarely played (if they're played at all). These cards generally have bad stats, cost too much mana, or have basically no impact on the game when they're played. Overall stay away from this card if possible. This card will likely not see any tournament play.
And now, on to the cards…
Affectionate Indrik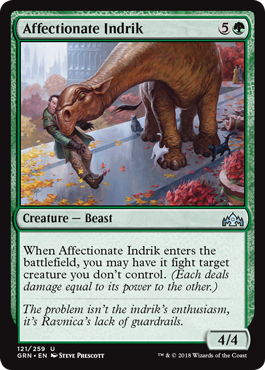 Rating:  1.5 (
)
Overall Thoughts:  As much as I like the fight ability on creatures, I think this comes down too late to be of much use generally, thanks to it costing 6 mana.
Beast Whisperer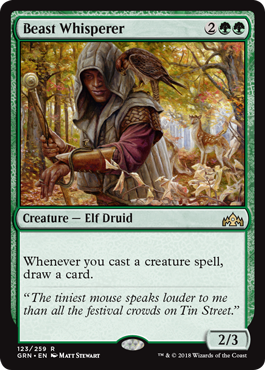 Rating:  3.5 (
)
Overall Thoughts:  Glimpse of Nature was one of my favorite cards to play before it was banned.  While this is somewhat similar, the fact that you can get the benefit of drawing additional cards turn after turn is amazing.  This card will work wonders alongside cards like Siren Stormtamer, as you'll need some way to protect it.  And decks that attempt to abuse the convoke mechanic could certainly utilize a creature like this.
Bounty of Might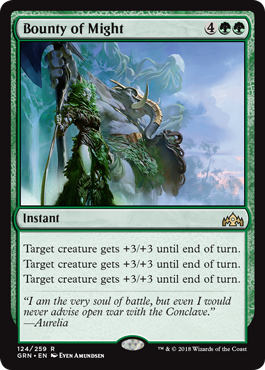 Rating:  2.0 (
)
Overall Thoughts:  If you manage to cast this spell and target the same evasive creature with all three effects, you can dish out a ton of damage.  The main limiting factor is the 6 mana it costs.
Circuitous Route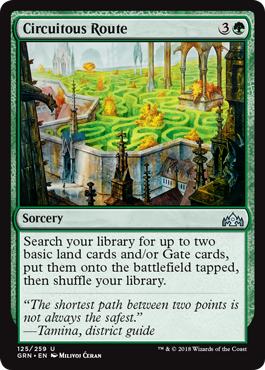 Rating:  2.5 (
)
Overall Thoughts:  In a deck that wants to splash 1 or more colors, this card might see some use.  It allows you to get 2 guildgates for the splashing you want to do and put them onto the battlefield tapped.  This allows you mana fixing without needing to play these from your hand where they will always put you behind a turn.
Crushing Canopy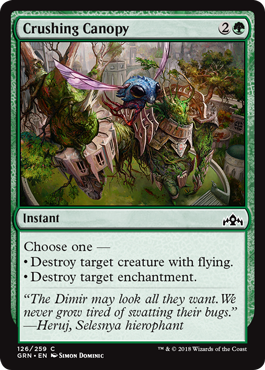 Rating:  2.0 (
)
Overall Thoughts:  This is a great sideboard card that allows you to kill two birds with one stone (figuratively).  The fact that it can affect multiple types of cards gives this a lot of flexibility, so you don't need to pack answers for both flying creatures and enchantments separately, thus giving you extra room in your sideboard.
Devkarin Dissident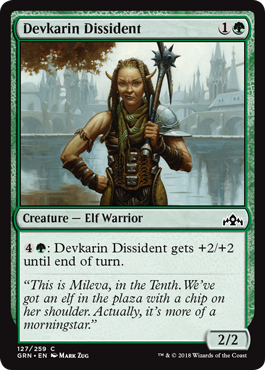 Rating:  1.0 (
)
Overall Thoughts:  A Grizzly Bear that can become a double-sized Grizzly Bear for only 5 mana?  No thanks, I'll pass.
District Guide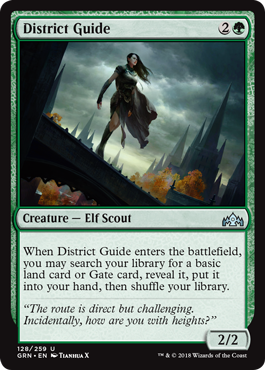 Rating:  2.0 (
)
Overall Thoughts:  Here's another way to help out if you're splashing for a color or two.  While the land or gate you get only goes to your hand, you do get a creature on the battlefield for your effort.  It can also help ensure that you have the lands needed to play out your bigger threats.
Generous Stray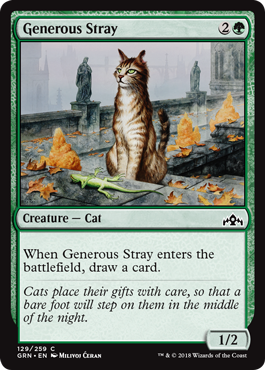 Rating:  1.0 (
)
Overall Thoughts:  For 3 mana, I'm hoping to get a bigger creature than just a 1/2, even if it does allow me to draw a card.  I do, however, love the artwork on this card, which is completely irrelevant to this review.
Grappling Sundew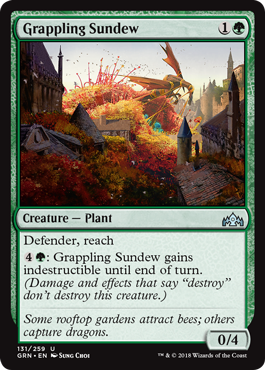 Rating:  1.0 (
)
Overall Thoughts:  I could see this becoming a decent sideboard card, especially if there's a good Dragon-based deck.  However, the fact that you can't make it indestructible until you have 5 mana to use (every turn) makes this a little slow.
Hitchclaw Recluse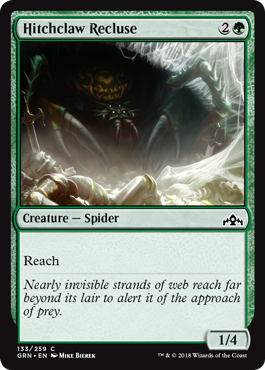 Rating:  2.0 (
)
Overall Thoughts:  This is a good blocker that also has a little sting.  Being able to deal 1 point of damage when this blocks makes a world of difference in a format where there are a lot of 1/1 token enablers.  Cards like this can hold off those decks quite well, until they begin to get outnumbered on the battlefield.
Ironshell Beetle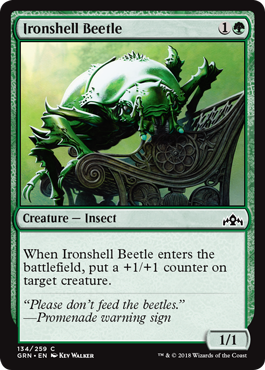 Rating:  1.5 (
)
Overall Thoughts:  The nice part about this card is that it can target itself to get the +1/+1 counter, so you're not dependent on having another creature in play.  It's still just a small bonus when it enters play, so I wouldn't look for this to be widely played.
Might of the Masses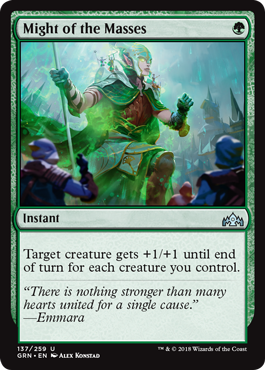 Rating:  2.0 (
)
Overall Thoughts:  In the right deck, this will be a great way for you to finish off your opponent.  In most decks though, you'll likely get somewhere around a +3/+3 bonus, which isn't too shabby for a single mana.  It's still just a combat trick, so I don't expect it to see a lot of Standard play.
Nullhide Ferox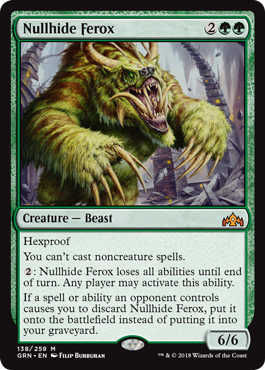 Rating:  4.5 (
)
Overall Thoughts:  This is a great card that warps any discard strategy your opponent might have planned.  While this card definitely has a drawback when you play it, you've likely built your deck in such a way that the drawback won't affect you too badly.  I expect this will be a big player in Standard.
Pelt Collector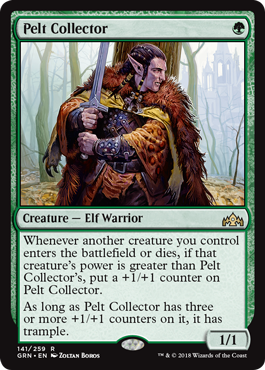 Rating:  4.0 (
)
Overall Thoughts:  A 1/1 creature for 1 mana that gets bigger when creatures with more power than it has come into play for you.  And it's in Green, the color that typically wants to curve out with bigger and better creatures each turn.  This is another card that will see a lot of Standard play for sure.
Portcullis Vine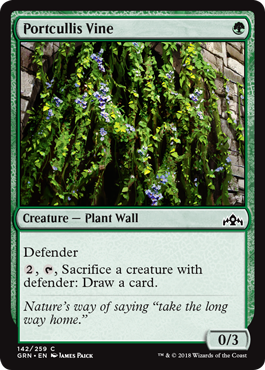 Rating:  2.0 (
)
Overall Thoughts:  If you're looking to slow down the game from the start, this is the card for you.  You can play this on your first turn and then cash it in for a new card from the top of your library once it's no longer useful.  This won't see widespread play, but in the right deck it could be useful.
Prey Upon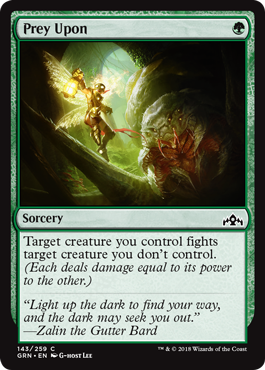 Rating:  2.0 (
)
Overall Thoughts:  With both Pounce and Hunt the Weak currently in Standard, Prey Upon has its work cut out to see play.  As it is, I think it's a little worse than Pounce and a little better than Hunt the Weak.  It's doubtful it sees much play, but if you need a 1 mana spell to fight another creature, then this sorcery is for you.
Urban Utopia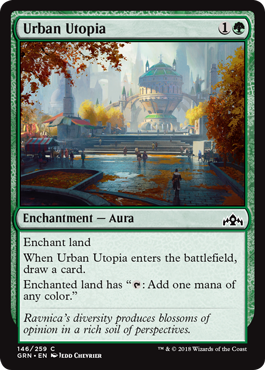 Rating:  1.5 (
)
Overall Thoughts:  For a mana-fixer, this does a good job.  You can use it to make any color of mana and it lets you replace it when you play it.  But since it doesn't ramp your mana, I don't think this will see much play in Standard.
Vivid Revival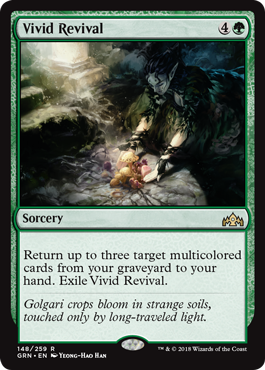 Rating:  1.0 (
)
Overall Thoughts:  Getting things back from your graveyard to your hand simply isn't very good, especially when the spell allowing you to do so costs 5 mana.  If you want to take your turn off to do this, you're probably going to lose the game anyway or are so far behind that it will be very difficult for you to win.
Wary Okapi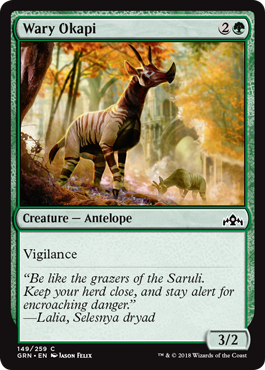 Rating:  1.0 (
)
Overall Thoughts:  While a 3/2 with vigilance is about on rate for the 3 mana investment, I don't expect this to be played in Standard.  It just doesn't have a big enough impact on the battlefield to be a player.
Wild Ceratok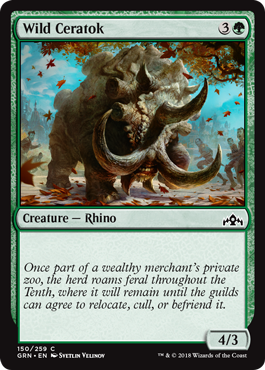 Rating:  1.0 (
)
Overall Thoughts:  As I mentioned before, vanilla creatures need to have completely busted stats to see Standard play.  I just don't see these stats as busted, so I don't think it will see any play.
Wrapping Up
Thank you for joining me today for my thoughts on the Green cards in Guilds of Ravnica.  I'd love to know your thoughts.  Let me know by leaving a comment below, or contact me on Twitter (@mikelikesmtg), or email me directly at mikelikesmtg@gmail.com.  And be sure to join me next time when I'll take a look at the Artifact and Land cards.  I'll see you then!
— Mike Likes
Stay up to date on everything MTG Deck Techs:
Comments