Hi everyone. Welcome to the next article in my series of reviews of the cards in the upcoming Guilds of Ravnica expansion. Today we'll be taking a look at all of the cards featuring a Golgari watermark. In this article, I will discuss these cards as they relate to Standard play. My system uses number ratings ranging from 0 – 5 to gauge how well I think the cards will perform Standard play. I will offer some pros and cons for these cards and give my thoughts and rating on the card for Standard play. Please keep in mind that these ratings are based on my opinion only and may differ from your opinion. (If you have a different opinion, please sound off in the Comments section below and let me know your thoughts.)
How My Rating System Works
5.0: Format All-Star. This card is a total Bomb card. For those that aren't familiar with this term, it basically means this card will win you the game if left unchecked for a turn or two. These cards tend to be hard to defend against and can turn a game around in a hurry. Some cards that are bombs in limited may only be a mediocre card in constructed play. This card will see a lot of play in top tier tournament decks or will be the lynchpin of a top tier deck.
4.0: Above Average Card. This card is great. It can be played in multiple decks and will have an impact on the game every time. These cards can change a game quickly, get you back in the game, or shift the tempo of the game. These cards are usually vulnerable to some type of removal (or are a removal spell themselves), but they make up the majority of cards found in major tournament decks. This card will be a good support card in a top tier tournament deck.
3.0: Average Card. These are generally good cards, and many of them will be the majority of cards found in a tribal deck. Cards in this category are usually similar to other (higher-ranked) cards but cost 1 mana more or have a drawback in some manner. In Limited play, these are the majority of your deck. This card will likely be in a fair number of top tier tournament decks and will generally be interchangeable with other similarly-rated cards.
2.0: Niche Card. These cards serve are very narrow function and are usually meant for your sideboard. They could be removal spells that only remove 1 type of card, or cards with mediocre stats that have an ability that helps against opponents playing a certain color or strategy. In Limited play, these cards are put in your deck if you have no other options and need the card to reach your 40-card minimum deck size. For Constructed play, you will rarely play this card unless it's from your sideboard or you want to be "cute". This card will only be seen in select decks that are usually trying to play around with a specific ability or in tribal decks.
1.0: Will Rarely See Play. The worst of the worst. These cards are rarely played (if they're played at all). These cards generally have bad stats, cost too much mana, or have basically no impact on the game when they're played. Overall stay away from this card if possible. This card will likely not see any tournament play.
And now, on to the cards…
Lotleth Giant
Rating:  3.0 (
)
Overall Thoughts:  This could be a good finisher for decks utilizing the undergrowth ability as it not only puts a big creature onto the battlefield for you but also can deal the last few points of damage needed to finish off a weakened opponent.  I could see this seeing play, but likely only as a 2-of at most unless it's in a ramp deck.
Mausoleum Secrets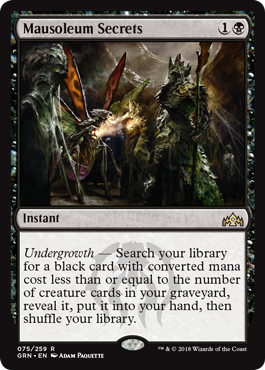 Rating:  4.5 (
)
Overall Thoughts:  The fact that this can get any kind of Black card is what makes me certain that this will see play.  The limiting factor will be the number of creatures you can get into your graveyard, but with cards like Stitcher's Supplier in the format I don't think that will be much of a problem.  You can use it to find some Black removal if needed or a big creature like Tetzimoc, Primal Death.  And don't forget that you can find a multi-colored card as long as one of its colors is Black.
Moodmark Painter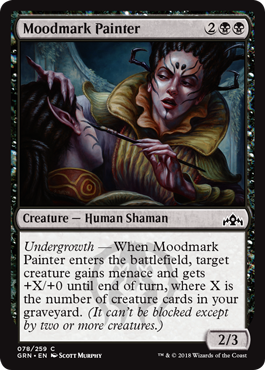 Rating:  1.5 (
)
Overall Thoughts:  In a deck dedicated to undergrowth, this card might see some fringe play.  Otherwise, I think it's too expensive to see any Standard play.  It's far too easy to destroy the creature that this will target making this a 4 CMC 2/3 which isn't good.
Necrotic Wound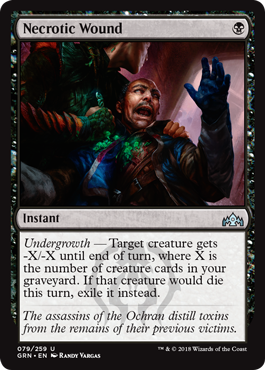 Rating:  2.5 (
)
Overall Thoughts:  While this is a very good card in the late game, early on is where it suffers.  If you have no creatures in your graveyard, this is simply a dead card in your hand.  And even later in the game, you could easily find yourself in a situation where casting this doesn't get rid of a creature you need off of the battlefield.  While I do think it will see some play, especially since it shrinks both power and toughness, I'm not sold on playing more than a couple of copies in a deck.
Golgari Raiders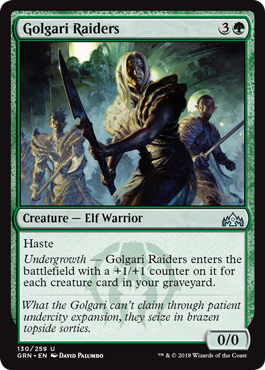 Rating:  1.5 (
)
Overall Thoughts:  Here's another card that could be stranded in my hand for a long while if I don't have any (or very few) creatures in my graveyard.  While it does have potential to be huge, it's going to require a specific deck to be any good.  This card seems like a trap to me.
Hatchery Spider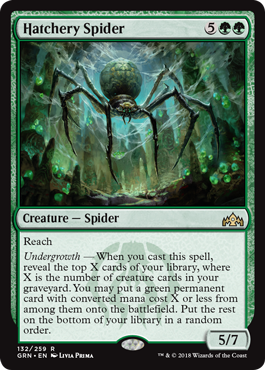 Rating:  2.5 (
)
Overall Thoughts:  I like that you're likely to get 2 creatures into play for a mere 7 mana (yes, that's sarcasm), but I have a hard time finding this to be a card that I really want to play in a non-ramp deck.  This card should help to stabilize you if you are behind, but since it costs 7 mana it's not the kind of card you'll be playing a full playset of.
Kraul Foragers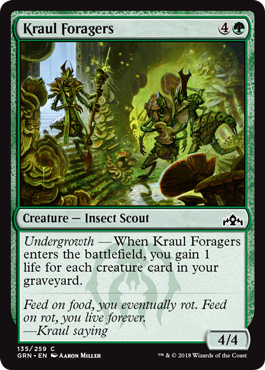 Rating:  1.5 (
)
Overall Thoughts:  This might find a home in a dedicated undergrowth deck, but I really don't see it being played elsewhere.
Kraul Harpooner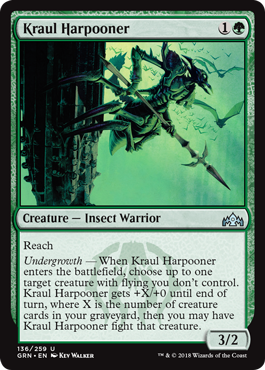 Rating:  3.5 (
)
Overall Thoughts:  While it's a little limited by having to choose a creature to fight that has flying, in a Green deck this will definitely fill a void.  Sure, we have cards like Plummet, but this will (hopefully) leave you a creature behind that you can use as future defense against your opponent's flyers (and non-flyers for that matter).
Vigorspore Wurm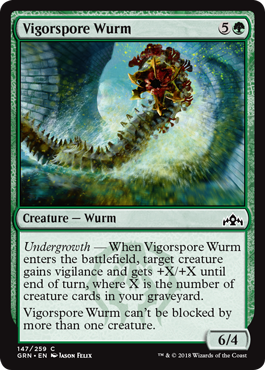 Rating:  2.5 (
)
Overall Thoughts:  Getting a 6/4 creature that can't be blocked by more than one creature means that you're either getting chumped blocked when you attack or you're trading with a sizeable creature.  I consider the ability to grant vigilance as a pure bonus on this creature.
Assassin's Trophy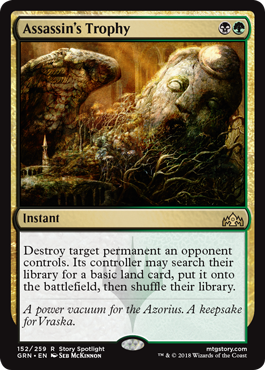 Rating:  4.5 (
)
Overall Thoughts:  This card almost got a 5.0 star rating, however most of the time you will want to hold this until sometime after your opponent has 4-6 lands in play before playing this removal spell.  Otherwise you'll be inadvertently aiding your opponent by helping to ramp their mana production (and possibly fixing the color of mana they can produce).  Looking past that small drawback, this card is amazing and will see play across multiple formats.
Charnel Troll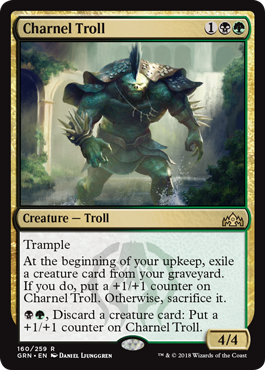 Rating:  3.0 (
)
Overall Thoughts:  This creature in the right build has the potential to become monstrous.  It should be a staple creature in most Golgari decks trying to utilize the undergrowth mechanic.  The trick will be keeping enough creatures in your graveyard to continue to keep him alive and protecting him from your opponent's removal.
Erstwhile Trooper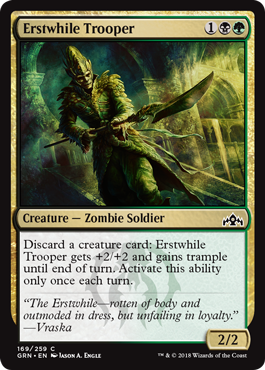 Rating:  2.5 (
)
Overall Thoughts:  The threat of activation is what makes this a good card to play.  As long as you have a card in hand, your opponent won't know if it's safe to block this with anything smaller than a 4/4.  The fact that it helps with any undergrowth strategy you have going is a big bonus.
Glowspore Shaman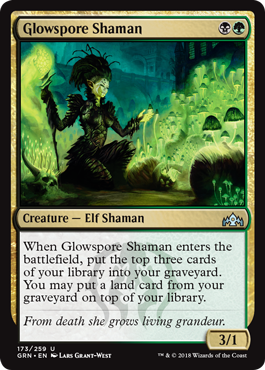 Rating:  3.0 (
)
Overall Thoughts:  Undergrowth decks need a way to be able to get cards into their graveyard, and this is a great way to do that.  The fact that you're able to put a land from your graveyard on top of your library is simply a bonus if you need it, otherwise since it's a 'may' ability you can just ignore it.  That bonus makes this card even better in other formats like Modern where you have better land choices that you can get back.
Golgari Findbroker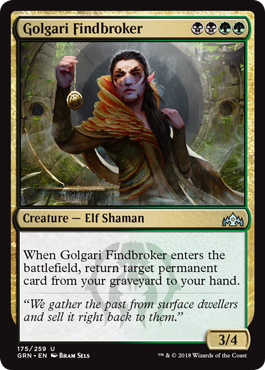 Rating:  3.5 (
)
Overall Thoughts:  While this card doesn't go in every deck thanks to its prohibitive mana cost, getting any permanent from your graveyard back into your hand is very powerful.  This is a great way to ensure that you're still able to have access to cards that are needed for your deck that have been put into the graveyard thanks to undergrowth.  If there's a combo deck that Golgari decks have access to, this card will be vital to that strategy.
Izoni, Thousand-Eyed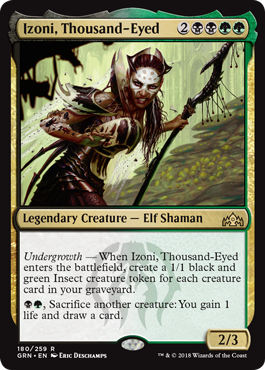 Rating:  3.5 (
)
Overall Thoughts:  This is a great way to be able to go wide and attack with a ton of creatures.  As with all undergrowth cards, it will require a bit of setup to work optimally, but it's definitely worth it.  Plus, if you need to chump block, being able to sacrifice the blocker to gain a life and draw a card will certainly help you stabilize.
Molderhulk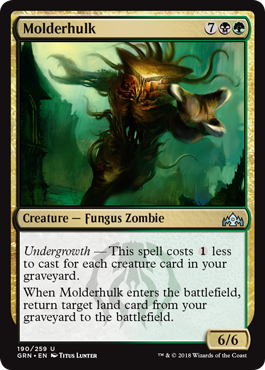 Rating:  3.5 (
)
Overall Thoughts:  The potential to get a 6/6 into play for just 2 mana makes this a card that should see some play.  If you can't cheat it into play for less than the full price, you're likely already winning.
Ochran Assassin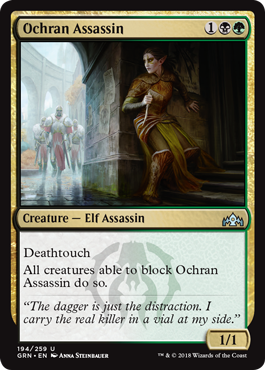 Rating:  4.0 (
)
Overall Thoughts:  Even if you don't have any way to pump the power and toughness on this creature, being able to attack and know that you'll be able to kill your opponent's best creature should make this a creature worth playing.  Or hold it back to be a blocker and make it so your opponent never wants to attack without some sort of evasion.
Rhizome Lurcher
Rating:  2.5 (
)
Overall Thoughts:  Here's another creature that looks like it's better in a deck dedicated to undergrowth decks than in a regular deck.  It has the potential to be very good, but is definitely better if you build around the undergrowth ability.  Because of the potential for bustedness, I would expect this to see some amount of Standard play.
Swarm Guildmage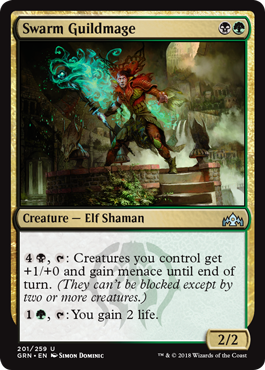 Rating:  3.0 (
)
Overall Thoughts:  The ability to gain life could be super relevant in the correct build.  However the other activated ability is definitely the more powerful ability on this card.  Giving all of your creatures a small boost is nice, but the menace is what makes the ability so good, as a way to finish off a game at parity.
Undercity Uprising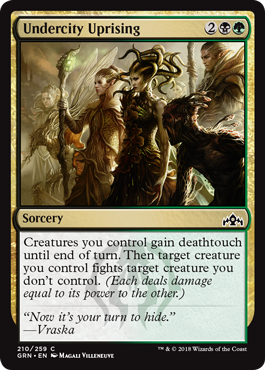 Rating:  4.0 (
)
Overall Thoughts:  This is an incredible common card and I believe it should see a good amount of Standard play.  This allows you to kill your opponent's best, most-evasive creature with your weakest one all day long.  The main drawback is that this is a sorcery, but that shouldn't stop this from seeing play.
Underrealm Lich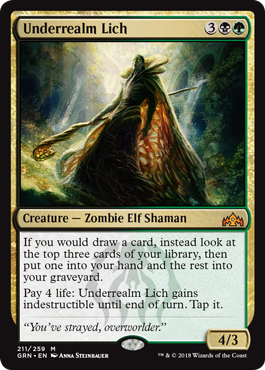 Rating:  4.5 (
)
Overall Thoughts:  Card selection is what this card is all about, and boy does it over perform.  Taking whatever the best card is out of three is amazing, and this allows you to put choice cards into your graveyard to further abuse when you use an undergrowth ability.  Luckily this card dies to Lightning Strike.  Oh, wait.  Never mind.  This card is bonkers and should see lots of play in Standard.
Vraska, Golgari Queen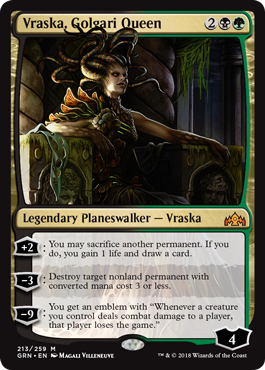 Rating:  4.5 (
)
Overall Thoughts:  Let's see… Card draw?  Check.  Ability to destroy something?  Check.  Totally bonkers ultimate ability?  Check.  All for 4 mana or less?  Check.  This card checks off all of the boxes needed for a planeswalker to see play.  The best ability of this new Vraska is the -3 loyalty ability that can target any nonland permanent costing 3 mana or less to destroy.  I expect this version of Vraska to see quite a bit of play in Standard.
Pitiless Gorgon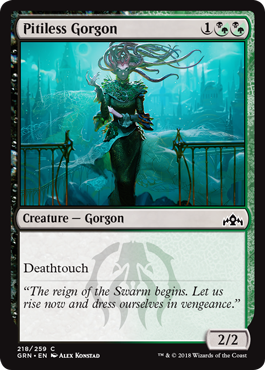 Rating:  2.0 (
)
Overall Thoughts:  A 2/2 deathtouch creature is just fine, even if it costs 3 mana.  I doubt this will see a lot of Standard play, but it could see some.
Find // Finality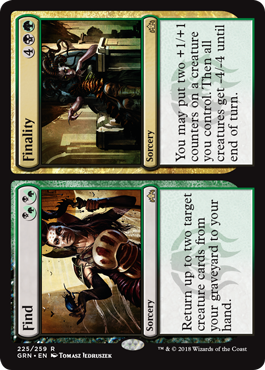 Rating:  2.0 (
)
Overall Thoughts:  I'm not at all impressed with the Find half of this card.  The only reason this will see play is because of the Finality side which can act as a sweeper for Golgari decks.  It's a pretty expensive effect to get costing 6 mana, but this could see a little play especially from sideboards.
Status // Statue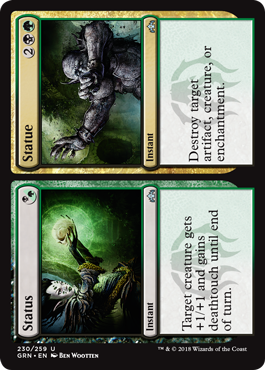 Rating:  4.0 (
)
Overall Thoughts:  Both sides of this card are amazing which should allow this to see quite a bit of play.  Lots of people have already talked about the synergy between Status and Goblin Chainwhirler, but the Statue side is a great piece of removal for multiple types of permanents.  This should see a lot of Standard play.
Golgari Locket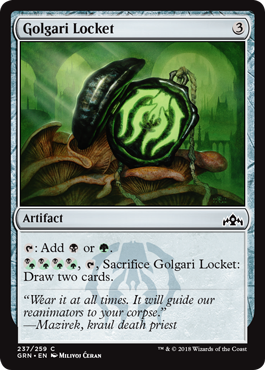 Rating:  2.0 (
)
Overall Thoughts:  Mana rocks that cost 3 mana are a hard sell in Standard, and I'm doubtful that this will see much play.
Golgari Guildgate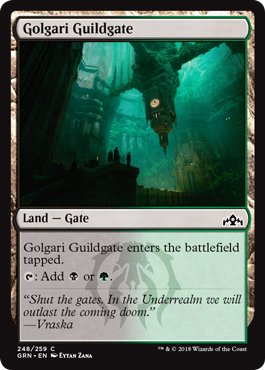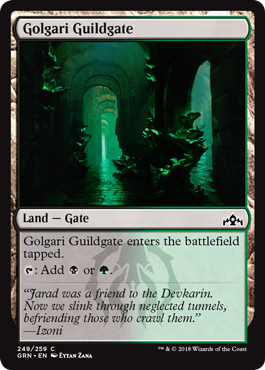 Rating:  2.0 (
)
Overall Thoughts:  There's not a good payoff card for playing a bunch of guildgates, so it's doubtful that these will see much play outside of budget builds.
Overgrown Tomb
Rating:  4.0 (
)
Overall Thoughts:  All of the shocklands are great and should see a lot of Standard play.
Wrapping Up
When I started reviewing the Golgari cards, I thought I would be unimpressed.  I was pleasantly surprised that there is so much depth to this guild.  While a lot of the cards are build around cards, they offer quite a bit of synergy.
Thank you for joining me today for my thoughts on the Golgari cards in Guilds of Ravnica.  I'd love to know your thoughts.  Let me know by leaving a comment below, or contact me on Twitter (@mikelikesmtg), or email me directly at mikelikesmtg@gmail.com.  And be sure to join me next time when I'll take a look at the Izzet cards.  I'll see you then!
— Mike Likes
Stay up to date on everything MTG Deck Techs:
Comments