Hi everyone. Welcome to the first article in my series of reviews of the cards in the upcoming Guilds of Ravnica expansion. Today we'll be taking a look at all of the cards featuring a Boros watermark. In this article, I will discuss these cards as they relate to Standard play. My system uses number ratings ranging from 0 – 5 to gauge how well I think the cards will perform Standard play. I will offer some pros and cons for these cards and give my thoughts and rating on the card for Standard play. Please keep in mind that these ratings are based on my opinion only and may differ from your opinion. (If you have a different opinion, please sound off in the Comments section below and let me know your thoughts.)
How My Rating System Works
5.0: Format All-Star. This card is a total Bomb card. For those that aren't familiar with this term, it basically means this card will win you the game if left unchecked for a turn or two. These cards tend to be hard to defend against and can turn a game around in a hurry. Some cards that are bombs in limited may only be a mediocre card in constructed play. This card will see a lot of play in top tier tournament decks or will be the lynchpin of a top tier deck.
4.0: Above Average Card. This card is great. It can be played in multiple decks and will have an impact on the game every time. These cards can change a game quickly, get you back in the game, or shift the tempo of the game. These cards are usually vulnerable to some type of removal (or are a removal spell themselves), but they make up the majority of cards found in major tournament decks. This card will be a good support card in a top tier tournament deck.
3.0: Average Card. These are generally good cards, and many of them will be the majority of cards found in a tribal deck. Cards in this category are usually similar to other (higher-ranked) cards but cost 1 mana more or have a drawback in some manner. In Limited play, these are the majority of your deck. This card will likely be in a fair number of top tier tournament decks and will generally be interchangeable with other similarly-rated cards.
2.0: Niche Card. These cards serve are very narrow function and are usually meant for your sideboard. They could be removal spells that only remove 1 type of card, or cards with mediocre stats that have an ability that helps against opponents playing a certain color or strategy. In Limited play, these cards are put in your deck if you have no other options and need the card to reach your 40-card minimum deck size. For Constructed play, you will rarely play this card unless it's from your sideboard or you want to be "cute". This card will only be seen in select decks that are usually trying to play around with a specific ability or in tribal decks.
1.0: Will Rarely See Play. The worst of the worst. These cards are rarely played (if they're played at all). These cards generally have bad stats, cost too much mana, or have basically no impact on the game when they're played. Overall stay away from this card if possible. This card will likely not see any tournament play.
And now, on to the cards…
Blade Instructor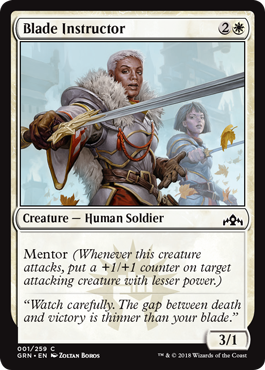 Rating:  1.5 (
)
Overall Thoughts:  We get the ball rolling with a card that will likely only see play in Limited.  Having 1 toughness is the real nail in the coffin for this card.
Light of the Legion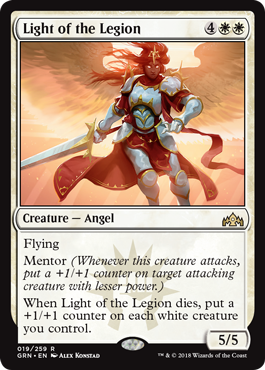 Rating:  2.0 (
)
Overall Thoughts:  This angel could see play in an angel tribal deck.  A 5/5 flyer for 6 mana that can pump your other creatures is good, but getting to 6 mana without dying could be a challenge.
Parhelion Patrol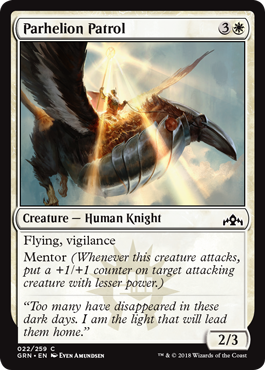 Rating:  1.0 (
)
Overall Thoughts:  For 4 mana, I'm expecting to get a bigger creature than this one offers.  Having vigilance is nice, but not nice enought to allow this to see play in Standard.
Sunhome Stalwart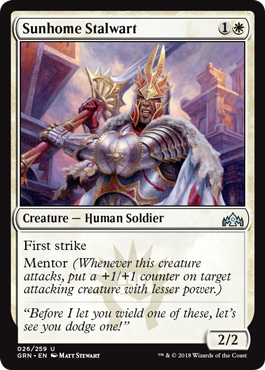 Rating:  3.0 (
)
Overall Thoughts:  A 2/2 with first strike is exactly what I'm hoping to see from a Boros card.  The mentor ability here is simply an added bonus that can be used to pump up any token creatures you might make, not something to be built around.
Barging Sergeant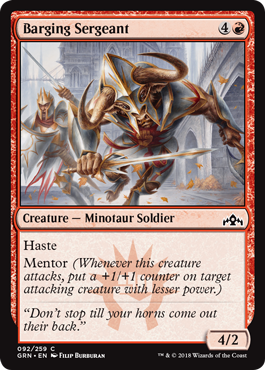 Rating:  1.5 (
)
Overall Thoughts:  5 mana for a 4/2 creature leaves a lot to be desired.  Fourtunately this minotaur has haste which might allow him to see play in some fringe decks.  He also has a high power, so if it's able to attack (which could be doubtful given his 2 toughness), you'll likely be able to mentor another creature.
Goblin Banneret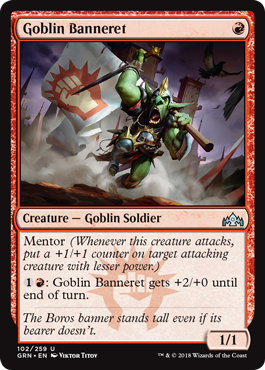 Rating:  3.5 (
)
Overall Thoughts:  Goblin Banneret fits well in any aggressive Red deck or a goblin tribal deck.  It obviously would be better if it had haste, but most cards would.  I like that you can pump it's power in order to utilize mentor, plus it also helps him block creatures that are much larger.
Legion Warboss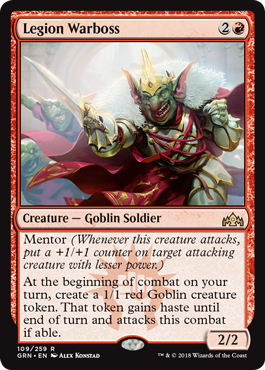 Rating:  4.0 (
)
Overall Thoughts:  All hail the second coming of Goblin Rabblemaster.  I think Legion Warboss is even better since you don't have to suicide all of your goblins each turn.  For me, that's well worth losing out on pumping your stats for each goblin that's attacking.
Wojek Bodyguard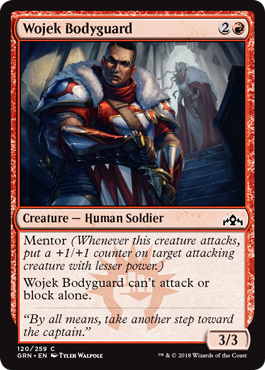 Rating:  1.0 (
)
Overall Thoughts:  Without friends, this bodyguard is worthless.  You can't even use his mentor ability without having another creature in play.  The stats are fine for the CMC, but the drawback is too much to overcome for this card to see play.
Aurelia, Exemplar of Justice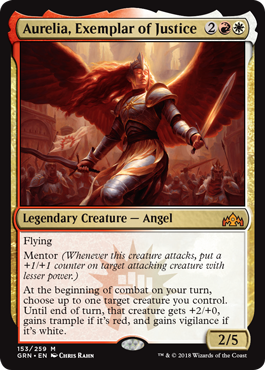 Rating:  4.5 (
)
Overall Thoughts:  The new Aurelia seems really good to me.  In an angel tribal deck, she comes down the turn before you're hoping to play Lyra Dawnbringer, which will help boost her mentor ability.  And, since she can always target herself with her at-the-beginning-of-combat ability giving herself both trample and vigilance as well as a power bonus, she can deal quite a bit of damage each turn.
Boros Challenger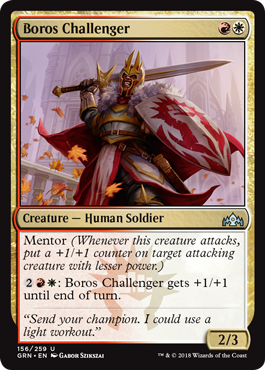 Rating:  2.5 (
)
Overall Thoughts:  This is a solid creature for 2 mana.  The activated ability is a little expensive, but will be nice when you need it.
Chance for Glory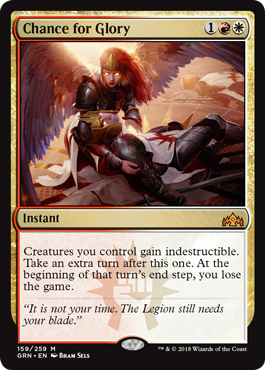 Rating:  1.0 (
)
Overall Thoughts:  Now that Gideon of the Trials has rotated out of Standard, I have a hard time seeing where this card would be played.  It's a neat effect, but it's very difficult to use effectively, and the last thing an aggressive deck needs is a card being stuck in hand with no way to play it.
Deafening Clarion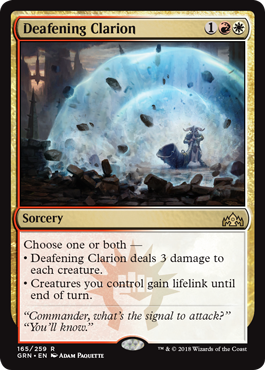 Rating:  3.5 (
)
Overall Thoughts:  Cards that have multiple functions tend to see more play than cards with a single, narrow function.  Since this card has multiple functions, and both can be very relevant, I would expect to see this included in any deck that includes Red and White mana.  This is not only a good replacement for Sweltering Suns, but it's also not useless if your opponent is playing a control deck without any creatures.
Garrison Sergeant
Rating:  1.0 (
)
Overall Thoughts:  While double strike is a great ability, gate cards generally are less-than-optimal.  This guy was made for limited play, where he will shine, and should see no play in Standard.
Hammer Dropper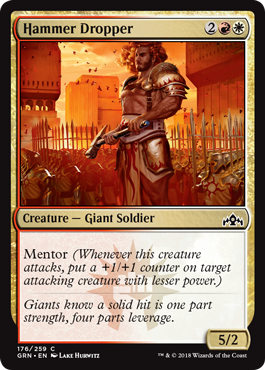 Rating:  2.0 (
)
Overall Thoughts:  5 Power is great for 4 mana, but 2 toughness isn't.  If there's a deck that utilizes mentor a lot, this card could see some play, but otherwise it's just too vulnerable.
Justice Strike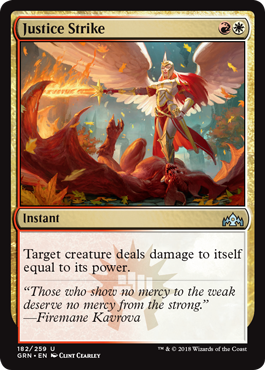 Rating:  3.5 (
)
Overall Thoughts:  Deflecting Palm was one of my favorite cards from Khans of Tarkir.  While this isn't quite the same as that card, it's a little similar.  I think this is a great way for a Boros deck to be able to deal with large creatures like Ghalta, Primal Hunger.  Also, since it only costs 2 mana, it's cheap enough to play on a creature that has a higher toughness than power and then finish it off with a burn spell.
Legion Guildmage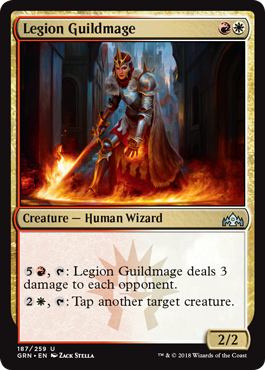 Rating:  2.0 (
)
Overall Thoughts:  Having a repeatable source of damage is great, the cost to deal 2 points of damage is simply too high for this to see much Standard play.  The same applies to the ability to tap another creature.
Skyknight Legionnaire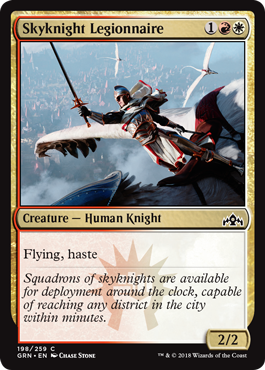 Rating:  2.0 (
)
Overall Thoughts:  This is a nice reprint that might see a little bit of play in Standard.  Having haste might let this card make the cut in an aggressive deck.
Swathcutter Giant
Rating:  2.5 (
)
Overall Thoughts:  This card is a great finisher for Boros midrange decks.  Because it deals damage to each of the defending player's creatures, it will make combat difficult for them.  Plus it really seems that Wizards of the Coast wanted to make sure Llanowar Elves or 1/1 tokens wouldn't get out of hand.
Swiftblade Vindicator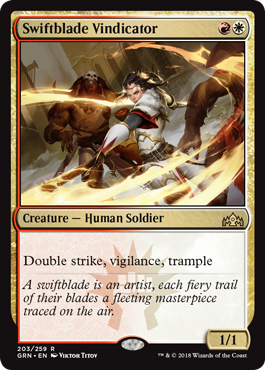 Rating:  3.5 (
)
Overall Thoughts:  Here's a card that I definitely expect to see play in Standard.  While it is vulnerable to Goblin Chainwhirler, it's also a great target for mentor.  Plus since it has trample and double strike, this card has the potential to dish out quite a bit of damage.
Tajic, Legion's Edge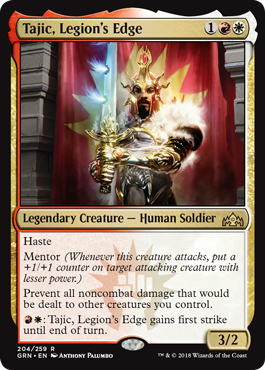 Rating:  4.0 (
)
Overall Thoughts:  Tajic is quite the team player.  He does a great job of protecting your team from noncombat damage.  The tricky part will be keeping him alive.  The fact that he has haste bumped his rating up 1/2 star, as you can quickly get in for 3 points of damage while mentoring a smaller creature.  Also, the ability to gain first strike for 2 mana is quite good and can allow him to pick off defenders if your opponent doesn't gang up on him.
Truefire Captain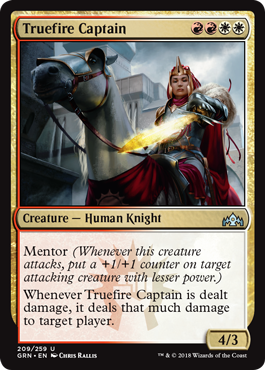 Rating:  3.5 (
)
Overall Thoughts:  While it's no Boros Reckoner, the similarity is there.  This will act as a good blocker to anything that doesn't have trample or deathtouch.  Plus this is one card with mentor that I can see attacking with even in the face of larger opposing creatures.
Fresh-Faced Recruit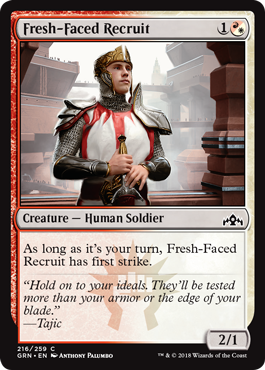 Rating:  3.0 (
)
Overall Thoughts:  Aggressive decks need 1-drops, and this 1-drop is pretty good.  It dies to Goblin Chainwhirler, just like all creatures with 1 toughness, but it's a great target for mentor abilities.  I expect this soldier to see a lot of play.
Update:  When originally reviewed, I misread the CMC of this card.  As such, I would now give this a rating of 2.5 stars because it's still good but was better at 1 CMC.
Integrity // Intervention
Rating:  3.5 (
)
Overall Thoughts:  For 1 mana, getting a +2/+2 combat trick is pretty good, but I have a feeling that the side that resembles Lightning Helix will be played more often.  Killing a creature or dealing direct damage to a creature or planeswalker while gaining life will always be good.
Response // Resurgence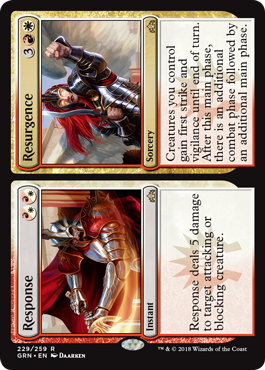 Rating:  3.0 (
)
Overall Thoughts:  This is another card that offers a lot of flexibility.  Being able to destroy nearly any creature for 2 mana is a good deal, even if that creature needs to be attacking or blocking.  And getting a second combat phase is a great benefit if you're able to take advantage of it.  Both sides of this card can be very useful, but both require some setup.
Boros Locket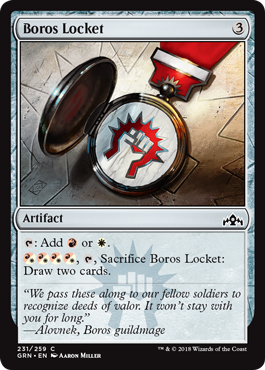 Rating:  2.0 (
)
Overall Thoughts:  Mana rocks are always useful, but costing 3 mana means that these simply won't go in many decks.
Boros Guildgate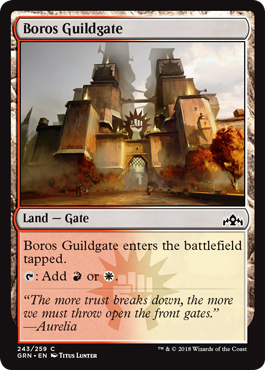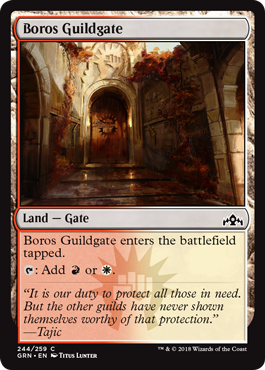 Rating:  2.0 (
)
Overall Thoughts:  It's not likely that there's a deck that wants these guildgates, but they are a nice budget-friendly alternative until you're able to acquire some copies of Sacred Foundry.
Sacred Foundry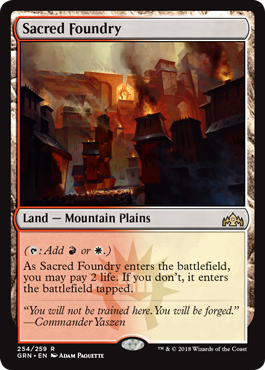 Rating:  4.0 (
)
Overall Thoughts:  Shocklands are great lands to play, and I expect to see Sacred Foundry in most, if not all, of the Boros, Jeskai, and Naya decks in Standard.
Wrapping Up
Thank you for joining me today for my thoughts on the Boros cards in Guilds of Ravnica.  I'd love to know your thoughts.  Let me know by leaving a comment below, or contact me on Twitter (@mikelikesmtg), or email me directly at mikelikesmtg@gmail.com.  And be sure to join me next time when I'll take a look at the Dimir cards.  I'll see you then!
— Mike Likes
Stay up to date on everything MTG Deck Techs:
Comments