Hi everyone. Welcome to the next article in my series of reviews of the cards in the upcoming Guilds of Ravnica expansion. Today we'll be taking a look at all of the Blue cards. In this article, I will discuss these cards as they relate to Standard play. My system uses number ratings ranging from 0 – 5 to gauge how well I think the cards will perform Standard play. I will offer some pros and cons for these cards and give my thoughts and rating on the card for Standard play. Please keep in mind that these ratings are based on my opinion only and may differ from your opinion. (If you have a different opinion, please sound off in the Comments section below and let me know your thoughts.)
How My Rating System Works
5.0: Format All-Star. This card is a total Bomb card. For those that aren't familiar with this term, it basically means this card will win you the game if left unchecked for a turn or two. These cards tend to be hard to defend against and can turn a game around in a hurry. Some cards that are bombs in limited may only be a mediocre card in constructed play. This card will see a lot of play in top tier tournament decks or will be the lynchpin of a top tier deck.
4.0: Above Average Card. This card is great. It can be played in multiple decks and will have an impact on the game every time. These cards can change a game quickly, get you back in the game, or shift the tempo of the game. These cards are usually vulnerable to some type of removal (or are a removal spell themselves), but they make up the majority of cards found in major tournament decks. This card will be a good support card in a top tier tournament deck.
3.0: Average Card. These are generally good cards, and many of them will be the majority of cards found in a tribal deck. Cards in this category are usually similar to other (higher-ranked) cards but cost 1 mana more or have a drawback in some manner. In Limited play, these are the majority of your deck. This card will likely be in a fair number of top tier tournament decks and will generally be interchangeable with other similarly-rated cards.
2.0: Niche Card. These cards serve are very narrow function and are usually meant for your sideboard. They could be removal spells that only remove 1 type of card, or cards with mediocre stats that have an ability that helps against opponents playing a certain color or strategy. In Limited play, these cards are put in your deck if you have no other options and need the card to reach your 40-card minimum deck size. For Constructed play, you will rarely play this card unless it's from your sideboard or you want to be "cute". This card will only be seen in select decks that are usually trying to play around with a specific ability or in tribal decks.
1.0: Will Rarely See Play. The worst of the worst. These cards are rarely played (if they're played at all). These cards generally have bad stats, cost too much mana, or have basically no impact on the game when they're played. Overall stay away from this card if possible. This card will likely not see any tournament play.
And now, on to the cards…
Capture Sphere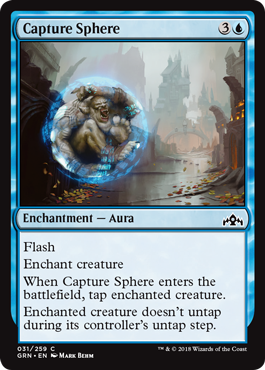 Rating:  2.0 (
)
Overall Thoughts:  While this is a good removal spell for Blue, costing 4 mana really limits the playability of this card.
Devious Cover-Up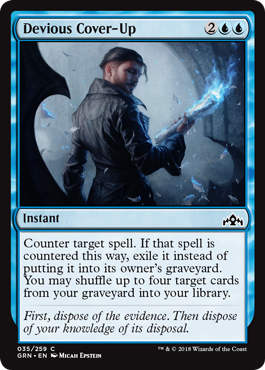 Rating:  1.5 (
)
Overall Thoughts:  This is an expensive counter spell.  While it's nice that it allows you to shuffle cards back into your library, that's not enough for this to see play.  And it is great that it exiles the card you counter, but costing 4 mana is a pretty big drawback, and you won't want to hold back that much mana often if you can help it.
Disdainful Stroke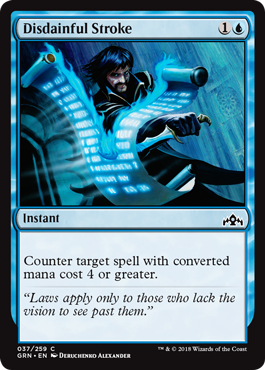 Rating:  2.0 (
)
Overall Thoughts:  There are a few cards that cost more than 4 mana that are not able to be countered (Carnage Tyrant, Banefire, Niv-Mizzet, Parun) that ruin the potential for playability of this card.  While this card can still counter a whole bunch of things, it will mainly be a sideboard card to bring in once you know it will be okay against your opponent's deck.
Drowned Secrets
Rating:  1.0 (
)
Overall Thoughts:  In Standard there's not a lot of support for milling strategies.  While this card does offer the potential for you to mill out your opponent, it does it at a very slow rate (2 cards at a time) and at a high cost (needing to cast a Blue spell for it to work).  Even if you managed to get 4 copies of this into play, it'll still be quite a chore to mill your opponent out.  Plus there are a lot of cards with jump-start or undergrowth that you will only be helping your opponent use by milling them with this.  This card simply isn't worth playing in Standard.
Guild Summit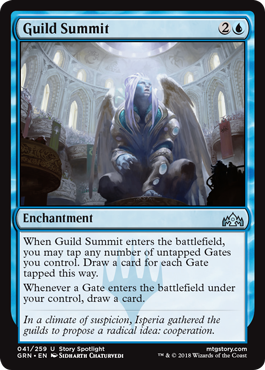 Rating:  1.0 (
)
Overall Thoughts:  Gates are generally bad in Standard, always entering play tapped.  I don't think this card makes them worth playing, therefore this card isn't worth playing either.
Leapfrog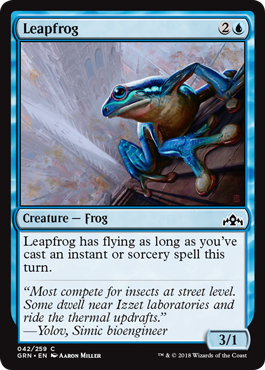 Rating:  1.0 (
)
Overall Thoughts:  A 3 mana 3/1 that conditionally has flying might be good for Blue, but generally isn't good in Standard.  No one should be jumping to play this card.
Murmuring Mystic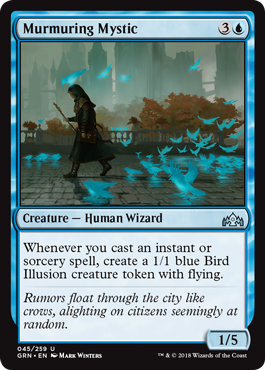 Rating:  2.0 (
)
Overall Thoughts:  I like this card quite a bit, but it's not in the colors that I'm thinking of playing in a token-based deck.  It might be worth splashing Blue mana for in a fringe deck, especially if you're already playing Divine Visitation.
Muse Drake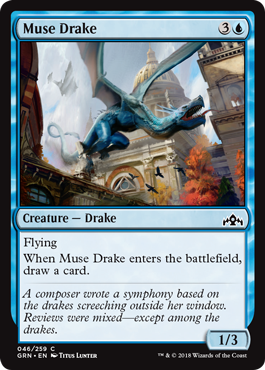 Rating:  1.0 (
)
Overall Thoughts:  We have better fliers in Standard for 4 mana that don't see play, so I don't see this getting any play.  Drawing a card when this enters the battlefield isn't even enough for this to see play.
Narcomoeba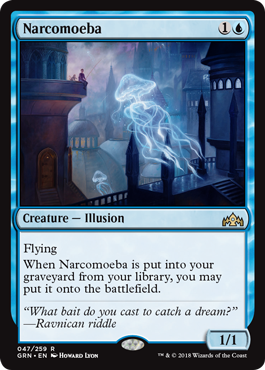 Rating:  2.5 (
)
Overall Thoughts:  There's a lot of ways for you to get this card into your graveyard from your library (surveil, Stitcher's Supplier, etc.).  As such, I think there's a decent chance this will see play in Standard.  It won't be great, but getting a creature for 'free' is good value.
Omnispell Adept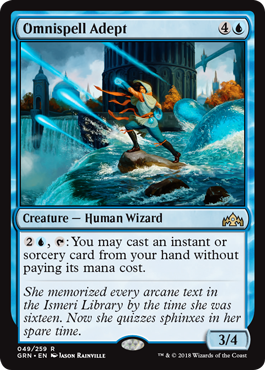 Rating:  1.5 (
)
Overall Thoughts:  While this card is not terrible, I'm having a hard time figuring out what instant or sorcery I'll be casting with this other than Omniscience.  Otherwise all of the cards I'd want to be casting have X in their mana cost, so it's pointless to use this to cast them.  There's a small chance that the Omniscience decks comes to fruition, and a small chance this will see any Standard play.
Passwall Adept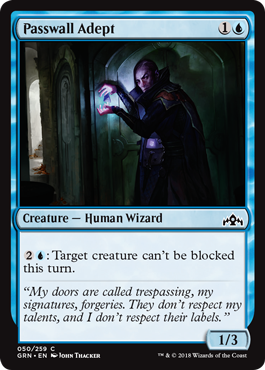 Rating:  1.5 (
)
Overall Thoughts:  This is a great way to be able to push through the last few points of damage needed to finish off your opponent.  With that being said, there are usually better things to spend your mana on each turn other than this creature's ability.  I'm doubtful this will see much play.
Selective Snare
Rating:  2.0 (
)
Overall Thoughts:  This will be a great sideboard card to play.  Lots of people like playing tribal decks, especially at your local Friday Night Magic, and this card can completely wreck those decks.  But against a non-tribal deck, this card could still be useful even if you only return 1-2 creatures to an opponent's hand.
Vedalken Mesmerist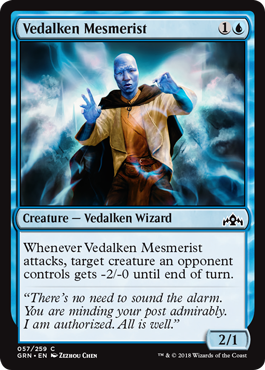 Rating:  1.0 (
)
Overall Thoughts:  This card allows you to attack into a board consisting of a single 2/2 creature and emerge unscathed.  Other than in that specific situation, I see no good use for this card.
Wall of Mist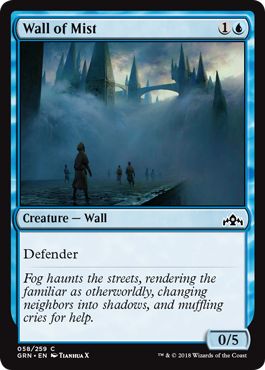 Rating:  1.0 (
)
Overall Thoughts:  This is in Core 2019 and sees no Standard play.  Having it in Guilds of Ravnica doesn't make it any more playable.
Wishcoin Crab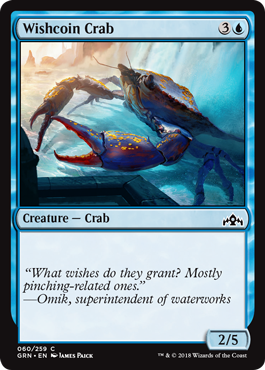 Rating:  1.0 (
)
Overall Thoughts:  Here's another crab for your crab tribal Commander deck.  But there's no way this sees play in Standard.
Wrapping Up
Thank you for joining me today for my thoughts on the Blue cards in Guilds of Ravnica.  I'd love to know your thoughts.  Let me know by leaving a comment below, or contact me on Twitter (@mikelikesmtg), or email me directly at mikelikesmtg@gmail.com.  And be sure to join me next time when I'll take a look at the Black cards.  I'll see you then!
— Mike Likes
Stay up to date on everything MTG Deck Techs:
Comments