Hi everyone. Welcome to the next article in my series of reviews of the cards in the upcoming Guilds of Ravnica expansion. Today we'll be taking a look at all of the Black cards. In this article, I will discuss these cards as they relate to Standard play. My system uses number ratings ranging from 0 – 5 to gauge how well I think the cards will perform Standard play. I will offer some pros and cons for these cards and give my thoughts and rating on the card for Standard play. Please keep in mind that these ratings are based on my opinion only and may differ from your opinion. (If you have a different opinion, please sound off in the Comments section below and let me know your thoughts.)
How My Rating System Works
5.0: Format All-Star. This card is a total Bomb card. For those that aren't familiar with this term, it basically means this card will win you the game if left unchecked for a turn or two. These cards tend to be hard to defend against and can turn a game around in a hurry. Some cards that are bombs in limited may only be a mediocre card in constructed play. This card will see a lot of play in top tier tournament decks or will be the lynchpin of a top tier deck.
4.0: Above Average Card. This card is great. It can be played in multiple decks and will have an impact on the game every time. These cards can change a game quickly, get you back in the game, or shift the tempo of the game. These cards are usually vulnerable to some type of removal (or are a removal spell themselves), but they make up the majority of cards found in major tournament decks. This card will be a good support card in a top tier tournament deck.
3.0: Average Card. These are generally good cards, and many of them will be the majority of cards found in a tribal deck. Cards in this category are usually similar to other (higher-ranked) cards but cost 1 mana more or have a drawback in some manner. In Limited play, these are the majority of your deck. This card will likely be in a fair number of top tier tournament decks and will generally be interchangeable with other similarly-rated cards.
2.0: Niche Card. These cards serve are very narrow function and are usually meant for your sideboard. They could be removal spells that only remove 1 type of card, or cards with mediocre stats that have an ability that helps against opponents playing a certain color or strategy. In Limited play, these cards are put in your deck if you have no other options and need the card to reach your 40-card minimum deck size. For Constructed play, you will rarely play this card unless it's from your sideboard or you want to be "cute". This card will only be seen in select decks that are usually trying to play around with a specific ability or in tribal decks.
1.0: Will Rarely See Play. The worst of the worst. These cards are rarely played (if they're played at all). These cards generally have bad stats, cost too much mana, or have basically no impact on the game when they're played. Overall stay away from this card if possible. This card will likely not see any tournament play.
And now, on to the cards…
Bartizan Bats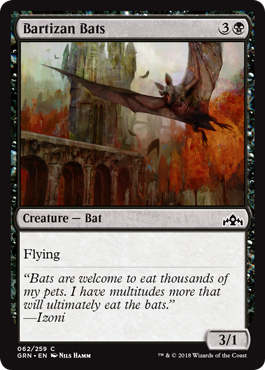 Rating:  1.0 (
)
Overall Thoughts:  This expensive, fragile flyer doesn't have a home in Standard.
Burglar Rat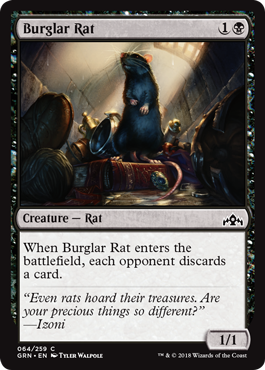 Rating:  1.0 (
)
Overall Thoughts:  With Nullhide Ferox roaming in Standard, cards that force your opponent to discard a card of their choice become very difficult to play.  And this one doesn't even have an upside, unlike some of the others (ex. Nicol Bolas, the Ravager).
Child of Night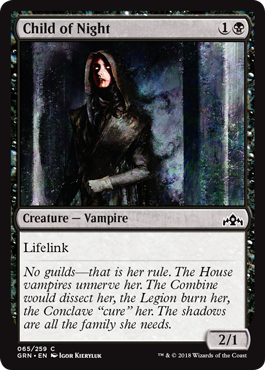 Rating:  2.0 (
)
Overall Thoughts:  This could be decent in a Black/White lifegain deck, but probably will only see niche play.
Creeping Chill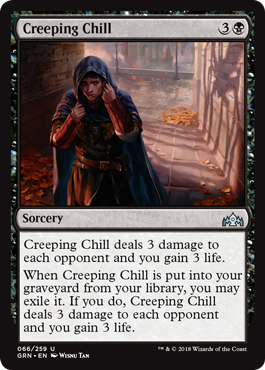 Rating:  2.0 (
)
Overall Thoughts:  If there is a deck that features surveil, this card will be quite good in it.  Otherwise, it probably doesn't find a home in Standard.
Dead Weight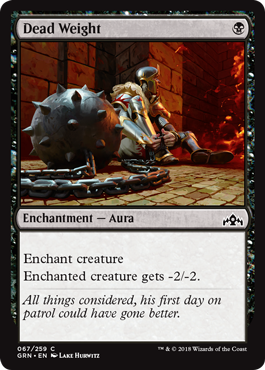 Rating:  2.5 (
)
Overall Thoughts:  This is a reprint that didn't do much when it was in Standard.  However, with the current power level of Green stompy decks, I think this would be good to use on a dinosaur with trample that doesn't have hexproof.  Plus, now that Fatal Push has rotated, it is a much weaker replacement for the same mana cost.
Douser of Lights
Rating:  1.0 (
)
Overall Thoughts:  Vanilla creatures (creatures with no special abilities) generally have a hard time seeing Standard play unless their stats are completely busted.  the stats on this card are within normal parameters, so this won't see play in Standard.
Gruesome Menagerie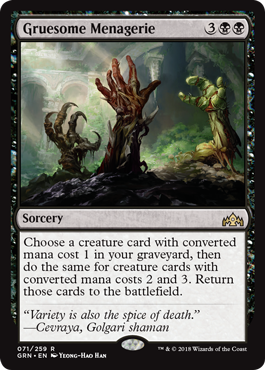 Rating:  3.0 (
)
Overall Thoughts:  This is a great card to build around.  Imagine having a Stitcher's Supplier, Graveyard Marshal, and Death Baron in your graveyard when you cast this spell.  It restarts your zombie tribal deck in one fell swoop.  But it also works well with other creature types as well.
Hired Poisoner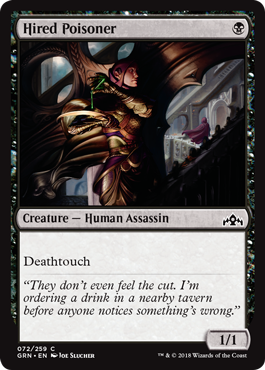 Rating:  2.5 (
)
Overall Thoughts:  This is just the type of creature you want to play in a deck that needs to slow the game down some.  It acts as a terrific blocker, as your opponent can no longer attack without having some form of evasion for fear that this will block.  And, if you have other means of protecting yourself, this can allow you to attack into a board full of blockers.  You'll only manage to take out their weakest blocker, but that makes this a good target for any combat tricks you might have.
Kraul Swarm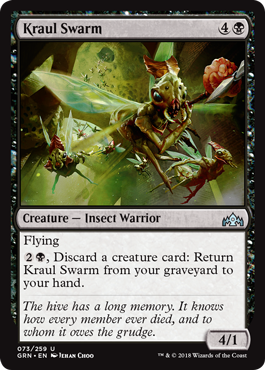 Rating:  1.0 (
)
Overall Thoughts:  Having a 1 toughness makes this card too fragile to see play in Standard.  Also, it's a little expensive to return this to your hand from the graveyard, as you still then have to pay the 5 mana to cast this.  It's not worth your time or effort.
Midnight Reaper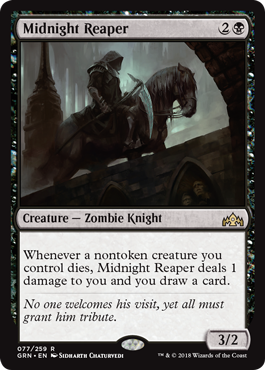 Rating:  2.5 (
)
Overall Thoughts:  In a deck built to work around the drawback of taking 1 point of damage whenever a nontoken creature you control dies, this card can act as a nice card drawing engine.  I'm hopeful when the Orzhov are released in the next set that we'll be able to build an aristocrats style of deck which will make this card even better.
Never Happened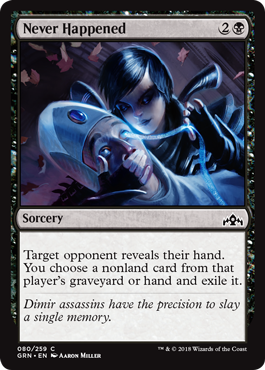 Rating:  2.5 (
)
Overall Thoughts:  This is a good way to ensure that your opponent doesn't get to cast that spell with jump-start on it from their graveyard, or a way to make sure Teferi, Hero of Dominaria won't be cast from their hand any time soon.  It's nice to be able to exile any type of nonland card you see, even if this is a little pricey at 3 mana.
Pilfering Imp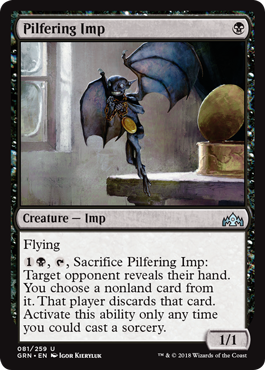 Rating:  2.0 (
)
Overall Thoughts:  A 1/1 flyer for 1 mana is a playable card in standard.  Add to that the ability to make them discard a card from their hand of your choosing, and you have a card that is capable of seeing some Standard play.
Plaguecrafter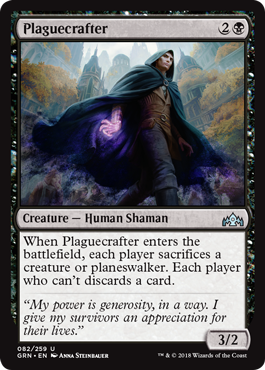 Rating:  2.0 (
)
Overall Thoughts:  While I think this could be quite good against control decks, it's not as good against other types of decks.  Most decks will have a small creature that was cast in the early stages of the game that has been outclassed that they won't mind sacrificing.  However, in the right build, this could be a guaranteed way to get your opponent to discard a card.  Hopefully that card isn't Nullhide Ferox.
Ritual of Soot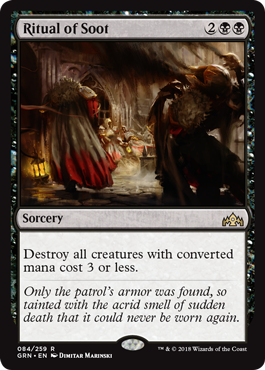 Rating:  4.0 (
)
Overall Thoughts:  For being a removal spell with a limitation, I think this will be quite good.  Not only does it negate most of the early played creatures each game, it also handily removes all tokens from the battlefield regardless of their size.  This is good Angel protection if Divine Visitation gets out of control.
Severed Strands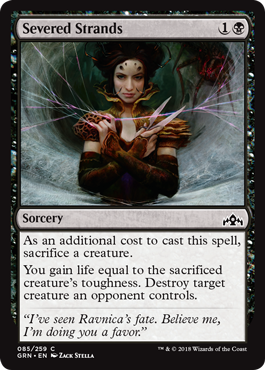 Rating:  2.5 (
)
Overall Thoughts:  By sacrificing your weakest creature, you're able to get a little bit of life as well as destroying your opponent's best creature.  While it only goes into decks that are playing a fair amount of creatures, I expect this will get a fair amount of play in Standard.
Spinal Centipede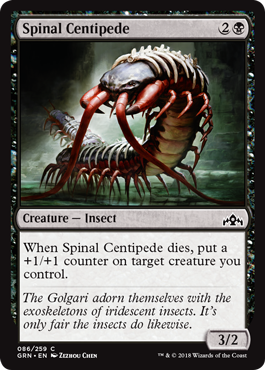 Rating:  1.0 (
)
Overall Thoughts:  Let me get this straight.  I'm hopeful that my opponent will kill this creature so that I can give another creature a +1/+1 counter?  And I still have to hope that my opponent doesn't kill that targeted creature before the +1/+1 counter trigger can resolve.  Nope, that's just way too much hoping that things won't go wrong for my taste.
Undercity Necrolisk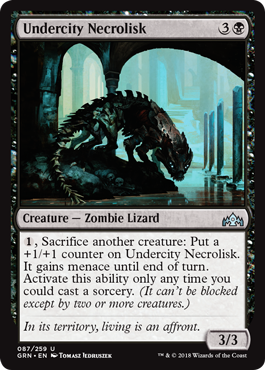 Rating:  1.0 (
)
Overall Thoughts:  The ability to sacrifice another creature to give this one menace is an okay ability, but if your opponent simply destroys this creature after activating that ability, you're down two cards to your opponent's one.  that's the main limiting factor for this card, and I don't expect it to see any Standard play.
Veiled Shade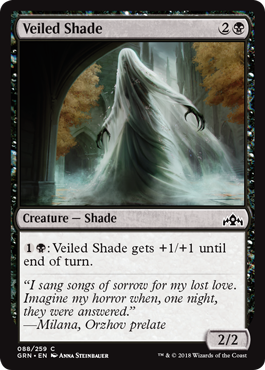 Rating:  2.0 (
)
Overall Thoughts:  Being able to grow to enormous proportions each turn is what might allow this to be played in Standard.  It has the threat of activation that you can use to push through a few points of damage.  You can also use it as a blocker of nearly any-sized creature, only being limited by your available mana.
Vicious Rumors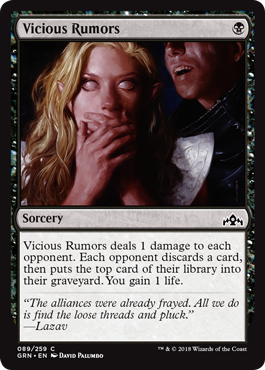 Rating:  1.0 (
)
Overall Thoughts:  With cards like Nullhide Ferox and Narcomoeba in Standard, this is the last kind of card I want to be playing.  You're only getting a 2-point life swing, and risking a very lot to do so.  Stay away from this card, as it's a trap.
Wrapping Up
Thank you for joining me today for my thoughts on the Black cards in Guilds of Ravnica.  I'd love to know your thoughts.  Let me know by leaving a comment below, or contact me on Twitter (@mikelikesmtg), or email me directly at mikelikesmtg@gmail.com.  And be sure to join me next time when I'll take a look at the Red cards.  I'll see you then!
— Mike Likes
Stay up to date on everything MTG Deck Techs:
Comments