Hi everyone. Welcome to the final article in my series of reviews of the cards in the upcoming Guilds of Ravnica expansion. Today we'll be taking a look at all of the Artifact and Land cards. In this article, I will discuss these cards as they relate to Standard play. My system uses number ratings ranging from 0 – 5 to gauge how well I think the cards will perform Standard play. I will offer some pros and cons for these cards and give my thoughts and rating on the card for Standard play. Please keep in mind that these ratings are based on my opinion only and may differ from your opinion. (If you have a different opinion, please sound off in the Comments section below and let me know your thoughts.)
How My Rating System Works
5.0: Format All-Star. This card is a total Bomb card. For those that aren't familiar with this term, it basically means this card will win you the game if left unchecked for a turn or two. These cards tend to be hard to defend against and can turn a game around in a hurry. Some cards that are bombs in limited may only be a mediocre card in constructed play. This card will see a lot of play in top tier tournament decks or will be the lynchpin of a top tier deck.
4.0: Above Average Card. This card is great. It can be played in multiple decks and will have an impact on the game every time. These cards can change a game quickly, get you back in the game, or shift the tempo of the game. These cards are usually vulnerable to some type of removal (or are a removal spell themselves), but they make up the majority of cards found in major tournament decks. This card will be a good support card in a top tier tournament deck.
3.0: Average Card. These are generally good cards, and many of them will be the majority of cards found in a tribal deck. Cards in this category are usually similar to other (higher-ranked) cards but cost 1 mana more or have a drawback in some manner. In Limited play, these are the majority of your deck. This card will likely be in a fair number of top tier tournament decks and will generally be interchangeable with other similarly-rated cards.
2.0: Niche Card. These cards serve are very narrow function and are usually meant for your sideboard. They could be removal spells that only remove 1 type of card, or cards with mediocre stats that have an ability that helps against opponents playing a certain color or strategy. In Limited play, these cards are put in your deck if you have no other options and need the card to reach your 40-card minimum deck size. For Constructed play, you will rarely play this card unless it's from your sideboard or you want to be "cute". This card will only be seen in select decks that are usually trying to play around with a specific ability or in tribal decks.
1.0: Will Rarely See Play. The worst of the worst. These cards are rarely played (if they're played at all). These cards generally have bad stats, cost too much mana, or have basically no impact on the game when they're played. Overall stay away from this card if possible. This card will likely not see any tournament play.
And now, on to the cards…
Chamber Sentry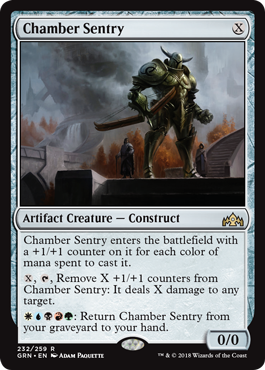 Rating:  1.0 (
)
Overall Thoughts:  I was not a fan of converge when it was in Standard.  It required too much work and gave very little reward.  Much like this card.  It's too difficult for this to get more than a couple of +1/+1 counters on it, making it very weak.  And it's too difficult to return it to your hand from the graveyard.  Don't look for this card anywhere near Standard.
Chromatic Lantern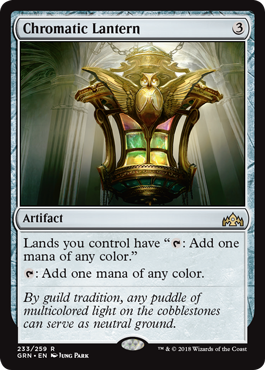 Rating:  3.0 (
)
Overall Thoughts:  This is a much better option to spend your 3 mana on over any of the locket cycle.  You may not be able to draw a card with this, but it fixes your mana so that you are able to cast spells of any color.  Plus it even adds an extra mana for you.
Gatekeeper Gargoyle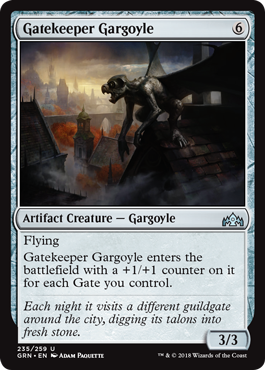 Rating:  1.0 (
)
Overall Thoughts:  Here's another card that requires a lot of work for very little payoff.  You're better off not playing this card.
Glaive of the Guildpact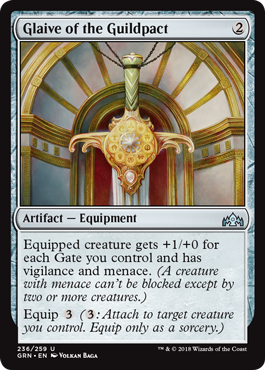 Rating:  1.0 (
)
Overall Thoughts:  And the love for guildgates continues.  I suppose this is playable even if you have no gates in your deck, as it grants both vigilance and menace.  But I'm not going to play it in Standard, and neither should you.
Rampaging Monument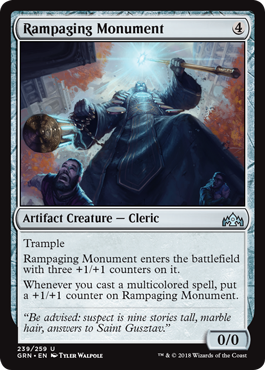 Rating:  2.0 (
)
Overall Thoughts:  With this card you immediately get a 3/3 with trample for 4 mana.  Plus every multicolored spell you cast makes this creature bigger, even if that spell is countered.  While I don't expect to see this all over Standard, I could see this in some fringe decks alongside Sai, Master Thopterist.
Silent Dart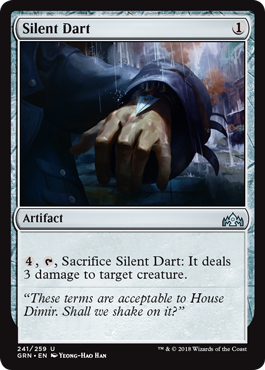 Rating:  2.0 (
)
Overall Thoughts:  Here's another card that would go great in a fringe deck featuring Sai, Master Thopterist.  While it may not be the most efficient form of removal, it is usable in all colors and could see a little play.
Wand of Vertebrae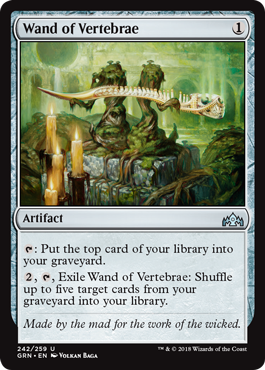 Rating:  1.0 (
)
Overall Thoughts:  While this could go in the aforementioned Sai, Master Thopterist deck, the fact that it really serves no purpose there limits its playability.  This card does things that most decks don't want to do, so don't look for it to be played in Standard.
Gateway Plaza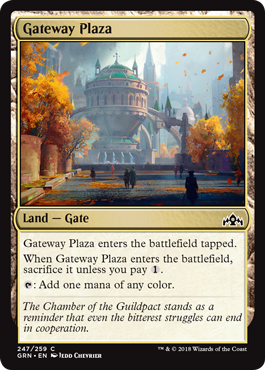 Rating:  1.0 (
)
Overall Thoughts:  This is a great land for Limited play, but it really slows you down the turn you play it.  That's not good in Standard, so I don't think this will see play.
Guildmages' Forum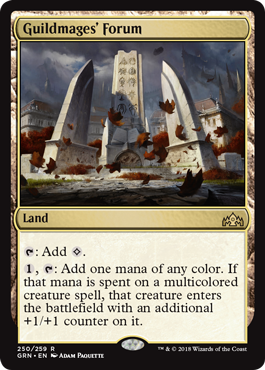 Rating:  3.5 (
)
Overall Thoughts:  Most decks won't be able to play more than 1-2 copies of this land, but the fact that it makes any multicolored creature, which we have quite a few of, better when you cast them makes this a land worth squeezing in.  I expect this to be played in decks that feature a high creature count and are in two or more colors.
Wrapping Up
Thank you for joining me today for my thoughts on the cards in Guilds of Ravnica.  I'd love to know your thoughts.  Let me know by leaving a comment below, or contact me on Twitter (@mikelikesmtg), or email me directly at mikelikesmtg@gmail.com.  And be sure to join me next time I take a look at innovation in Standard in my regular column, Raise Your Standards.  I'll see you then!
— Mike Likes
Stay up to date on everything MTG Deck Techs:
Comments