Hi everyone.  Welcome to the first in my series of reviews of the cards in the upcoming Aether Revolt expansion.  Today we'll be taking a look at all of the White cards.  In this article, I will discuss these cards as they relate to Standard play.  My system uses number ratings ranging from 0 – 5 to gauge how well I think the cards will perform Standard play.  I will offer some pros and cons for these cards and give my thoughts and rating on the card for Standard play.  Please keep in mind that these ratings are based on my opinion only and may differ from your opinion.  (If you have a different opinion, please sound off in the Comments section below and let me know your thoughts.)
How My Rating System Works
5.0:  Format All-Star.  This card is a total Bomb card.  For those that aren't familiar with this term, it basically means this card will win you the game if left unchecked for a turn or two.  These cards tend to be hard to defend against and can turn a game around in a hurry.  Some cards that are bombs in limited may only be a mediocre card in constructed play.
4.0:  Above Average Card.  This card is great.  It can be played in multiple decks and will have an impact on the game every time.  These cards can change a game quickly, get you back in the game, or shift the tempo of the game.  These cards are usually vulnerable to some type of removal (or are a removal spell themselves), but they make up the majority of cards found in major tournament decks.
3.0:  Average Card.  These are generally good cards, and many of them will be the majority of cards found in a tribal deck.  Cards in this category are usually similar to other (higher-ranked) cards but cost 1 mana more or have a drawback in some manner.  In Limited play, these are the majority of your deck.
2.0:  Niche Card.  These cards serve are very narrow function and are usually meant for your sideboard.  They could be removal spells that only remove 1 type of card, or cards with mediocre stats that have an ability that helps against opponents playing a certain color or strategy.  In Limited play, these cards are put in your deck if you have no other options and need the card to reach your 40-card minimum deck size.  For Constructed play, you will rarely play this card unless it's from your sideboard or you want to be "cute".
1.0:  Will Rarely See Play.  The worst of the worst.  These cards are rarely played (if they're played at all).  These cards generally have bad stats, cost too much mana, or have basically no impact on the game when they're played.  Overall stay away from this card if possible.
And now, on to the cards…
Aerial Modification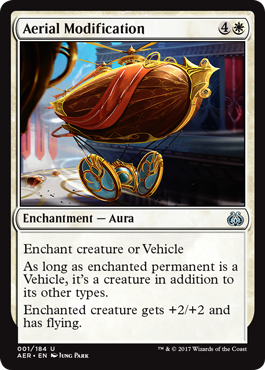 Rating:  1.0 (
)
Overall Thoughts:  And White starts off with a whimper, not a bang.  This card is pretty terrible, as it costs too much to see play.  What it does is a good effect, but not for 5 mana.
Aeronaut Admiral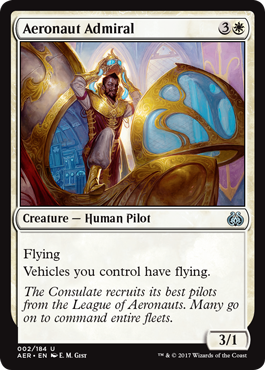 Rating:  3.5 (
)
Overall Thoughts:  Having 3 power makes this card quite playable in a dedicated vehicle deck.  It is pretty fragile with it's toughness of 1, but I have a feeling it'll be seen in an upcoming vehicle deck.  In conjunction with Peacewalker Colossus, you can make any of your vehicles into a creature with flying (since you've already got the 1W needed to activate the Colossus).  I'm looking forward to making this happen.
Aether Inspector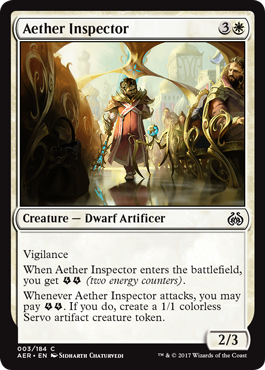 Rating:  2.5 (
)
Overall Thoughts:  Ultimately I'd like a bit higher stats for 4 mana, but the Vigilance is a nice touch.  Also, this card is part of a cycle that comes into the battlefield with 2 energy and can create a Servo when it attacks.  It's also an Artificer, so if there ever is a deck centered around Artificers, it has that going for it as well.  All-in-all, it's not great, but there's much worse than this.
Aethergeode Miner
Rating:  3.5 (
)
Overall Thoughts:  Getting 2 energy each time you attack is nice.  Also, if you have 2 energy, you're able to block anything without trample with impunity, as you can just block and then blink away and come back to the battlefield unscathed.
Airdrop Aeronauts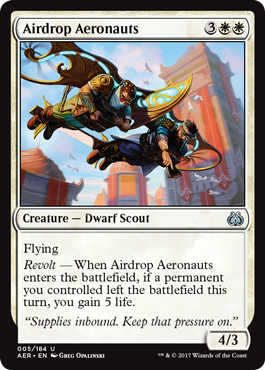 Rating:  2.5 (
)
Overall Thoughts:  A 4/3 for 5 mana isn't that great.  Having only a 3 toughness makes this fairly fragile in the current Standard environment.  The Revolt ability on this card also isn't very exciting.  This card potentially gets better with Depala, Pilot Exemplar in play, as that extra +1/+1 makes this card much better, but that only fits into certain decks.
Alley Evasion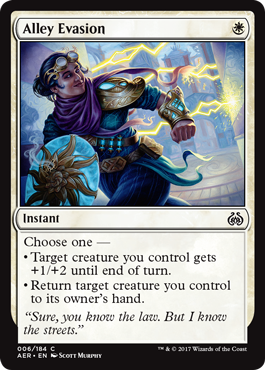 Rating:  4.0 (
)
Overall Thoughts:  I like this card a lot.  It has 3 things I like:  it costs 1 mana; it's an Instant; and it's modal.  I also like the fact that this card makes any of your creatures immune to any sort of removal.  I guarantee this will see play.
Audacious Infiltrator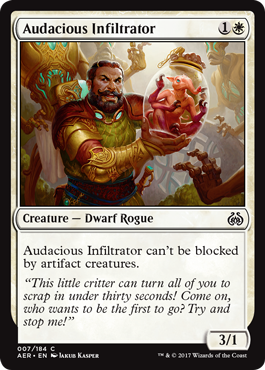 Rating:  2.0 (
)
Overall Thoughts:  3/1's for 2 mana never impress me.  While they can certainly trade up, more often than not they simply end up sitting on the battlefield not attacking because my opponent has a 1/1 creature.  While it's a nice bonus that it can't be blocked by artifact creatures, it's very likely that my opponent will have some other creature they can block with that can kill this.
Bastion Enforcer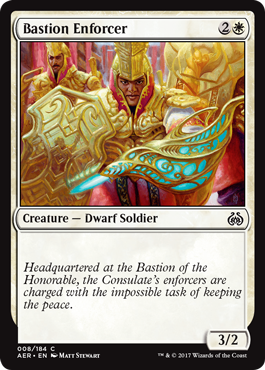 Rating:  2.0 (
)
Overall Thoughts:  A 3/2 for 3 mana is another example of an unimpressive card.  It's only okay, but not exciting at all.
Call for Unity
Rating:  3.5 (
)
Overall Thoughts:  I'm not sure I like that this card costs 5 mana and doesn't do anything without help from other cards, but I think it has potential.  There's lots of ways to trigger the Revolt ability (including chump blocking), so the bonus you get from this card can add up quickly.
Caught in the Brights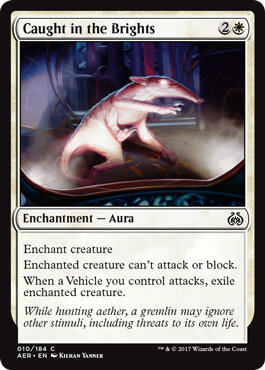 Rating:  3.5 (
)
Overall Thoughts:  Here's a card that could be useful in any deck.  Pacifism effects can always be helpful, however any vehicle deck will love this piece of removal.  Also, it takes care of pesky creatures that can return from the graveyard by exiling them.  Nice design.
Consulate Crackdown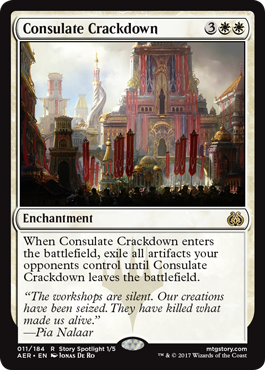 Rating:  3.5 (
)
Overall Thoughts:  Here's another nice piece of removal, if your opponent is playing any amount of artifacts at all.  I'm excited to play this against the Whirler Virtuoso deck that can make infinite thopters.  This is also good against the Metalwork Colossus decks, even if they're playing Padeem, Consul of Innovation.
Conviction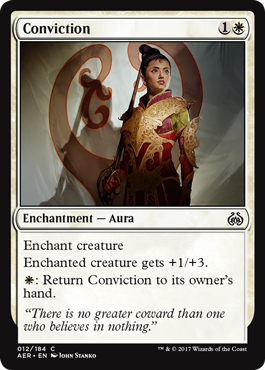 Rating:  3.5 (
)
Overall Thoughts:  Here's another great card for triggering Revolt abilities.  While the bonuses from this card aren't all that great, it does boost both power and toughness, so it could be worse.  Also, since it's inexpensive to return it to your hand, it's easy to save this if the creature it's enchanted to would be destroyed.
Countless Gears Renegade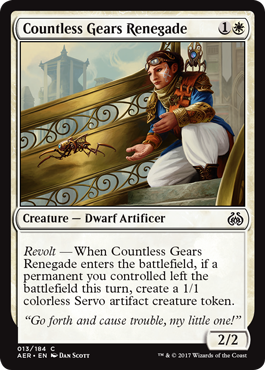 Rating:  2.0 (
)
Overall Thoughts:  A 2/2 for 2 only gets a 2 rating from me.  It's only gets slightly better when you're able to trigger the Revolt ability, but not enough to get any additional points from me.
Dawnfeather Eagle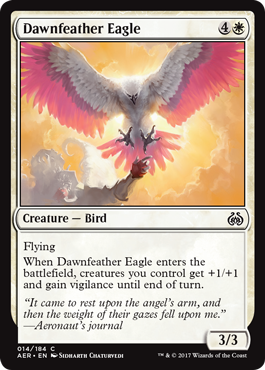 Rating:  3.0 (
)
Overall Thoughts:  This is a nice card as a finisher for your deck.  Have I mentioned how much I really like Vigilance?  Plus, if you can't finish your opponent off with the bonus you get by casting this card, you'll still have a 3/3 flyer to help next turn.
Deadeye Harpooner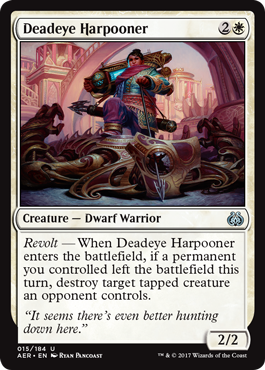 Rating:  2.5 (
)
Overall Thoughts:  A 2/2 for 3 mana isn't good, but if you're able to cash in on the Revolt ability from this card, it feels a little better.  Also, it can destroy a tapped artifact creature that has been tapped for the Improvise ability.
Decommission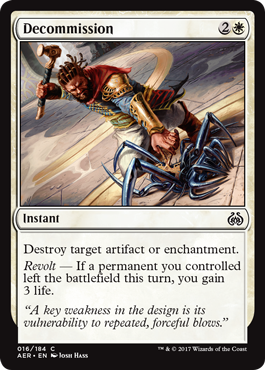 Rating:  2.0 (
)
Overall Thoughts:  This card will get the job done, even if it's not impressive.  The life gain with Revolt is okay, but it's also not impressive.  Overall, this card is just a necessary card at times but it's nothing to get excited about.
Deft Dismissal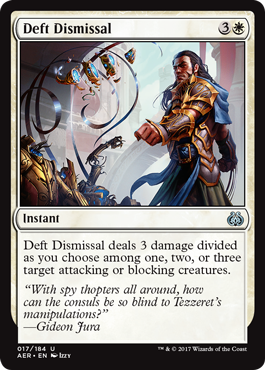 Rating:  2.5 (
)
Overall Thoughts:  It's a little expensive, but being able to potentially kill 3 creatures is nice.  I think this could see some play (especially from sideboards), but it won't be played in every white deck.
Exquisite Archangel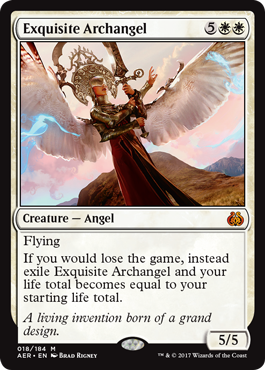 Rating:  2.5 (
)
Overall Thoughts:  Overall, I'm not impressed with this card.  A 5/5 flyer is nice, but 7 mana is quite expensive.  And the ability does nothing unless you're going to lose the game.  I have a feeling that any removal my opponent has would be targeting this creature before they kill me, just so I can't reset my life total.
Felidar Guardian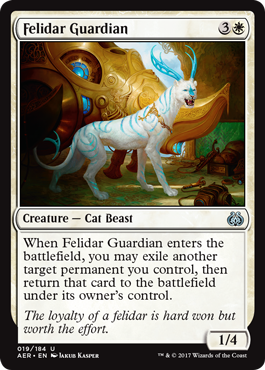 Rating:  3.5 (
)
Overall Thoughts:  This card gets a 3 1/2 from me for one reason.  Combined with Saheeli Rai, this card can create infinite copies of itself.  It's an amazing combo which can end the game on turn 4.
Ghirapur Osprey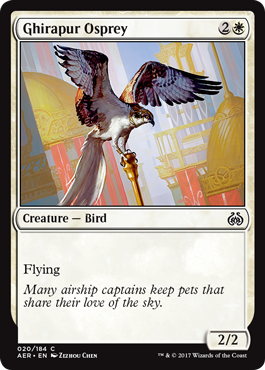 Rating:  1.5 (
)
Overall Thoughts:  I'll be surprised if there's any reason anyone will run this in a Standard deck, but since it has Flying there's always a chance it could see some fringe play.
Restoration Specialist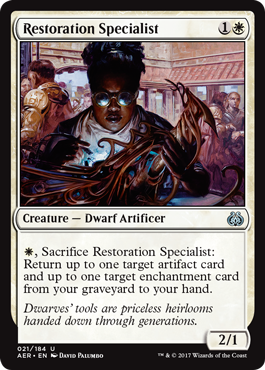 Rating:  3.0 (
)
Overall Thoughts:  A 2/1 for 2 mana is a little overcosted, but the ability to get 2 cards back from your graveyard for only 1 mana (and sacrificing this card) is a good ability.  This card works well in conjunction with Stasis Snare, since that card usually gets destroyed at some point during my games.  If the Aetherworks Marvel deck become Naya instead of just R/G, I could see adding this as a way to get back a Woodweaver's Puzzleknot.
Solemn Recruit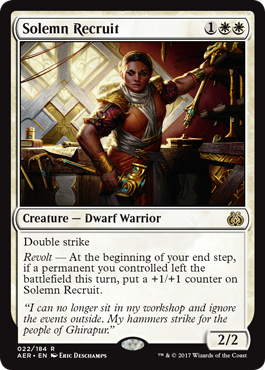 Rating:  4.0 (
)
Overall Thoughts:  This card is good without its Revolt ability being triggered, and it's great when it does get triggered.  Double Strike is a great ability to have, and there's a ton of ways to put +1/+1 counters on your creatures, so the sky's the limit with this creature.
Sram, Senior Edificer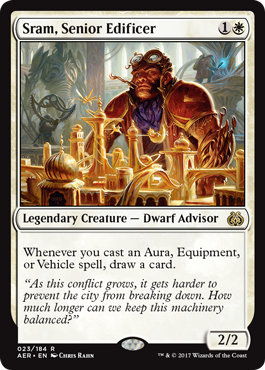 Rating:  4.0 (
)
Overall Thoughts:  Sram is pretty nice in a deck built around taking advantage of his ability.  Any time you can draw cards for doing the things you would normally want to do during the course of a game is amazing.  I'm sure many people will be brewing new decks to try to break Sram's ability.
Sram's Expertise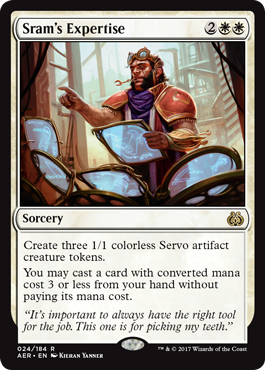 Rating:  3.5 (
)
Overall Thoughts:  Token creation is nice, and the ability to cast any card with a converted mana cost of 3 or less from your hand is gravy for this card.  I haven't had a chance to come up with any broken combos with this card in Standard yet, but I'm sure something absurd can be found.
Thopter Arrest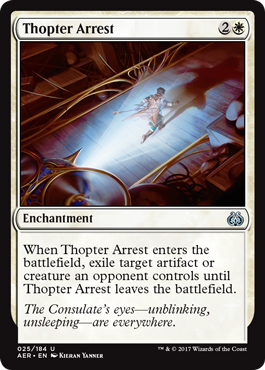 Rating:  3.0 (
)
Overall Thoughts:  While it's not as good as it's counterparts Banishing Light and Oblivion Ring since it can only target creatures and artifacts, this card is still quite good.  In this Standard environment, it'll target most of the cards you'll want to get rid of, so I'm sure it'll see play.
So, that's my review of the White cards in Aether Revolt.  I feel that White has quite a few cards that are above average and will likely see play in Standard.  Do you agree with my opinion or disagree?  Let me know by commenting below.  And be sure to come back tomorrow for my review of the Blue cards.  I'll see you then.
Mike Likes
Comments