Hi everyone.  Welcome to the fourth in my series of reviews of the cards in the upcoming Aether Revolt expansion.  Today we'll be taking a look at all of the Red cards.  In this article, I will discuss these cards as they relate to Standard play.  My system uses number ratings ranging from 0 – 5 to gauge how well I think the cards will perform Standard play.  I will offer some pros and cons for these cards and give my thoughts and rating on the card for Standard play.  Please keep in mind that these ratings are based on my opinion only and may differ from your opinion.  (If you have a different opinion, please sound off in the Comments section below and let me know your thoughts.)
How My Rating System Works
5.0:  Format All-Star.  This card is a total Bomb card.  For those that aren't familiar with this term, it basically means this card will win you the game if left unchecked for a turn or two.  These cards tend to be hard to defend against and can turn a game around in a hurry.  Some cards that are bombs in limited may only be a mediocre card in constructed play.
4.0:  Above Average Card.  This card is great.  It can be played in multiple decks and will have an impact on the game every time.  These cards can change a game quickly, get you back in the game, or shift the tempo of the game.  These cards are usually vulnerable to some type of removal (or are a removal spell themselves), but they make up the majority of cards found in major tournament decks.
3.0:  Average Card.  These are generally good cards, and many of them will be the majority of cards found in a tribal deck.  Cards in this category are usually similar to other (higher-ranked) cards but cost 1 mana more or have a drawback in some manner.  In Limited play, these are the majority of your deck.
2.0:  Niche Card.  These cards serve are very narrow function and are usually meant for your sideboard.  They could be removal spells that only remove 1 type of card, or cards with mediocre stats that have an ability that helps against opponents playing a certain color or strategy.  In Limited play, these cards are put in your deck if you have no other options and need the card to reach your 40-card minimum deck size.  For Constructed play, you will rarely play this card unless it's from your sideboard or you want to be "cute".
1.0:  Will Rarely See Play.  The worst of the worst.  These cards are rarely played (if they're played at all).  These cards generally have bad stats, cost too much mana, or have basically no impact on the game when they're played.  Overall stay away from this card if possible.
And now, on to the cards…
Aether Chaser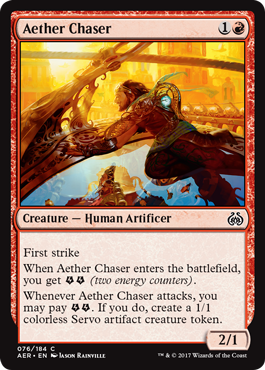 Rating:  2.5 (
)
Overall Thoughts:  As an aggro player, I like this card.  First Strike allows this creature to trade up when blocking, which is nice.  The energy is a nice bonus as well.  I don't anticipate this being in every tournament deck, but it's great for casual players who like Standard.
Chandra's Revolution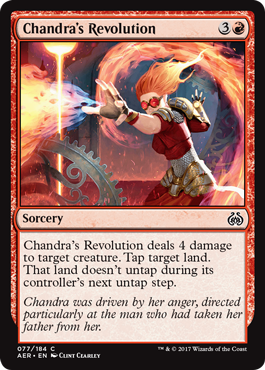 Rating:  2.0 (
)
Overall Thoughts:  This card is nice removal for when your opponent has those creatures with a higher toughness.  I would expect this to be boarded in from many sideboards.  It handily takes card of Archangel Avacyn but you'll have to wait until the turn after she's played thanks to her indestructibility.  I'm not sure I like the land tapping ability that Red is getting, but it's an okay bonus.
Destructive Tampering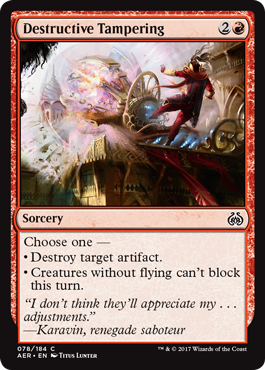 Rating:  2.0 (
)
Overall Thoughts:  Here's another card that probably won't see much play except from the sideboard.  It is nice that it has a modular effect, but I feel that the non-blocking effect is better in Limited than it is in Standard due to the amount of flying creatures that see play in competitive Standard play.
Embraal Gear-Smasher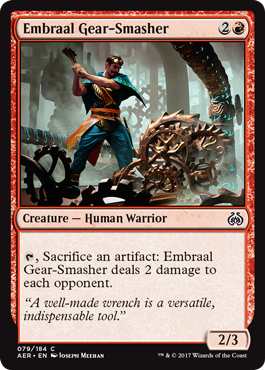 Rating:  2.0 (
)
Overall Thoughts:  The ability to deal the last needed points of damage needed to kill your opponent for the price of one artifact is nice.  And, it is repeatable.  The problem with this is that it's slow and it forces you to hold this creature from attacking in order to do it.  It's good for kitchen table Standard players, but not for tournament play.
Enraged Giant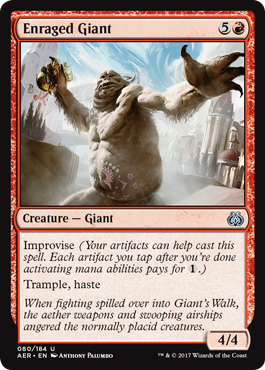 Rating:  2.5 (
)
Overall Thoughts:  While I'm not sure just how good Improvise is, I think this card is pretty good.  Having Haste means that your opponent may be caught off-guard when you play this.  It also has Trample, which is a great ability.  Looks like a fun card.
Freejam Regent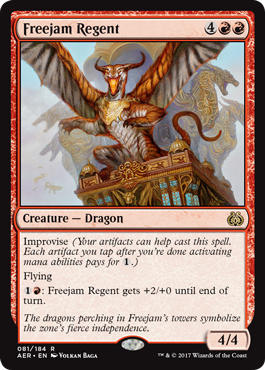 Rating:  3.5 (
)
Overall Thoughts:  The dragon of the set, this card looks fairly decent.  When you attack with this card, you should likely be able to pump it at least twice.  As long as you have a way to protect this, you should be able to rule the skies.
Frontline Rebel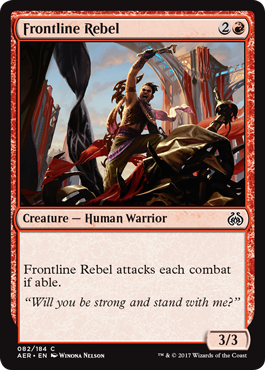 Rating:  1.5 (
)
Overall Thoughts:  A 3/3 for 3 that has to attack each turn isn't very good.  The only redeeming factor is that this card has a 3 toughness, so it'll be somewhat difficult for your opponent to get rid of it.  If you know you're playing against a weenie strategy, sideboard this in, otherwise you're better off without this.
Gremlin Infestation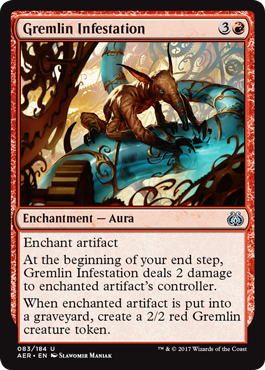 Rating:  2.5 (
)
Overall Thoughts:  As far as enchantments go, this one has a couple of things going for it.  First, it deals damage the turn it was played.  Second, if it's destroyed or the artifact is destroyed or sacrificed, you'll get a Gremlin token.  It's a little expensive, but I think there's a chance it could see some play.
Hungry Flames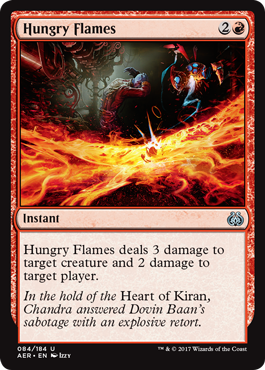 Rating:  3.5 (
)
Overall Thoughts:  Is this the card that Red agro decks have been looking for to become playable again?  Probably not, but it's a start.  Searing Blood was very good when it was in Standard, and this is pretty similar.  I'll certainly be trying this out.
Indomitable Creativity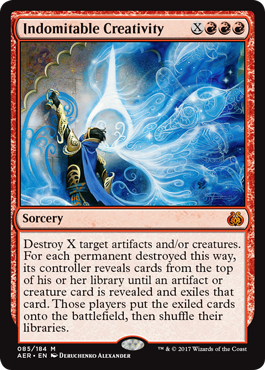 Rating:  3.5 (
)
Overall Thoughts:  In the right build, this card has the potential to be amazing.  Imagine destroying a few Servos in order to get amazing creatures into play.  I think this could be the starting point of a new breed of Fabricate decks.
Invigorated Rampage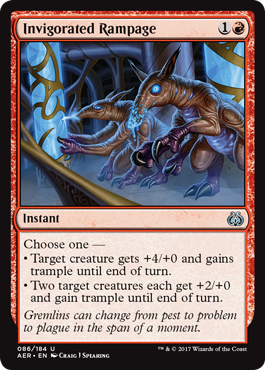 Rating:  3.5 (
)
Overall Thoughts:  Hello Electrostatic Pummeler.  Allow me to introduce you to this card.  The fact that this can either greatly pump one creature or modestly pump two is a nice benefit.  I think this card will be a real player.
Kari Zev, Skyship Raider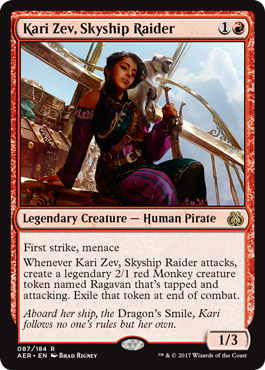 Rating:  4.0 (
)
Overall Thoughts:  Attacking for 3 points on turn 3 seems like fun.  While it's likely that Ragavan will be blocked, the fact that it comes back each time you attack is nice.  With the many ways in Standard to increase her power, you'll likely get in for more than just 3 points of damage each turn.  And first strike and menace on the same creature is an interesting combination making blocking for your opponent very difficult indeed.
Kari Zev's Expertise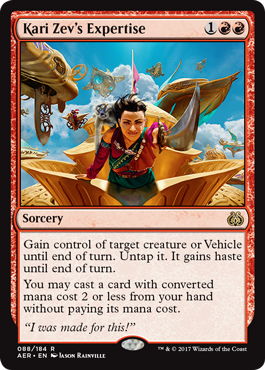 Rating:  3.0 (
)
Overall Thoughts:  Here's another card that will make combat difficult for your opponent.  The only thing that could make this better would be if you could steal a Vehicle and make it a creature without needing to crew it.  As it is, it's still a good card and will likely see play.
Lathnu Sailback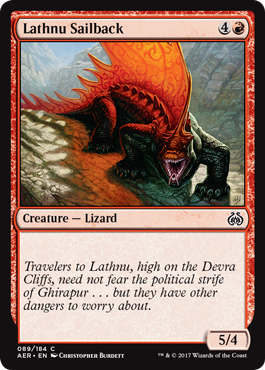 Rating:  0.5 (
)
Overall Thoughts:  Overpriced and lackluster.  Even the creature type doesn't offer any tribal benefit.  Will never see play in Standard.
Lightning Runner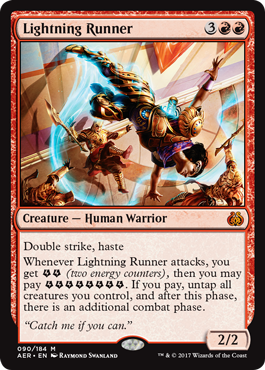 Rating:  2.5 (
)
Overall Thoughts:  The best use for this card is as a finisher in an energy based deck.  In any other type of deck, it's an overpriced card that will likely never give you an additional combat phase.  It does look like a fun card, however, and I'm looking forward to trying this out because it looks like it could be absurd in the right deck.
Pia's Revolution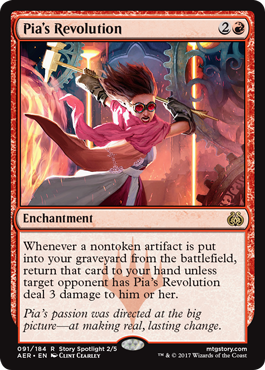 Rating:  1.5 (
)
Overall Thoughts:  While this card looks like it has the potential to be good, don't fall for it.  It's a trap.  If playing with Combustible Gearhulk has taught me anything, giving your opponent the choice between two different options isn't good.
Precise Strike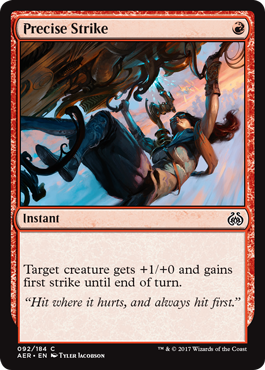 Rating:  2.0 (
)
Overall Thoughts:  If your deck is looking for combat tricks, this one is okay.  The small power bonus is not great, but the first strike could make this playable in the right build.
Quicksmith Rebel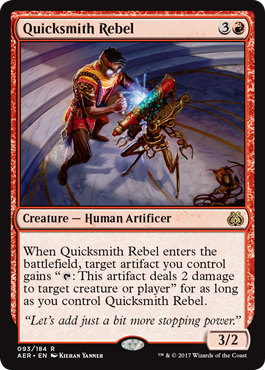 Rating:  3.0 (
)
Overall Thoughts:  Giving an otherwise "useless" artifact the ability to deal repeatable damage to either your opponent or any of their creatures seems like it could be good.  I like this card quite a bit and think this card will be used in a number of decks.
Ravenous Intruder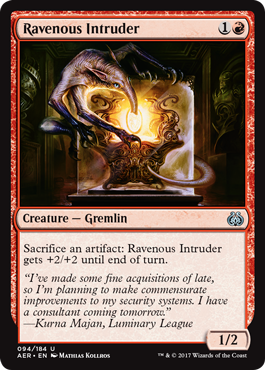 Rating:  2.0 (
)
Overall Thoughts:  In a Red deck with lots of artifacts, this card could be a nice finisher.  Play Key to the City and make this unblockable, then sacrifice your artifacts to deal a massive amount of damage in one attack.  Could be fun.
Reckless Racer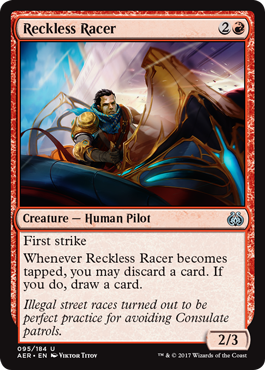 Rating:  2.5 (
)
Overall Thoughts:  While rummaging isn't nearly as good as looting, I still think this pilot has a good chance to be played in a vehicle deck.  I'm a little sad that Smuggler's Copter got banned, because it would have been fun having this pilot the copter and drawing multiple cards.
Release the Gremlins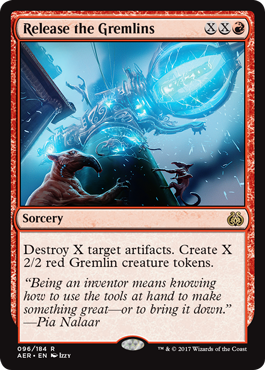 Rating:  3.0 (
)
Overall Thoughts:  This is a great sideboard card against any opponent playing any amount of artifacts.  And it also doubles as great removal for your opponents Gearhulks without needing to use multiple burn spells on them.
Scrapper Champion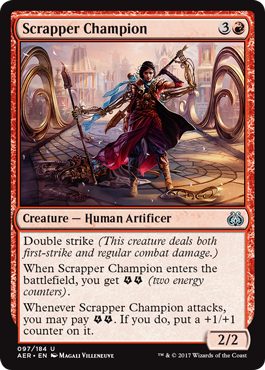 Rating:  3.0 (
)
Overall Thoughts:  The stats are a bit small for a 4 drop, but the double strike makes up for it.  Also, since it can become a 3/3 the first time it attacks, even without any additional energy providers in your deck, it's well worth the mana.
Shock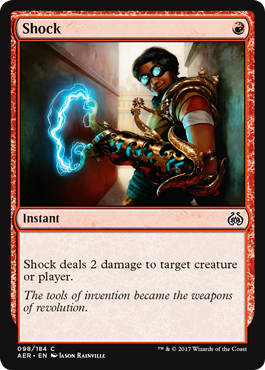 Rating:  3.0 (
)
Overall Thoughts:  While I would have preferred to have Lightning Strike back in Standard over this card, Shock is still a welcome addition.  The ability to burn a creature or to deal the 2 points straight to the dome makes this card very flexible.  This will definitely see play.
Siege Modification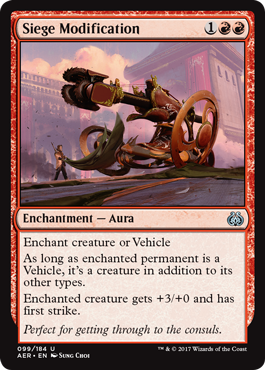 Rating:  3.0 (
)
Overall Thoughts:  Now this looks like a fun card.  Turning any vehicle into a creature and giving it a power bonus and first strike seems amazing.  Or enchanting any of your creatures to make them a powerhouse also seems good.  Sure, there's the risk of getting 2-for-1'ed, but that's a risk I'm willing to take.  This might make some of the vehicles that have a higher crew cost playable.
Sweatworks Brawler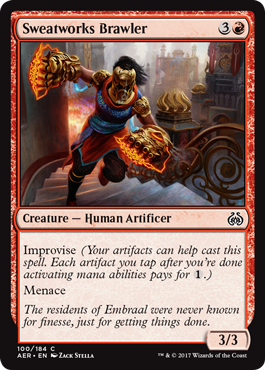 Rating:  2.5 (
)
Overall Thoughts:  Give me a Bone Saw, Ornithopter, Cathar's Shield, and this card in my opening hand along with 1 Mountain and I'm attacking with a 4/3 with menace on turn 2.  Sounds fun.  Seroiusly though, this card isn't bad even without the nut draw.
Wrangle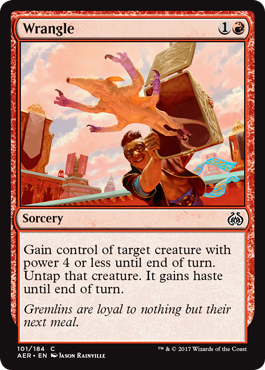 Rating:  2.0 (
)
Overall Thoughts:  For 2 mana, the ability to temporarily steal one of your opponents creatures is good, even if there is a limit on the size of the creature.  It's yet another way Red has that can mess up combat math for your opponent.
So, that's what I think of Red in Aether Revolt.  All-in-all, I think Red is a little underpowered, as the majority of cards received ratings less than 3.  This makes me a little sad as I'm hoping Red can become more than just a supporting color again soon.  Join me again tomorrow when we take a look at the Green cards and we'll see if they continue the trend of great cards in Green.  See you then.
Mike Likes
Comments