Hi everyone.  Welcome to the fifth in my series of reviews of the cards in the upcoming Aether Revolt expansion.  Today we'll be taking a look at all of the Green cards.  In this article, I will discuss these cards as they relate to Standard play.  My system uses number ratings ranging from 0 – 5 to gauge how well I think the cards will perform Standard play.  I will offer some pros and cons for these cards and give my thoughts and rating on the card for Standard play.  Please keep in mind that these ratings are based on my opinion only and may differ from your opinion.  (If you have a different opinion, please sound off in the Comments section below and let me know your thoughts.)
How My Rating System Works
5.0:  Format All-Star.  This card is a total Bomb card.  For those that aren't familiar with this term, it basically means this card will win you the game if left unchecked for a turn or two.  These cards tend to be hard to defend against and can turn a game around in a hurry.  Some cards that are bombs in limited may only be a mediocre card in constructed play.
4.0:  Above Average Card.  This card is great.  It can be played in multiple decks and will have an impact on the game every time.  These cards can change a game quickly, get you back in the game, or shift the tempo of the game.  These cards are usually vulnerable to some type of removal (or are a removal spell themselves), but they make up the majority of cards found in major tournament decks.
3.0:  Average Card.  These are generally good cards, and many of them will be the majority of cards found in a tribal deck.  Cards in this category are usually similar to other (higher-ranked) cards but cost 1 mana more or have a drawback in some manner.  In Limited play, these are the majority of your deck.
2.0:  Niche Card.  These cards serve are very narrow function and are usually meant for your sideboard.  They could be removal spells that only remove 1 type of card, or cards with mediocre stats that have an ability that helps against opponents playing a certain color or strategy.  In Limited play, these cards are put in your deck if you have no other options and need the card to reach your 40-card minimum deck size.  For Constructed play, you will rarely play this card unless it's from your sideboard or you want to be "cute".
1.0:  Will Rarely See Play.  The worst of the worst.  These cards are rarely played (if they're played at all).  These cards generally have bad stats, cost too much mana, or have basically no impact on the game when they're played.  Overall stay away from this card if possible.
And now, on to the cards…
Aether Herder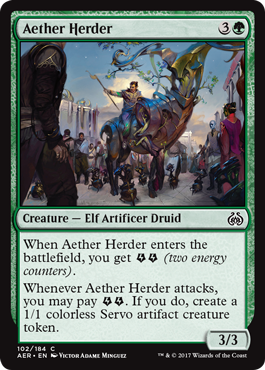 Rating:  2.5 (
)
Overall Thoughts:  The energy creation on this card is a great addition to an otherwise mediocre card.  A 3/3 for 4 mana is less than desirable, but Green has many ways to utilize the energy this card brings with it.
Aetherstream Leopard
Rating:  2.0 (
)
Overall Thoughts:  Trample is a great ability on creatures large enough for it to matter.  Even though this leopard can boost its power one time on its own, I don't expect to see this card outside of the most dedicated energy decks (and possibly not even there).
Aetherwind Basker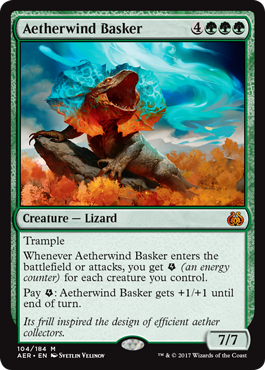 Rating:  4.0 (
)
Overall Thoughts:  While 7 mana is quite pricey, this card has the potential to gain you a huge amount of energy when it enters the battlefield and each turn it attacks.  This looks like a lot of fun in a deck alongside Longtusk Cub, Architect of the Untamed, and Bristling Hydra.
Aid from the Cowl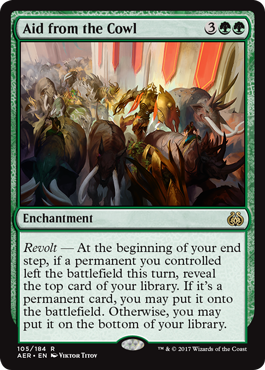 Rating:  2.0 (
)
Overall Thoughts:  A 5 mana enchantment that possibly does nothing sounds terrible.  The fact that this has the potential to do broken things is the only reason this card could see play.  Just keep in mind that this card doesn't cast the card, it just puts it into play, so you don't get any abilities that happen when a card is cast.
Druid of the Cowl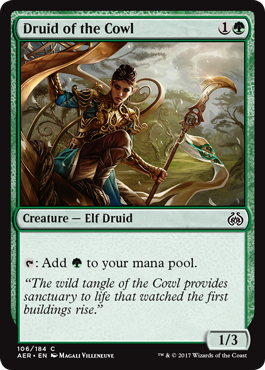 Rating:  2.5 (
)
Overall Thoughts:  He, look.  It's the new Llanowar Elves.  I'm not happy that we no longer get a 1 drop mana dork, but I'll take what I can get.  At least this cards toughness should help gum up the ground if I don't need to tap it for mana.
Greenbelt Rampager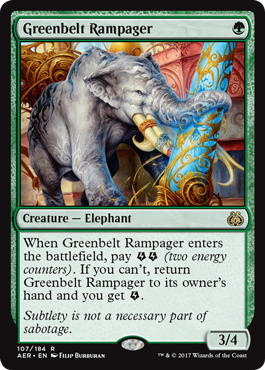 Rating:  3.0 (
)
Overall Thoughts:  Since this card is part of a combo with Servant of the Conduit, I'm sure this will see some play.  It also has the potential to be a good creature for little investment.  This is a good card.
Greenwheel Liberator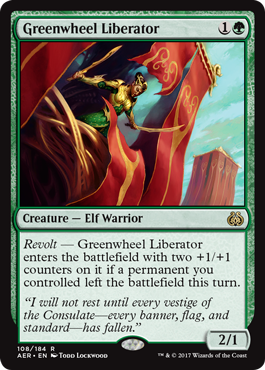 Rating:  2.5 (
)
Overall Thoughts:  This is a card that definitely needs the bonus from Revolt in order to be playable.  Without the bonus, this card is not good, but there are lots of cards that have an effect if you have a creature with +1/+1 counters on it, and those cards are great with this card.
Heroic Intervention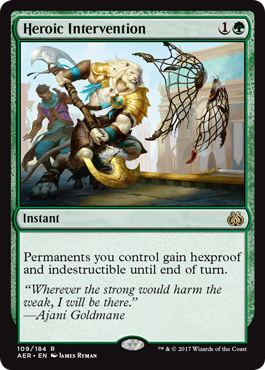 Rating:  3.5 (
)
Overall Thoughts:  I like this card a lot.  It's great protection for your entire team from most everything, just beware of effects that grant -X/-X to your creatures, because this will have no effect on those unless they target one creature.  It's nice to have an answer to Fumigate.
Hidden Herbalists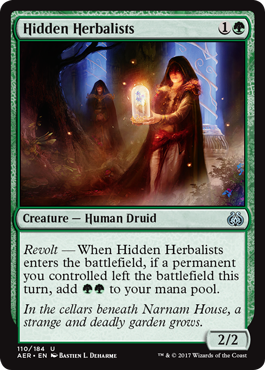 Rating:  2.0 (
)
Overall Thoughts:  While this card helps accelerate your mana when you can trigger the Revolt ability, the fact that it's not free to use makes this card less than stellar.  It also has passable stats, but is nothing to write home about.  I don't expect this will see much play in Standard.
Highspire Infusion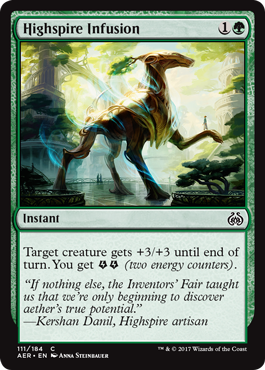 Rating:  2.0 (
)
Overall Thoughts:  This card gives a nice bonus for 2 mana, and the energy is a nice bonus.  It is just a combat trick, though, so it won't go into every deck.
Lifecraft Awakening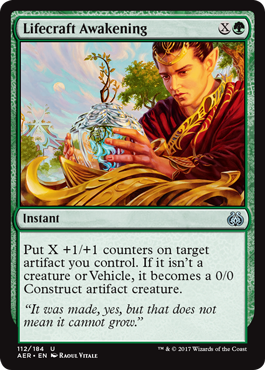 Rating:  2.0 (
)
Overall Thoughts:  I'm not a huge fan of this card.  The nice part is the X in the mana cost, so it can make whatever size of creature you want to make.  The bad part is needing to have an artifact in play to use this card.
Lifecraft Cavalry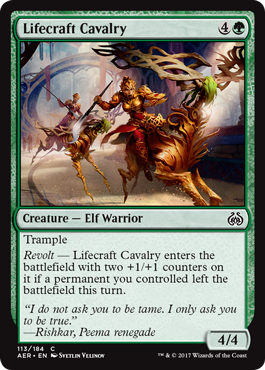 Rating:  2.5 (
)
Overall Thoughts:  Here's another card that greatly benefits from the Revolt ability.  Without triggering it, this card is good, but not great.  With it being triggered, you get a 6/6 with trample for 5 mana, which is amazing.
Lifecrafter's Gift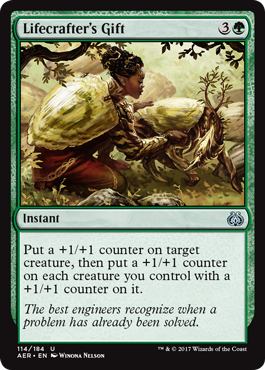 Rating:  2.5 (
)
Overall Thoughts:  I have a soft spot for +1/+1 counters.  I'll admit it.  I love the thought of playing this card the turn after playing a Verdurous Gearhulk and getting 6 additional +1/+1 counters (assuming I have 6 creatures in play).  I know, it's a dream that likely will never happen, but even getting 3 to 4 +1/+1 counters would be good.
Maulfist Revolutionary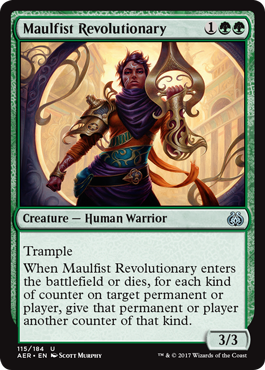 Rating:  2.5 (
)
Overall Thoughts:  A 3/3 for 3 with trample is good (even if the mana to cast it is restrictive).  The enter the battlefield and death abilith is also good, if you can utilize it.  This card has potential in the right deck.
Monstrous Onslaught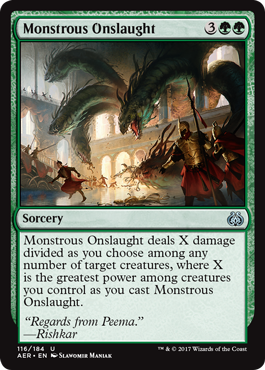 Rating:  1.5 (
)
Overall Thoughts:  This card could be good removal for Green if it didn't have such a high cost.  And I don't just mean the mana needed to cast it.  Since it also requires a creature with a high power to be in play, this card could be either awesome or meh depending on when you cast it.
Narnam Renegade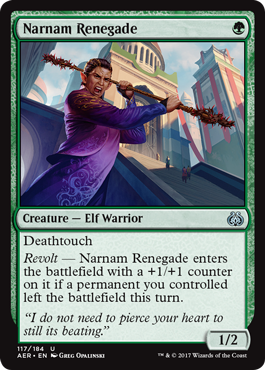 Rating:  3.0 (
)
Overall Thoughts:  A 1/2 with Deathtouch for 1 mana is a great deterrent for your opponents attacks.  The fact that it can get bigger with the Revolt ability is nice, but not needed.  This card has a good chance of being played in many decks.
Natural Obsolescence
Rating:  1.0 (
)
Overall Thoughts:  This card is good at what it does, but what it does isn't good.  The nice thing is that it can target one of your own artifacts which can counter your opponent's removal and trigger Revolt for you.  But generally if I'm going to target one of my opponents artifacts, I'd rather get rid of it for good rather than putting it back into their library for them to search for.
Peema Aether-Seer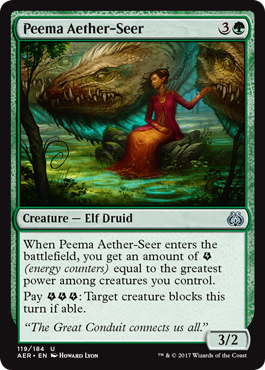 Rating:  2.0 (
)
Overall Thoughts:  Making it so that your opponent has to block with a particularly annoying creature can be nice.  The downfall is that you will need a creature to attack with that can kill whatever you make them block with.  And for the trick to work, you really have to limit the creatures you attack with to the ones that can kill that targeted blocking creature.  It's a trick that can work, but requires a lot of setup.
Prey Upon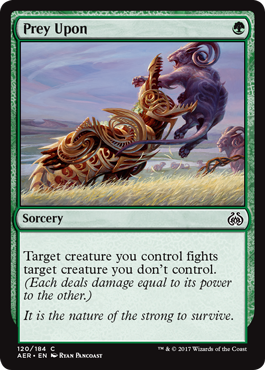 Rating:  2.5 (
)
Overall Thoughts:  This is good for a Green removal spell, but not amazing.  Since it only costs 1 mana, you will likely be able to play other cards that give you a bonus that will ensure you kill whatever creature yours is attacking.
Ridgescale Tusker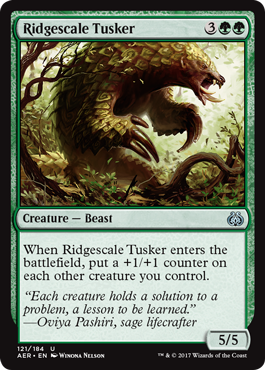 Rating:  3.0 (
)
Overall Thoughts:  This is a nice late-game threat that helps pump your entire team.  When paired with blink effects, this becomes a must counter / destroy creature.  I think this will see some play in a deck poised to utilize +1/+1 counters to maximum effect.
Rishkar, Peema Renegade
Rating:  4.0 (
)
Overall Thoughts:  Green certainly has a way of putting +1/+1 counters on your creatures, doesn't it.  Add this guy into the mix and suddenly your whole team can tap for mana, which in turn will help to pump up your team.  I'm a big fan of this card.
Rishkar's Expertise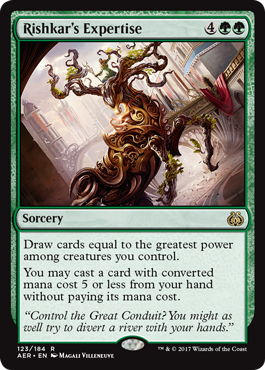 Rating:  3.5 (
)
Overall Thoughts:  The fact that this card costs 6 mana definitely hurts its playability, but I still think it'll be a big contender in decks that ramp your mana.  And with all of the +1/+1 counters floating around, it won't be hard to draw 4 or more cards when this card is played.  While it won't be in every deck due to its mana cost, this card will likely see some play in Standard.
Scrounging Bandar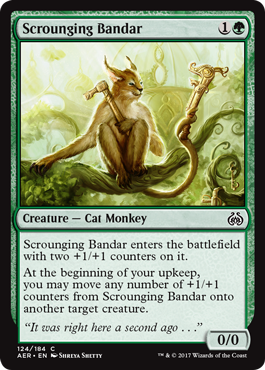 Rating:  2.0 (
)
Overall Thoughts:  Here's a cat monkey with some upside.  Being able to move the +1/+1 counters from this card to any other creature is nice, but it comes with the drawback of only being able to do it on your upkeep.  If you know your opponent has a removal spell, this card could end up sitting in your hand for a while before it's safely cast.  But I'd rather cast it anyway and make my opponent choose to remove it if they want.  Also, keep in mind that if this card has more counters on it than just the original two you get when it's cast, you can transfer those too.
Silkweaver Elite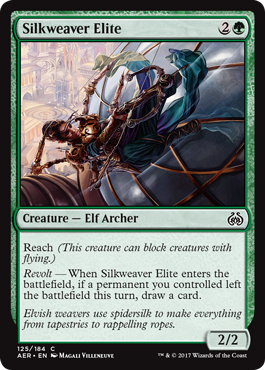 Rating:  2.0 (
)
Overall Thoughts:  This card is a little small to be an effective blocker with Reach.  The main reason to play this is for the potential card draw that it allows when the Revolt ability is triggered.  Once that happens, feel free to chump block whatever flying threat your opponent has.
Unbridled Growth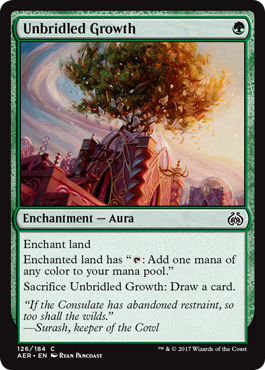 Rating:  2.5 (
)
Overall Thoughts:  This card can fix your mana for very little cost.  And if it or the land it's enchanting gets targeted by removal, you can sacrifice it to draw a card, so the only risk in playing this is loss of tempo.
And that's a look at all of the Green cards in Aether Revolt.  Most of them are fairly mediocre, but there's a couple that I think are worthwhile.  What do you think?  Did I give high marks to any card you think is trash, or did I underevaluate any cards?  Let me know by leaving a comment below.  And be sure to join me tomorrow for the final installment of my reviews of the cards in Aether Revolt when we take a look at the multicolored cards, artifacts, and lands.  I'll see you then.
Mike Likes
Comments