Hi everyone.  Welcome to the second in my series of reviews of the cards in the upcoming Aether Revolt expansion.  Today we'll be taking a look at all of the Blue cards.  In this article, I will discuss these cards as they relate to Standard play.  My system uses number ratings ranging from 0 – 5 to gauge how well I think the cards will perform Standard play.  I will offer some pros and cons for these cards and give my thoughts and rating on the card for Standard play.  Please keep in mind that these ratings are based on my opinion only and may differ from your opinion.  (If you have a different opinion, please sound off in the Comments section below and let me know your thoughts.)
How Our Rating System Works
5.0:  Format All-Star.  This card is a total Bomb card.  For those that aren't familiar with this term, it basically means this card will win you the game if left unchecked for a turn or two.  These cards tend to be hard to defend against and can turn a game around in a hurry.  Some cards that are bombs in limited may only be a mediocre card in constructed play.
4.0:  Above Average Card.  This card is great.  It can be played in multiple decks and will have an impact on the game every time.  These cards can change a game quickly, get you back in the game, or shift the tempo of the game.  These cards are usually vulnerable to some type of removal (or are a removal spell themselves), but they make up the majority of cards found in major tournament decks.
3.0:  Average Card.  These are generally good cards, and many of them will be the majority of cards found in a tribal deck.  Cards in this category are usually similar to other (higher-ranked) cards but cost 1 mana more or have a drawback in some manner.  In Limited play, these are the majority of your deck.
2.0:  Niche Card.  These cards serve are very narrow function and are usually meant for your sideboard.  They could be removal spells that only remove 1 type of card, or cards with mediocre stats that have an ability that helps against opponents playing a certain color or strategy.  In Limited play, these cards are put in your deck if you have no other options and need the card to reach your 40-card minimum deck size.  For Constructed play, you will rarely play this card unless it's from your sideboard or you want to be "cute".
1.0:  Will Rarely See Play.  The worst of the worst.  These cards are rarely played (if they're played at all).  These cards generally have bad stats, cost too much mana, or have basically no impact on the game when they're played.  Overall stay away from this card if possible.
And now, on to the cards…
Aether Swooper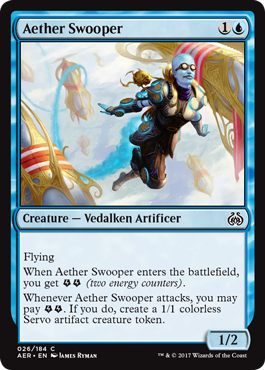 Rating:  2.5 (
)
Overall Thoughts:  A 1/2 flyer for 2 mana is passable, but not exciting.  Getting 2 energy when it enters the battlefield and being able to create Servo tokens makes this a little better, but not by much.
Aethertide Whale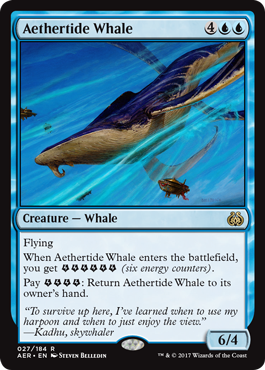 Rating:  2.0 (
)
Overall Thoughts:  If there was a deck that wanted infinite energy that could already create infinite mana, this card is a natural fit.  Unfortunately, I don't think there's any deck like this right now.  Maybe this card will be the inspiration for someone to create one.
Baral, Chief of Compliance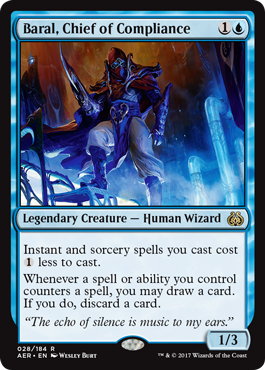 Rating:  4.0 (
)
Overall Thoughts:  Control is back in a big way.  Baral is a pretty amazing card as it not only makes your counter spells cost 1 mana less, but it also rewards you for playing them by letting you draw a card.  I think this card might allow Thing in the Ice to make a big comeback into Standard.
Baral's Expertise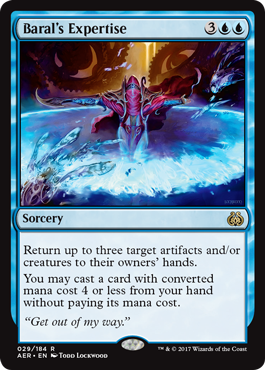 Rating:  3.5 (
)
Overall Thoughts:  If blue were more of an aggressive color, I think this card would be off the hook.  Since it's not, it's not amazing, but it is still really good.  It is a little expensive, costing 5 mana, but this cost pretty much ensures you will have three targets for it to bounce.  Also, let's not forget that it can bounce your own creatures or artifacts, so if they have an enters the battlefield effect you can trigger it again.  The added effect of casting a 4 CMC card for free also isn't trivial, and it's also nice that you can cast a card of your own that was bounced by this spell.
Bastion Inventor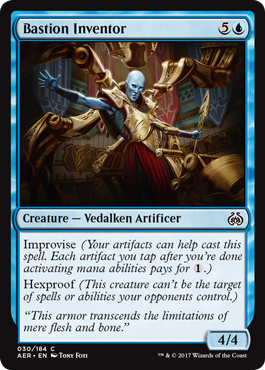 Rating:  3.5 (
)
Overall Thoughts:  Oh, Hexproof.  What an ability.  I'm imagining an opening hand of 1 Island, 1 Bastion Inventor, and some combination of Bone Saws and Ornithopters in order to play this card on turn one.  Sounds pretty sweet.  However, once I leave magical Christmas-land, I still think this card is pretty good.  It's very frustrating to play against creatures with Hexproof, and the high stats for this card make this a very frustrating card to play against.
Disallow
Rating:  5.0 (
)
Overall Thoughts:  I'm not normally a control player, but this card makes me want to become one.  This card is an all-star in my opinion, as it can counter most anything your opponent does.  Imagining countering an opponent's planeswalkers ultimate ability sounds like so much fun.
Dispersal Technician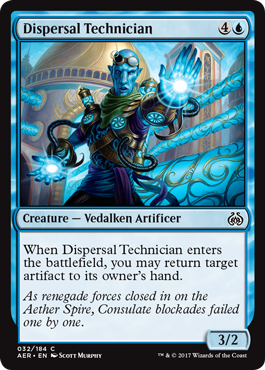 Rating:  2.0 (
)
Overall Thoughts:  While I like being able to return an artifact to my hand (or to make my opponent return their artifact instead), I think this card costs too much mana to see much play.
Efficient Construction
Rating:  3.0 (
)
Overall Thoughts:  This looks like a fun card to build around.  I don't think it's great, but it could be quite serviceable in a white/blue artifact deck.
Hinterland Drake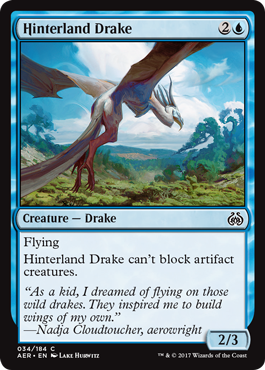 Rating:  2.5 (
)
Overall Thoughts:  A 2/3 flyer for 3 mana is decent, but the drawback of not being able to block artifact creatures brings this card down a notch in my book.  So many vehicles can fly, and there are also Gearhulks that are often played, so it seems like there would be a lot of times that I would want to block an artifact creature (even just to chump block).
Ice Over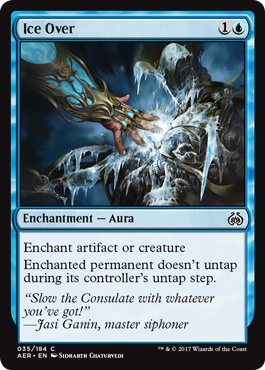 Rating:  2.0 (
)
Overall Thoughts:  When played on a lot of creatures, this card will act as efficient removal.  Keep in mind that it doesn't stop that creatures activated ability (unless it requires the creature to tap).  It also doesn't tap a creature, so if you play this on an untapped creature it will still be able to block just fine.
Illusionist's Stratagem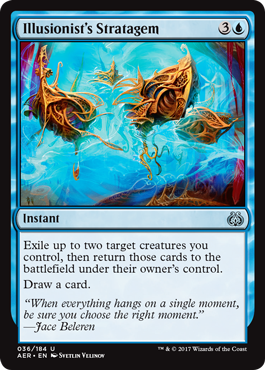 Rating:  3.0 (
)
Overall Thoughts:  This is a good card to trigger Revolt with or to gain an advantage with enter the battlefield effects.  The fact that it also replaces itself when you play it by allowing you to draw a card is a nice bonus.
Leave in the Dust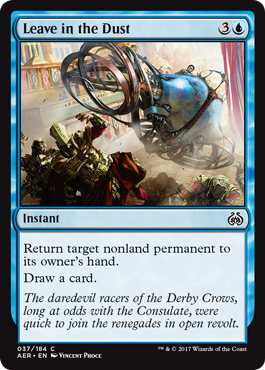 Rating:  2.5 (
)
Overall Thoughts:  This seems like a good card to sideboard in against decks that run Stasis Snare or Quarantine Field.  I could also see potentially running one in your main deck in order to deal with a particularly tough threat your opponent plays, but there's so many things with enter the battlefield effects that make the desire to play this card pretty limited.
Mechanized Production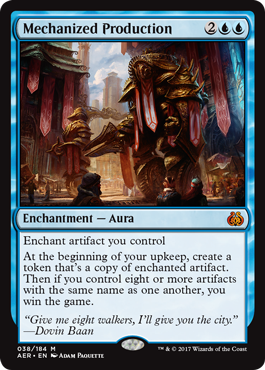 Rating:  4.5 (
)
Overall Thoughts:  I see a lot of potential with this card.  It seems like the easiest route to victory could be to create a bunch of Servo tokens and then cast this on one of them.  This card will definitely see play.
Metallic Rebuke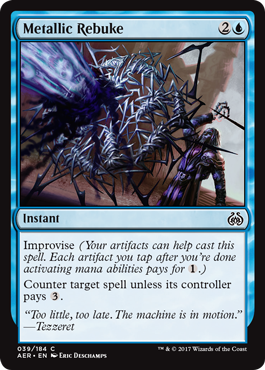 Rating:  3.5 (
)
Overall Thoughts:  As a soft counter, this card is good.  What makes it better is the Improvise ability, since you can play it much earlier than normal, which is important for soft counter cards like this.
Negate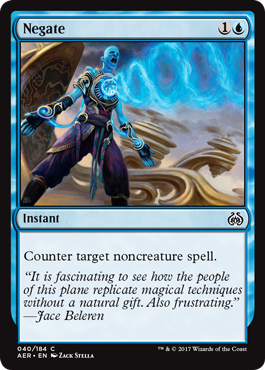 Rating:  2.0 (
)
Overall Thoughts:  This card is okay, but not great in all circumstances.  That's what makes it better to use from your sideboard.  In the current Standard environment, where artifacts are so prevalent, this card works okay, but if there's a shift away from artifacts towards pure creature decks, this card gets worse.
Quicksmith Spy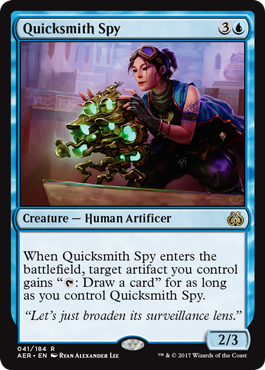 Rating:  3.5 (
)
Overall Thoughts:  Card advantage wins games.  This card provides you with the ability to gain card advantage.  Therefore, if you play this card, you'll win.  That's logical, right?  Seriously though, turning a Servo token or any other artifact that you currently don't have a better use for into a card drawing engine sounds pretty sweet to me.
Reverse Engineer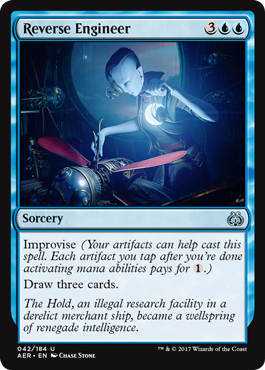 Rating:  2.5 (
)
Overall Thoughts:  I've said it before, card drawing is always good.  This card definitely has a home in decks that run some artifacts due to the Improvise ability, and it could see some play even without having artifacts in play.  It's a pretty good card, but right now I think there are better options than this.
Salvage Scuttler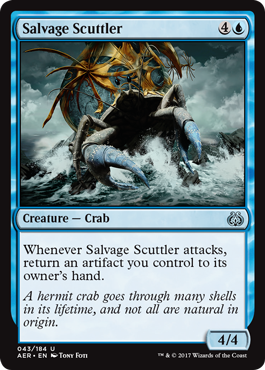 Rating:  1.0 (
)
Overall Thoughts:  For my 5 drop, I want a card that will have a real impact on the game.  This card doesn't do that.  It does help trigger Revolt, but I'm not sure how relevant that will be late in the game.  The upside is that if you have no artifacts in play, you can still attack with this card with no penalty.
Shielded Aether Thief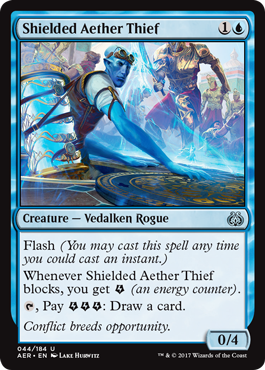 Rating:  3.0 (
)
Overall Thoughts:  This is a nice card for a control deck.  Having Flash means you'll likely be able to get at least 1 energy before your opponent just decides not to attack, but it's possible they could try to bluff by attacking and you can get another energy here or there.  And it also offers potential card draw, which is an added bonus.
Shipwreck Moray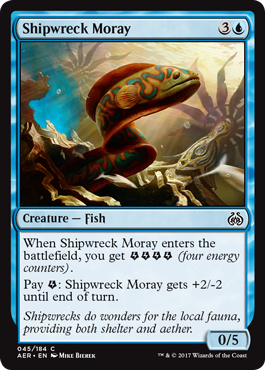 Rating:  1.5 (
)
Overall Thoughts:  This guy can block all day long, but it's tough for him to kill anything he's blocking.  So, without a way to get rid of my opponents creatures, this will get outnumbered very quickly.  Not great by any means.
Skyship Plunderer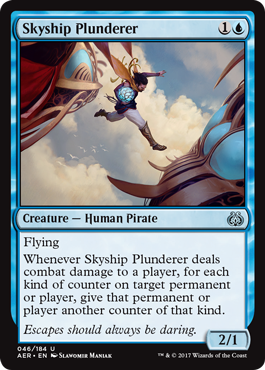 Rating:  3.0 (
)
Overall Thoughts:  I like this card quite a bit.  I'm looking forward to using this to gain additional energy or additional +1/+1 counters at some point.  I'm not sure what home it has in the current Standard decks, but I think someone will find a way to incorporate it somewhere or a new build will happen for it.
Take into Custody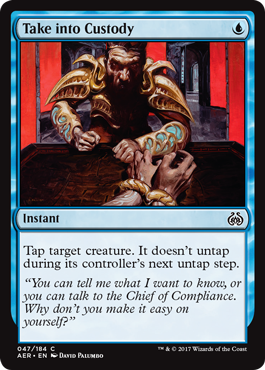 Rating:  1.5 (
)
Overall Thoughts:  I'm doubtful this will make any sort of impact on Standard.  When played in conjunction with Ice Over, you get to tap a creature permanently, but it uses 2 of your cards, so it's well below par.
Trophy Mage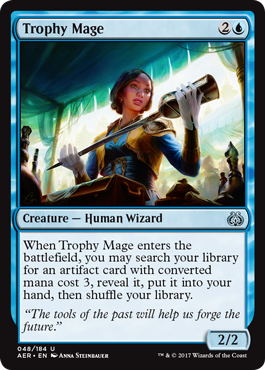 Rating:  3.5 (
)
Overall Thoughts:  When this card was originally spoiled, there were a lot of people looking for ways to break it.  I like this card a lot, even if my only targets are Chief of the Foundry or Foundry Inspector.  And there are a lot more targets than just those two cards, so this card is a hit in my book.
Whir of Invention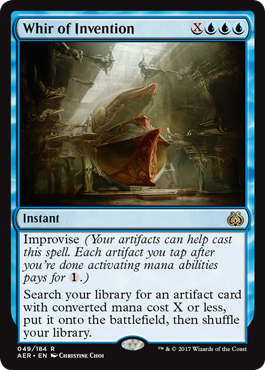 Rating:  3.5 (
)
Overall Thoughts:  Tutoring for a card is an amazing ability.  The main drawback to this card is the cost, as 3 blue mana won't be easy for most decks.  But for the decks that can cast this card, it should be great.
Wind-Kin Raiders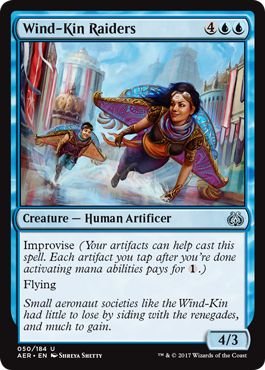 Rating:  3.0 (
)
Overall Thoughts:  Normally a 4/3 flyer for 6 mana would not be good, but since this has Improvise you should be able to get a discount on this.  A 4/3 flyer for 2 mana seems like a good deal to me.  So this card is somewhere between not good and great, which makes it average to me.
And that's my review of the Blue cards in Aether Revolt.  In my opinion, Blue has a few terrific cards and the rest are mediocre at best.  Do you agree with my opinion or disagree?  Let me know by commenting below.  And be sure to come back tomorrow for my review of the Black cards.  I'll see you then.
Mike Likes
Comments